Agile 2013 Temenos Workshop for Authentic Connection and Personal Growth
When and where
Location
411 N Maney Ave Murfreesboro, TN 37130
Refund Policy
Contact the organizer to request a refund.
Description
Important Update:
We changed the length of the workshop to 1.5 days. We'll start Saturday morning, giving you the option to arrive Friday night. We have run this exercise in multiple lengths from 2h, 1 day, 1.5 days... So we're confident we can create a deep and inspiring experience for you even with the shorter timeframe.
Temenos
Temenos is an experiential workshop for people interested in personal growth so that they can enjoy authentic connection with others.
The endless curiosity and passion we're born with gets dampened when we meet the limits of the context we grow up in. This can hurt, and deviate us from our path of growth. Attending a Temenos can help you clarify for yourself:
Who you are

Who you can and want to be

What you want

A strategy for your success.
What Happens in a Temenos Workshop?
Here is an overview diagram of Influence Maps - the technique that we will start with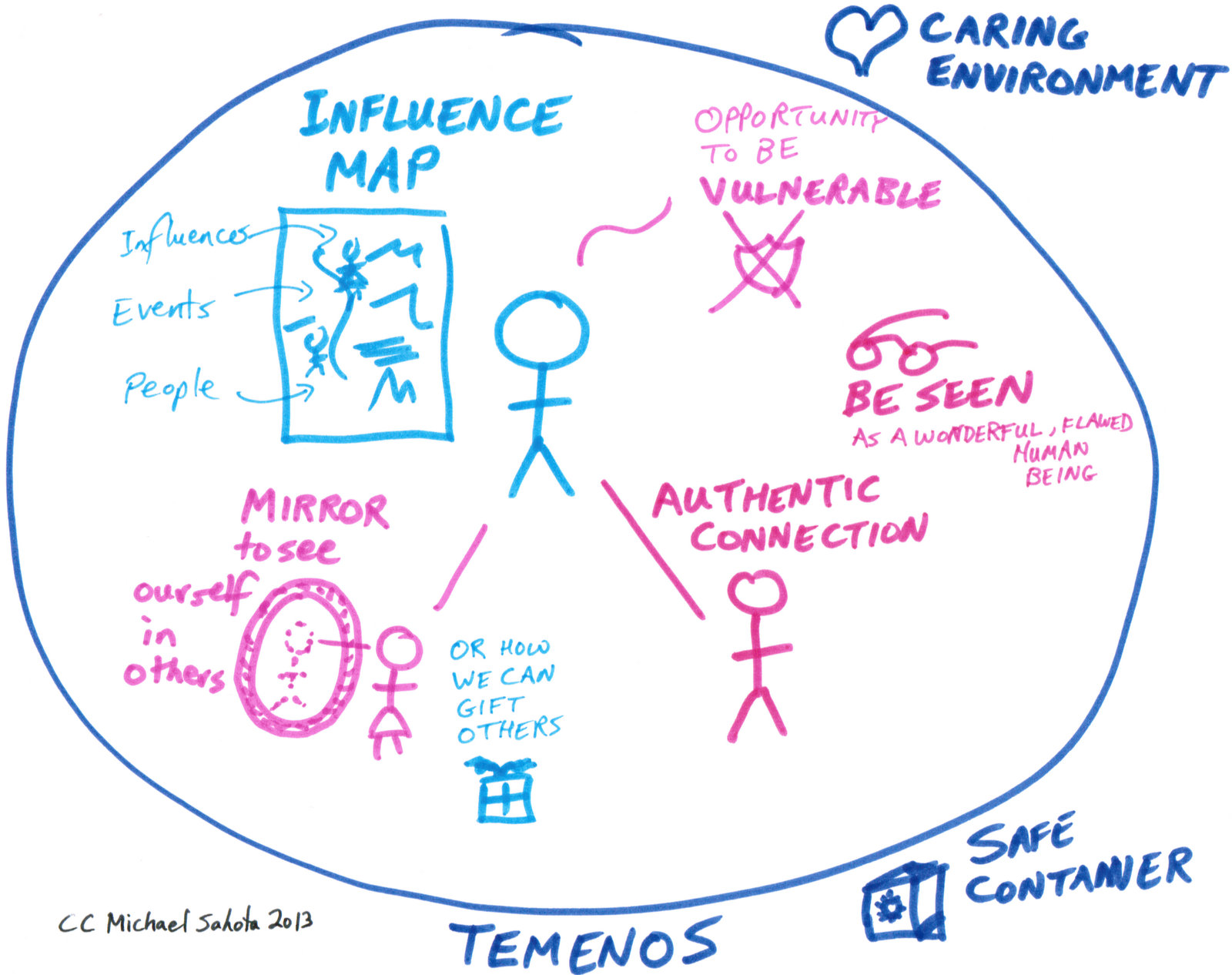 The Temenos worskhop is a safe place where we can be our authentic selves without judgement. We used Influence Maps to explain who we are and allow ourselves to be truly seen as a unique valuable human being. It is through our vulnerability that we are able to create authentic connections with others. See Brene Brown talk on the power of vulnerability.
Please refer to these pages for detailed information:
What material will we cover?
Temenos consists of a several independent components. In this Temenos we intend to cover:
Influence Maps – sharing what our influences are

Containers – how we create safety and opportunities for transformation

Clean Slate – getting rid of baggage

Temenos Feedback – Building Authentic Connection through Sharing Perceptions and Appreciations

Update Strategy – how we deliberately modify our relationships with others

Personal Vision

Alignment of Personal and Shared Visions
Testimonials
"Inspiring, Healing, Present. Michael's presence facilitates the creation of a strong container to support making the connection from the heart, not the mind. The influence map is a powerful tool for building connection." – An Agile Coach
"Moving, Revealing, Balancing. I found that deep connections to other human beings can be found and made a lot more often than I expected. A safe space was created and held all the way through it." – Melanie Meinen
Location and Timing
The event will be held in large house about 40 minutes south of Nashville.
Friday - you have the option to arrive any time after 5pm and enjoy a dinner with other participants. Or you come Saturday morning—whatever you prefer!
Saturday - We will start promptly at 9:00am, so you will need to be here by then. The morning we will spend sharing Influence Maps, the afternoon doing Clean Slate. Discernment Feedback and Strategy in the evening.
Sunday - Personal Vision on Sunday morning, plus lots of time for conversation and feedback. We will stop at noon for lunch and then depart by 1:00pm This will give people some time off (if you need it) before starting Agile 2013.
What's included in my registration?
Registration includes meals and two nights accomodation.
Questions?
Any questions? Feel free to contact Michael: michael.sahota AT agilitrix.com - 416.999.3297 or Olaf: olaflewitz AT gmail.com - +49 172 458 4640.
About the Facilitators
Olaf Lewitz is passionate about personal and organisational growth and deeply respectful of tradition, of structures and strategies that have made you successful. He has a knack for increasing trust, in yourself, others, and the capabilities of your organisation. He learned from Temenos to improve his influencing by carrying less emotional baggage between different containers.
Michael Sahota helps organizations get great results and delighted customers by creating work environments that support passion and joy. As an influencer, one aspect of his role is to facilitate people and companies to find their better selves. For the last two years he has been on a personal journey of learning and growth. He is running this workshop to help others who are interested in connecting with their true self for personal gain as well as to help those around them.
Origins of Temenos
Temenos is the name of a special kind of experiential laboratory (usually delivered as a weekend lab) that Siraj Sirajuddin has invented and evolved over many years integrating diverse influences such as Buddhist, Islamic, Jesuit and Hindu spirituality, mythology and Jungian psychology. He's been using these labs to support lean and agile transformations in his practice as an Organisational Transformation Mentor.