Agile People :: Portuguese Edition :: Guest Speaker Thiago Brant
About this event
2021 Webinar Series :: 1st Portuguese Edition Hosted by Women in Agile Toronto
It's a free webinar via Zoom, open to everyone, and spots are limited! You'll find this event on LinkedIn as well.
Details in Portuguese:
***
Agile People: O porquê e o quê de liderar com agilidade
No futuro do trabalho, os gerentes e líderes precisarão assumir o papel de Líderes de Pessoas Ágeis, com a competência necessária sobre as necessidades humanas básicas, comportamentos, trabalho em equipe e como apoiar uma estratégia emergente para o propósito da organização.
Thiago Brant coleciona títulos como Agile and Leadership Permanent Learner, Agile People Development, Coach and Trainer, Management 3.0 Facilitator, SAFe 5 Program Consultant e Reiss Motivation Profile® Master.
Apaixonado por liderança, gestão e pessoas ágeis, Thiago é aprendiz permanente buscando sempre novas habilidades que ajudem a melhorar a vida das pessoas no trabalho. Com mais de 25 anos de experiência profissional, sendo os últimos 13 atuando em contextos ágeis, passando por posições como Scrum Master, Product Owner, Agile Coach, Coach e Mentor em equipes ágeis e agilidade em escala. Suas maiores realizações incluem a implantação do SAFe, participando na organização de PI Plannings, criação de 2 produtos financeiros digitais, facilitação de Product Discovery, Design Thinking, Lean Inception, priorizações e outras cerimônias ágeis.
***
If you want to get in touch and keep updated, please follow the Women in Agile Toronto on LinkedIn (https://bit.ly/wiatoronto) and join the meetup group (bit.ly/wiato-meetup).
The session will be via Zoom, and you can find the link in your ticket.
Women in Agile: A nonprofit and collective effort to recruit, network, promote, and support the work of outstanding women in the agile community through blogging, speaking at events, and building a network surrounded by people of all genders.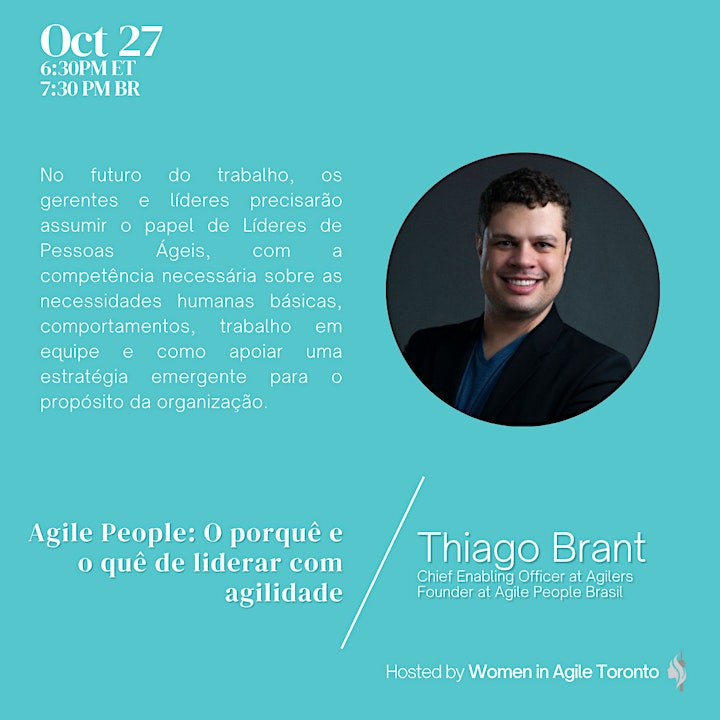 Organizer of Agile People :: Portuguese Edition hosted by Women in Agile Toronto