Gain a competitive advantage in your Professional Career by challenging your Scrum Certification for FREE!!
About this event
Scrum Foundation Workshop by EXIN accredited and Scrum Alliance Certified Instructor!!
With Interactive exercises this workshop will help you gain a competitive advantage in your professional career.
Register before Oct  12th and complete your Agile Scrum Foundation Workshop at a discounted price for just $1049 (enter discount code "EarlyBird")!!
Cost of Exam included in this price!
Please talk to the coordinator for further details.
HURRY!! Our batch starts on October 17th.
Limited seats Available
For further details contact 604-512-0075/604-362-0075
or Email : marketing@edu-coach.org/info@edu-coach.org
Course Details
EXIN Agile Scrum Foundation shows a candidate's knowledge of the Agile and Scrum frameworks. Agile Scrum is about working together to successfully reach the goal. Agile methodologies are popular approaches in software development and are increasingly being used in other areas. Scrum practices include establishing cross-functional and self-managing teams, producing a working increment of software at the end of each iteration or sprint.
Target group
The Agile way of thinking is best known in the field of software development, but the principles are increasingly being applied in other types of projects. Scrum is a highly used Agile methodology and is suitable for all professionals looking to keep their knowledge up to date with the latest developments in the fields of IT and Project Management, particularly those leading or participating in projects. In particular, the certification is suitable for professionals working in the areas of: Project Management; Software development; IT Service Management; and Business Management. This certification is highly recommended before starting a Scrum project.
Course Outline
Agile Way of Thinking
Topic with Capitals in English
Scrum practices
Scrum roles
Scrum events
The importance of the Backlog
Definition of Done
Scrum Planning and Estimation
Scrum Planning
Scrum Estimation
Monitoring Scrum Projects
Advanced Scrum Concepts
Scrum in different situations
ABOUT THE TRAINER
Jasneet Dua
Electronics Engineer, Scrum Practitioner, Exin Accredited Trainer, CSM, A-CSM & CSP-SM from Scrum Alliance with over 6 years of experience in teaching and coaching more than 100 students.
FAQs.
Q: How to get refund if I may not be able to attend the class?
A: Any request received one week prior to the class will get the refund ( which will include course fee, exam fee and taxes) minus Eventbrite's processing fee (about 5.5%) and 7.5% company processing fee. After this period no refund will be issued on any request.
Option to transfer the fee to another class is available and we will reschedule registration for next class or as per the request
Q: How to transfer fee and reschedule for other class date?
A: If you want to transfer your fee to someone else ( other candidate) You are require to notify us before one week of the class and we will make the adjustments as per your request and after this period 25% of fees will be deducted by the company for any transfers.
However, you can also reschedule your registration for next class date
If you want to reschedule for the second time we will charge 15 % of your course fee as rescheduling charges and those will not be refundable on anytime
If you want to transfer your fees for another course then, the additional difference between the course fee will be paid by the candidate and any reductions will be paid to the candidate
Q: What to bring for the class?
A: You are not required to bring your laptops. Pens and notepad will be provided but candidates can bring their own essentials.
Coffee will be available 😊
An Interactive & fun-filled Session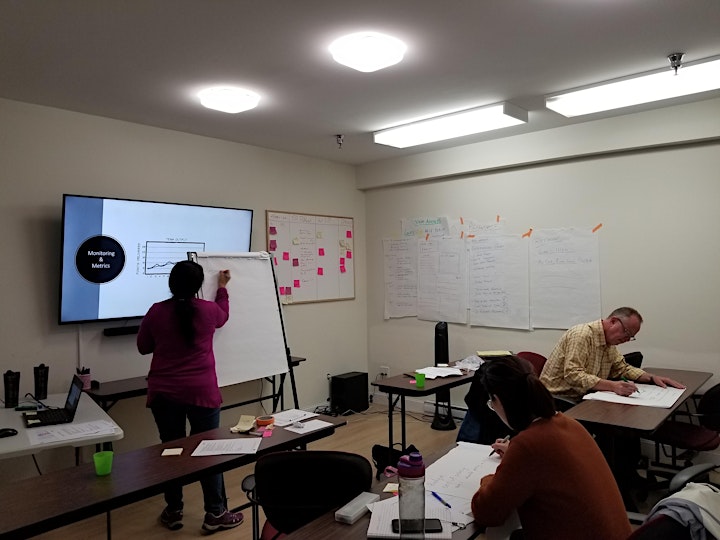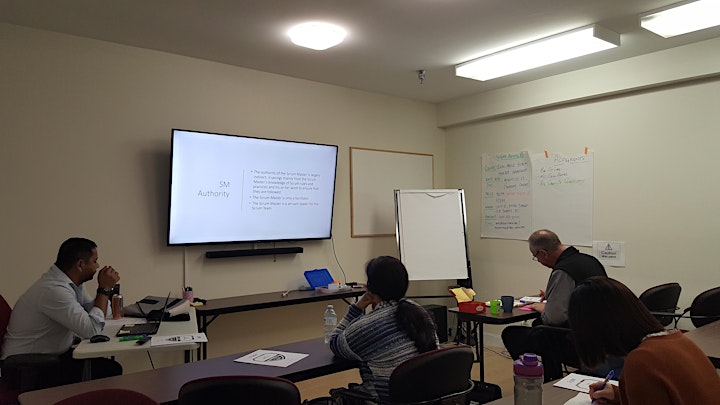 Organizer of Agile Scrum Foundation