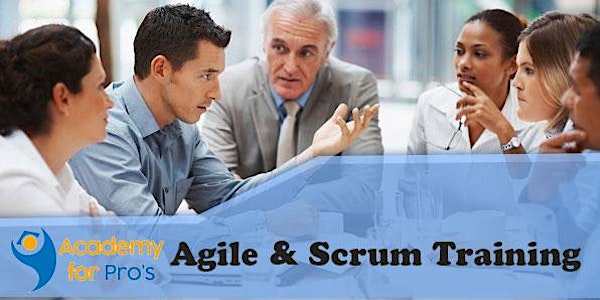 Agile & Scrum Training in Hong Kong
Our classroom training provides you the opportunity to interact with instructors and benefit from face-to-face instruction.
When and where
Location
For venue details reach us at: info@academyforpros.com Hong Kong, NT Hong Kong
Refund Policy
Refunds up to 7 days before event
About this event
Certificate: Course Completion Certificate Language: English
Duration: 1 Day Credits: 8 PDU's & 8 SEU's
Course Delivery: Classroom/ Virtual Live/ On-Site
Course Overview:
Scrum, Extreme Programming, Lean, Feature Driven Development, and other methods each have their strengths. While there are significant similarities under the Agile umbrella, each method brings specific tools for team success. Rarely do organizations adopt one methodology in its pure form? Rather, success is achieved by combining best practices
In this One Day Agile & Scrum Training, you will put the skills, tools and techniques you are taught to work. Your instructor will answer questions with real-world experience, as all of our instructors have Agile experience "in the trenches." You will leave the class with practical knowledge and a clear roadmap for success.
Target Audience:
Because this is an immersion course and the intent is to engage in the practices every Agile team will employ, this course is recommended for all team members responsible for delivering outstanding software. That includes, but is not limited to, the following roles:
Business Analyst
Technical Analyst
Project Manager
Software Engineer/Programmer
Development Manager
Product Manager
Product Analyst
Tester
QA Engineer
Learning Objectives:
Structure a team with generalizing specialists so the team can develop working software incrementally.
Practice and maintain a regular cadence when delivering working software each iteration.
Follow the team approach; start as a team, finish as a team — and focus on delivering value to the organization.
Gain knowledge and understanding of Agile principles and why they are so important for each team.
Embrace the five levels of planning and recognize the value of continuous planning.
Build a backlog of prioritized and estimated user stories that provides emergent requirements for analysis and foster customer engagement and understanding.
Engage in more effective estimating (story points) and become more accurate by being less precise.
Create accurate Agile release plans that connect you back to business expectations – including hard date commitments and fixed price models.
Prerequisites:
There are no prerequisites for this course.
Course Materials:
Students will receive a course manual with presentation slides and reference materials.
Examination:
There is no exam.
Technical Requirements:
For eBooks:
Internet for downloading the eBook
Laptop, tablet, Smartphone, eReader (No Kindle)
Adobe DRM supported software (e.g. Digital Editions, Bluefire Reader) eBook download and activation instructions
Agenda:
Waterfall vs Agile
An Intro to Agile Process
Agile Flavours
Agile Project Delivery
The Product Backlog
Release Planning
Planning & Estimation
The core tenets of Scrum
Advanced Scrum Topics
Agile Adoption
Kanban
Scrum (3*3)
Agile Project Simulation
Note:
However, catering to the demands of busy professionals, our virtual training programs are as effective as face-to-face learning. Reach us at info@academyforpros.com for dates and details of Instructor Led Live Virtual Session.
If you would like to get this course customized and delivered exclusively for your group, we have an On-Site Training Option you can reach us at info@academyforpros.com for more details about on-site or corporate training.
Offers:
Groups of 3 people 10% Discount
Groups of 5 people 15% Discount
Groups of 10 people 20% Discount