Aging Without Violence- 2hr Community Consultation Session re: Violence Aga...
Description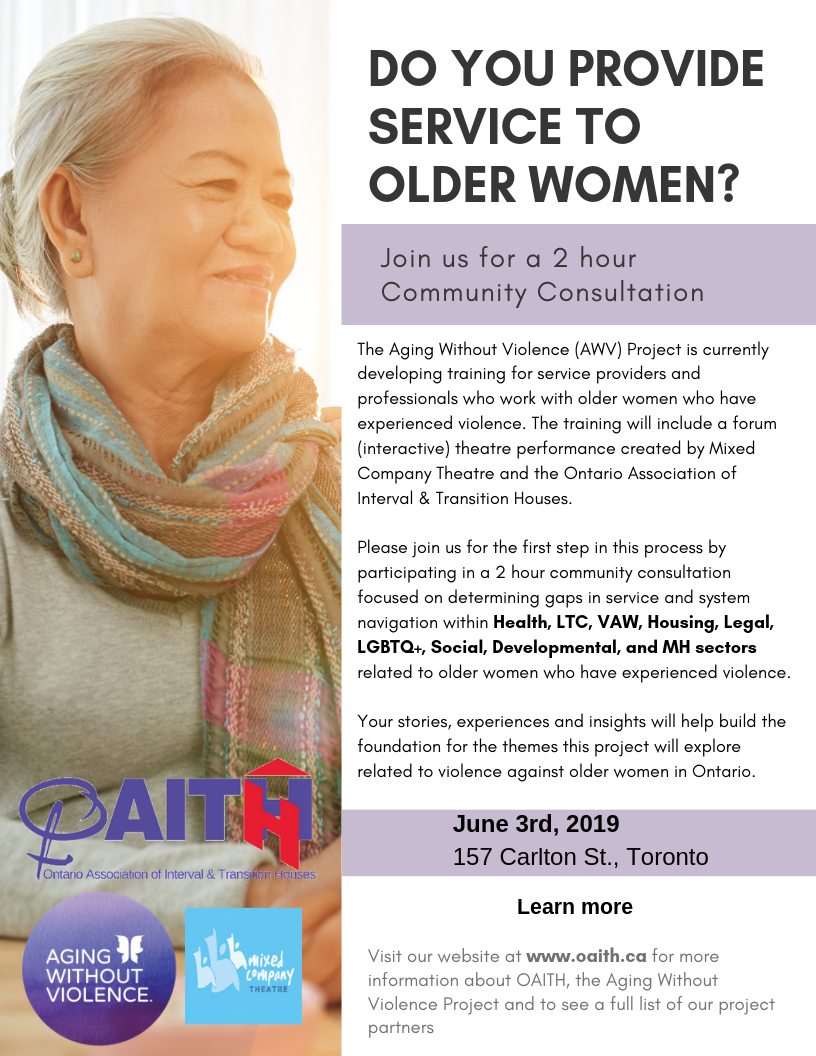 We hope you can join us for a 2 hour community consultation on June 3rd, 2019 from 10am - Noon. Please register for a ticket here to ensure your space is secured.
This fun, interactive, arts-based workshop is free to attend and in addition to providing direction for our provincial project, participants will gain insights into communicating and educating through theatre.
Please let us know at the time at registration of any accessibility needs.
The space is fully accessible and refreshments will be provided.
Please note this a scent free space.
Workshop Venue:

Ladies Parlour, Main Floor, St. Luke's United Church

157 Carlton Street, Toronto ON M5A 2K3
Ramp access through the alley way beside the church building.
Learn more about OAITH here: http://www.oaith.ca/
Learn more about the Aging Without Violence project here: https://www.oaith.ca/oaith-work/aging-without-violence/
Community Consultation Workshops
Workshop Objectives:
Identifying and analyzing the key themes related to violence against older women and related systems/services
Exploring the conflicts and challenges participants observe/experience which will lead us to the 1st draft of an interactive focum theatre script focused on service provision for older women experiencing violence in Ontario.
Community Consultation Agenda:
Brief AWV/MCT Introduction

Introduction of Facilitators

Name Game

Warm Up

Exercises for Play/Exploration

Vote for Themes/Issues

Image Theatre and Tableaux Creation Games

Debrief on Challenges, Conflicts, Stories Depicted in the Images

Reflection Circle
Mixed Company Theatre (MCT):
Mixed Company Theatre is a Toronto based theatre company, founded in 1983 and known for producing innovative, socially relevant drama as a tool for positive change. Founded as an artist-run collective in 1983, this nationally recognized not-for-profit today uses Forum Theatre and interactive arts to educate, engage and empower audiences in schools, communities and workplace.
The MCT anti-bullying program has empowered 300,000+ students across Ontario and is recognized as one of the most well-known and effective programs in the province.
Company Theatre has brought innovative and engaging educational programming to communities across Ontario. As the needs of the community grow and change, we continue to alter and expand our offerings to address new challenging social issues by bringing value to the community. A globally recognized Centre of Forum Theatre since 1992, Mixed Company Theatre today partners with schools, corporations and community organizations across Canada and around the world.
Learn more about Mixed Company Theatre here: http://www.mixedcompanytheatre.com/
Forum Theatre:
Forum theatre is an engaging tool which the Aging Without Violence project has identified as a format to promote learning and ultimately increase the capacity of service providers across sectors to provide support to older women experiencing violence
This interactive approach utilizes the expertise of audience members to develop strategies in real-time for addressing issues presented during the performance. Audience members become part of the performance and are given the opportunity to intervene and create new possibilities for how each scene, and the overall story may end. A theatre facilitator guides the audience through the experience and promotes interaction. Ultimately, the entire audience engages in discussion to "unpack" the knowledge gained during the performance.
Learn more about forum theatre here: http://www.mixedcompanytheatre.com/who-we-are/about-forum-theatre/
Collaboration between Aging Without Violence (AWV) & Mixed Company Theatre (MCT):
The Aging Without Violence hosted a provincial forum in March 2018 at the Toronto Chelsea focused on strengthening gender-based responses to violence against older women. The forum program was designed to promote intersectoral collaboration within intersectional frameworks. The agenda included an opening night performance by Mixed Company Theatre whose production of "The Golden Cage" examines what it is like to be a senior citizen in a society that perpetuates youth and perpetually denies the fact that people age.
The play explored issues of intergenerational conflicts, in particular abuse within family, hospital and community settings. A half dozen Forum delegates participated as "spect-actors" to create an engaging dialogue about the stigmas of ageism and the types of abuse older women experience. Through the engaging technique of role playing, participants worked through the many realities that frontline service providers face in their work to support and advocate for older women. Overall feedback from the Forum indicated that the play resonated with participants both personally and professionally. The play received a resounding applause and praise from the audience.
To continue this collaboration, AWV is currently working with MCT to create a forum theatre piece focused on promising practices related to services and supports for older women who have experienced violence. Through community consultations with a variety of sectors in different areas of Ontario, Mixed Company Theatre will develop a script focused on violence against older women. Following consultation with stakeholders, the live, interactive theatre piece will tour for several weeks offering live performances which engage service providers across sectors. These theatre performances will be filmed, and footage will be utilized in the creation of online training curriculum focused on violence against older women and available exclusively on the OAITH training portal.
Please contact the Aging Without Violence Project Coordinator, Amber Wardell with any questions:
(416) 977-6619 ext. 104
amber@oaith.ca