AGM & PD Luncheon - Don't Let HR Sabotage Your PR: How to Leverage Internal Communication to Protect Your Brand

Friday, 27 May 2016 from 11:45 AM to 1:00 PM (MDT)
Event Details
CPRS AGM
Members of Canadian Public Relations Society Edmonton are advised that the Annual General Meeting for the society will take place at 11:45am on Friday, May 27 at the Westin Hotel in Edmonton.

The meeting cover will cover the activities of the society from April 1, 2015 to March 31, 2016. Members will also elect CPRS Edmonton officers for 2016-2017.

Please click to view AGM documents (2015/16 Annual Report, 2016 Nominating Committee Report & CPRS Bylaws). 
If you are a CPRS member and cannot attend the AGM, please be sure to complete and submit a proxy form - - we need your vote!
PLEASE NOTE A ticket is NOT required if you plan to attend the AGM only. The AGM will commence at approximately 11:45am, followed immediately by the PD session...

---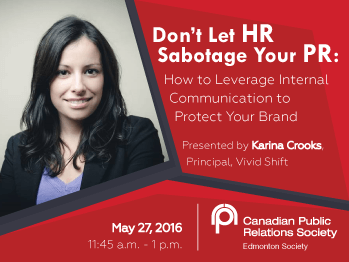 Public relations professionals are experts at managing information between an organization and the public, and are well versed in the effectiveness of creating "brand ambassadors." But what impact can PR professionals have on internal communication, employee engagement and the effect these issues have on the organization's brand? 
Through the experience of prospective candidates, current staff and departing employees, internal communication can affect both the organization's reputation and the bottom line. While communication with these groups has historically fallen within the HR realm, PR leaders have an increasing role and vested interest to ensure the company's brand is being effectively managed from both outside and inside the organization. 
Karina Crooks, Principal, Vivid Shift
Karina Crooks is a marketing and communications professional and the owner of Vivid Shift, a recruitment marketing company based in Edmonton. Karina has worked in program evaluation, project management and most recently as a managing partner at a local company focused on internal communication and employer branding. This experience has allowed her to blend a more analytical background with a creative approach to focus on measurement and evaluation of marketing efforts.
With a passion to help quality organizations attract employees, volunteers and students, she believes we must continuously question how we think about business, processes and the way we interact. Find her on Twitter @vividshift or @karinacrooks. 
---
PLEASE NOTE: Registration for this event will close Monday, May 23th at 5:00 pm in order to properly accommodate catering. Sorry - no exceptions! Also note that Early Bird registration closes at noon on Friday, May 20th. Get your tickets today! 
Please email via Eventbirte asap to let us know if you have any special dietary requirements.
Have questions about AGM & PD Luncheon - Don't Let HR Sabotage Your PR: How to Leverage Internal Communication to Protect Your Brand?
Contact CPRS Edmonton
When & Where

The Westin Edmonton
10135 100 St NW Edmonton
Alberta T5J 0N7
Canada

Friday, 27 May 2016 from 11:45 AM to 1:00 PM (MDT)
Add to my calendar