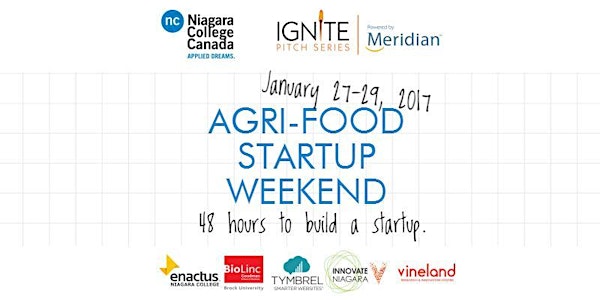 Agri-Food Startup Weekend
When and where
Location
Niagara College 100 Niagara College Boulevard Welland, ON L3C 7L3 Canada
Refund Policy
Contact the organizer to request a refund.
Description
Based on Google's famous Startup Weekend model, Niagara College's Agri-Food Startup Weekend will spark innovation and entrepreneurial action focused in solving problems in Agriculture and Food sectors.

This inspirational and action-packed weekend will begin Friday night, when we hear from award-winning horticulturalist, David Pratt. Teams* will then form and learn more about the problems for which they will develop solutions (see problem statements below).
On Saturday, teams develop solutions and business models with support from mentors and workshops, and pitch to a panel of expert judges on Sunday afternoon. Judges will award one winning team the grand prize of $500 cash and various other in-kind business services (visit ncTakeOff.ca/site/agrifood-startup-weekend for prize package details).

Online registration is mandatory. The Keynote Presentation is free and open to all.
The cost to participate in the Whole Weekend is $15 (includes materials, meals & brain fuel).

If you are a student and the cost or transportation are barriers to your participation, please email Rachel rcrane@niagaracollege.ca to work out a solution. Taxi vouchers are now available.

*Upon registration, individuals will be assigned teams based on diverse skillsets to ensure multi-dimensional solutions (for example, a team may consist of a greenhouse technician, mechanical engineer tech., computer programmer, marketing student, and someone with a culinary innovation background). Please refer to full Terms of Participation at ncTakeOff.ca/site/agrifood-startup-weekend.


PROGRAM SCHEDULE
Friday, January 27, Welland Campus, Auditorium AH141
5:00-5:30pm, Networking
5:30-6:30pm, Keynote Presentation ft. David Pratt (Note: this event is open to all. Select Friday ONLY option for registration).
6:30-8:00pm, Registration & set-up for weekend (Note: open to weekend participants, register accordingly)

Saturday, January 28, Welland campus, various locations
All day, starting with breakfast at 9:30am, rooms reserved until 10pm.
Teams attend workshops (The Business Model Canvas and 'How to Pitch'); develop solutions and pitches.

Sunday, January, 29, Welland Campus, Auditorium S160
9:30am-1:30pm, Teamwork time, pitch practice
2:00pm-4:30pm, Pitch Presentations (Note: all are welcome to attend and watch presentations)


KEYNOTE SPEAKER BIO, DAVID PRATT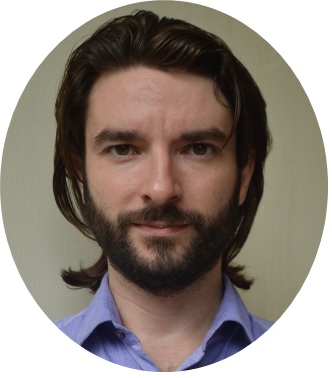 From growing operations to raising capital, David Pratt (Niagara College Greenhouse Tech. grad '07) has been involved in developing next generation organic food produce businesses and major greenhouse farming companies.
Early in his career, David migrated to the Australian Outback to spearhead the cultivation and management of a proof-of-concept horticultural business which subsequently expanded into the largest greenhouse producer in Australia. While there, he successfully chose predatory insects over pesticides to produce sustainable vegetable operation.
In 2012, David was honoured with a prestigious Premier's Award for his success in developing a cost-effective method of producing food using the sun's warmth to remove salt from seawater, saving millions of litres of fresh water and millions of barrels of oil while working with Sundrop Farms in Australia. He was previously involved in developing farms which harness heat and carbon dioxide released into the ecosystem by an Ammonium factory, and produce record-setting levels of sustainable fruits/vegetables.
David has a passion for bio-conservation as well as extensive experience in developing training and education programs, particularly in remote communities, and will take lead responsibility for APC's activities in programmatic, distributed, farmer training for multiple-site plant to animal-protein conversion.

PROBLEM STATEMENTS
Teams will base solutions around any combination of the following:
PROBLEM 1
It is widely accepted that our projected world population will be 9 billion people by 2050. The demand for food, feed, fiber and fuel will likely exceed our ability to produce if the current rate of output remains the same. Current food production will need to almost double. What we need are new, innovative approaches to protein production and processing. Otherwise, our agricultural systems face the threat of collapse. (Global Harvest Initiative; Food and Agriculture Organization of the United Nations, "Insects as Food and Feed"; Professor Alexander Mathys of ETH Zurich)
PROBLEM 2
Problems facing the world's food network are many and diverse, but agricultural demands for water are outpacing a dwindling supply. More than two-thirds of the water withdrawn from the earth's rivers, lakes and aquifers is used for irrigation (Food and Agriculture Organization of the United Nations, 2012). With increasing population and changing weather patterns a solution will need to be found soon. Could Biomimicry provide a pathway to reducing water demand?
PROBLEM 3
Almost 1/3 of the world's food ends up discarded as waste ("Global Food Loss and Food Waste". UN Food and Agricultural Organisation. 2016). In poor countries, the waste tends to be at the production stage due to inefficiencies or high costs for more efficient means. In wealthy countries, the waste happens at the consumption stage due to inefficient storage, shipping or even overestimating one's hunger. Can technology be used to address food waste or even repurpose it?
PROBLEM 4
Modern agriculture is turning to remote sensing in an effort to make fertilizer application more precise. These systems often employ satellite imagery to provide a "bird's eye" view of a field. These systems are expensive and technically demanding, which translates into poor adoption rates. How can farmers leverage new technologies (drones, etc.) to reduce fertilizer consumption?
PROBLEM 5
People often lose sight of the notion that agriculture is a business. When farmers are able to produce more than they consume, they become a force for economic change in whatever country they live in (Unlocking the wealth in rural markets, Harvard Business Review, 2014). As a business, farmers need to make informed decisions regarding the costs of the goods they are selling. What may seem like a simple process can quickly become confusing, often leading to poor business decisions. Unlike many other businesses farmers can often only make a correction once a year. Further aggravating this challenge is the cost of computing equipment. Could a low cost app or simple android device provide a step by step decision aid for farmers?