About this Event
Hot Buffet Breakfast starts at 7:45 AM, with the program getting underway at 8:25 AM.
This year's topics include Land Values (Ryan Parker, Valco), Ag Markets (Steve Duff, OMAFRA), and a Cannabis Industry Panel.
Full agenda below - we aim to have you on the road by 11:30 AM.
**REGISTRATION ENCOURAGED PRIOR TO NOVEMBER 28**
Online Registration: $40 + fees, payable online or via cheque
Registration At The Door: $41, payable via cheque
Credit Card payment accepted online ONLY.
Payment at the door is by cheque (not cash) per payee & amount details on your registration.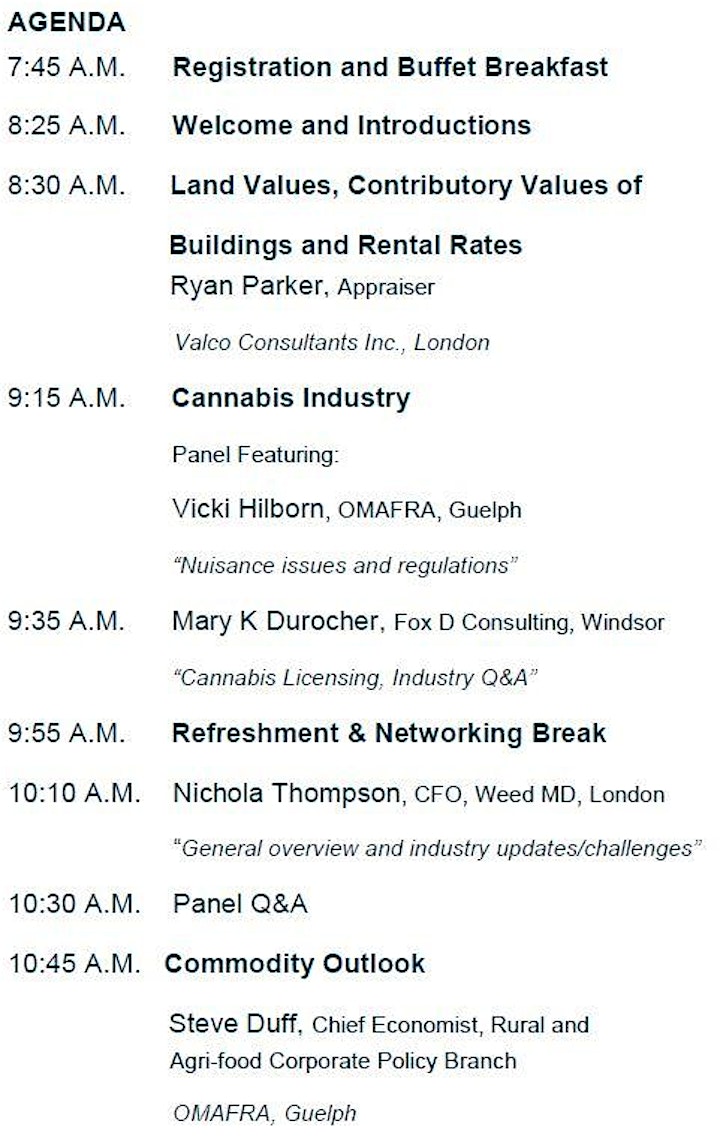 PLANNING COMMITTEE
CHERYL McLACHLAN, Royal Bank, Southwestern Ontario: cheryl.mclachlan@rbc.com
EMIL KLIJN, Famme & Co. Professional Corp., London: eklijn@famme.ca
ERIC TAYLOR, Farm Credit Canada, London: eric.taylor@fcc-fac.ca
MICHAEL HAJAS, Grant Thornton LLP, London: michael.hajas@ca.gt.com
CHRIS ANNIS, Allied Associates, London: cannis@alliedtax.ca
TODD PEMBERTON, TD Bank, St Marys: todd.pemberton@td.com
STEVE AIKEN, Scotiabank, Stratford/Woodstock: steve.aiken@scotiabank.com
CRISTINA DINU, BMO, St. Thomas: cristina.dinu@bmo.com
DOUG HOELZLI, Libro Credit Union, London: doug.hoelzli@libro.ca
DWAYNE SCOTT, Wilkinson Rogers LLP, London: dscott@wilkinsonrogers.com
KEVIN BOERSMA, Mainstreet Credit Union, Strathroy: kboersma@mainstrevetcu.ca
ANDREW PICKARD, CIBC, Dresden: andrew.pickard@cibc.com
ERICH WEBER, OMAFRA, London: erich.weber@ontario.ca