Description
Innovation in Waterloo Region goes beyond mobile application development in corporate offices; in fact, today's farmer can rival a tech geek! Innovation in agriculture is happening in Waterloo Region and this event is intended to showcase our farmers and agriculture industry leaders. The theme of the event is "Innovation for Agriculture" and is designed to highlight the unique ways our farming community has applied technology to diversify, expand and grow their businesses. The focus of this event is to encourage stakeholders and entrepreneurs to spark discussions on the inclusivity of innovative technology in the agriculture industry, and identify areas of collaboration.
Event includes transportation from Elmira to University of Guelph and includes transportation throughout the day as well as lunch and snacks throughout the day.
New to this year's event will be a live robotic demonstration by the Elmira District Secondary School Robotics Team at Alex and Glen Smyth's Crab Apple Farm located in Wellesley Township.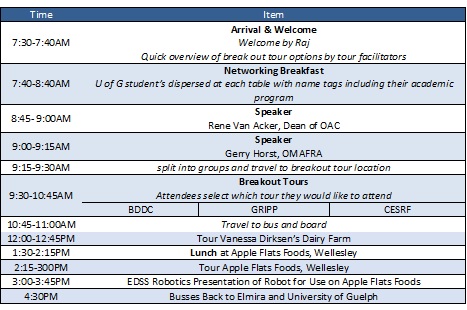 Tour Descriptions
Controlled Environment Systems Research Facility (CESRF) Tour
Tour the Controlled Environment Systems Research Facility and its Space and Advanced Life Support Agriculture program. Tour will include sustainable horticulture crop production, LED lighting to improve plant growth, yield and nutrition, Nutraceutical and pharmaceutical (i.e. cannabis) plan production, advanced life support research for Mars mission, and green infrastructure (i.e. green roof and living wall).
Gosling Research Institute for Plant Preservation (GRIPP) Tour
Visit on the Gosling Research Institute for Plant Preservation and uncover the concepts of plant preservation, conservation and biodiversity. Tour will include a short lecture on plant tissue culture, cryobiology and plant production system followed by an activity of transferring plant tissue culture in a laboratory setting.
Bioproducts Discovery and Development Cenre (BDDC) Tour
Tour the innovative Bioproducts Discovery and Development Centre (BDDC). Tour begins with an introduction to science and engineering research focusing on biobased materials like biobased/green plastics, agricultural & forestry residues, and industrial co-products & by-products to fabricate products such as compostable coffee pods and car parts. The session will conclude with a tour of the processing lab where different formulations are engineered, and the characterization lab where samples are tested for various properties.
For more information please contact Rajbir Sian at 519-669-6020 or rsian@woolwich.ca.