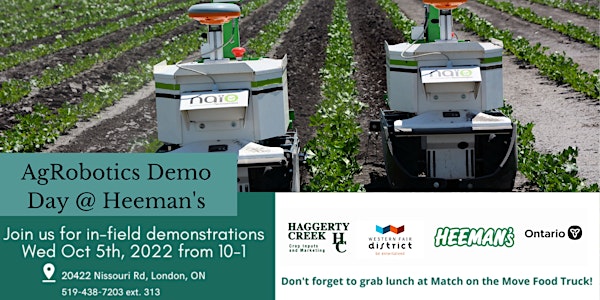 AgRobotics Field Demo @ Heeman's
Haggerty AgRobotics Demo at Heeman's Greenhouses. Come see the robots in action! Presented in partnership with the Western Fair District
When and where
Location
Heeman's 20422 Nissouri Rd London, ON N0M 2P0 Canada
About this event
Details:
Join the Grove (Western Fair District), and Haggerty AgRobotics, as they host an in-field demo at Heeman's Greenhouses in London!
Haggerty AgRobotics, a local company focused on solving challenges in crop agriculture with the implementation of AgRobotics and The Western Fair Association, a regional agricultural society supporting the ag-industry through its people, activities and facilities are coming together to showcase the practicality of modern robotic weed management systems. To overcome the chronic farm labour shortage of ever-increasing demand for food, many agricultural companies are launching, developing and experimenting with a wide range of robotic systems for various agricultural applications. Increasing use of milking robots, automated harvesting systems, unmanned aerial vehicles, and other robots also boosts the various agricultural services. This rapid adoption of innovation in digital technologies on the farm helps farmers to boost yields, reduce costs and put more money in their pockets.
About Haggerty AgRobotics:
Haggerty AgRobotics, a leader in the emerging agriculture robotics and automation industry, was founded by Chuck and Justin Baresich and has been researching and testing various technologies through the Haggerty Creek farming operation. "As we look to the future, Haggerty AgRobotics is developing relationships with leading ag technology companies to commercialize and bring new innovations to farmers in Canada," said Chuck Bareisch. Their focus is to support the development of critical knowledge, experience, technology and innovative capacity in London, Ontario to help attract high-skilled employment and investment in the region.
About Heeman's:
Since our humble beginnings in 1963, Heeman's has grown to serve London and it's surrounding communities. Our family owned and operated business aims to be your perferred destination for all gardening and berry needs. Heeman's provides the best quality product at the best value for your dollar. We are proud growers of all our products, ensuring the best quality and pass on our savings to you. We invite you to come for a visit. See the garden centre, speak with our knowledgeable staff and see the difference family makes for yourself.
About Western Fair District:
The Western Fair District (WFD) is a multi-faceted, not for profit, Agricultural Society, based in the heart of London, Ontario. WFD is a member driven organization supported by an extensive group of volunteers and staff. Through its programming and facilities it is a leading year-round agriculture, entertainment, commercial, sports and recreation destination for residents of the city of London and far beyond, anchored by its signature event, the annual Western Fair.
About Match Eatery & Pub (Food Truck):
Gateway's most successful signature food and beverage brand, MATCH Eatery & Public House (MATCH), is a contemporary themed pub that offers a great sporting and entertainment experience, with the atmosphere and comfort of a neighbourhood pub. The vision for Match On The Move is to bring the MATCH brand of pub tastes to the streets of the communities they operate with the familiarity of the bricks & mortar experience.
The MATCH food truck menu is inspired by MATCH favorites – and will feature items such as Fish N' Chips tacos, The Whole Hog pork belly sandwich, a Market Chicken salad and sweet treats like the Orange Creamsicle Float and S'mores Fries.
Equipment on display:
Autonomous weeding robot, Naïo Oz
Admission is free.
We are also excited that local favourite Match Food Truck will be on site, with the following menu items available for purchase.