AI and Medical Education (w/ Nishila Mehta & AIMSS) (Ethics of AI in Contex...
Description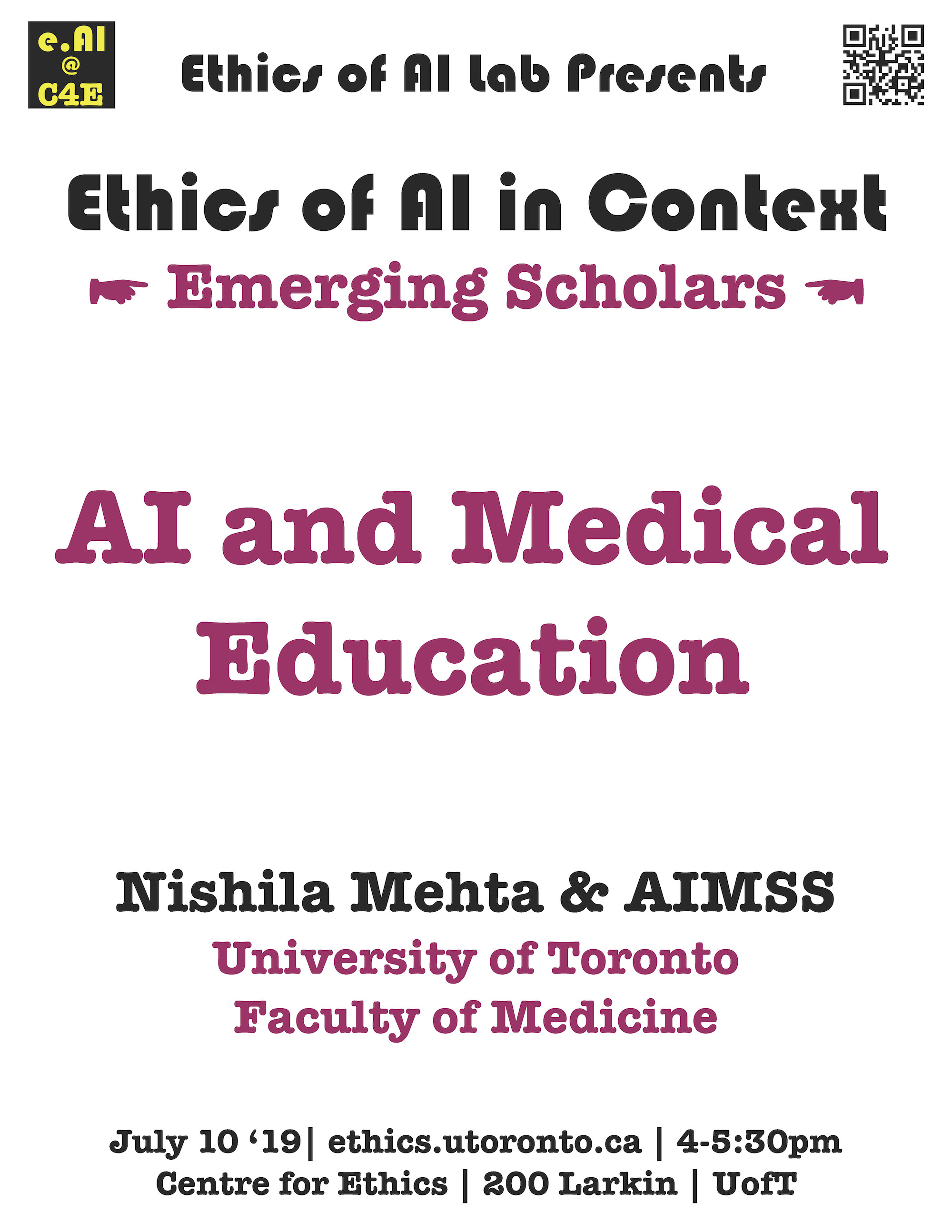 AI and Medical Education

Today, emerging technologies like artificial intelligence, gene editing, nanotechnology, and blockchain are being explored as ways to fundamentally "disrupt" medicine and healthcare. Despite the promises of such technologies, implementing them has presented countless unintended challenges. First and foremost, given the Hippocratic duties of healthcare providers to 'do no harm', it is essential that the role of these emerging technologies in medicine is carefully scrutinized by practitioners that understand and can think critically about them. Artificial intelligence (AI) can be broadly defined as the ability for a machine to perform human-like tasks after learning from experience. AI is poised to introduce significant changes to medicine and healthcare. Physicians will be expected to navigate these changes and use new technologies in a competent and ethical manner. Currently, curricular and extracurricular opportunities addressing AI in medicine across Ontario medical schools are sparse or nonexistent. Failing to prepare future physicians to respond and adapt to novel AI applications in medicine may lead to dire consequences including but not limited to decreased quality of care, exploitation of patient data, and widened health disparities. It is crucial that physicians, as patient advocates, are equipped with the skills and knowledge base to be a voice in the evolving dialogue surrounding the integration of AI into healthcare.

Nishila Mehta is a first-year medical student at the University of Toronto, and a recent graduate of York University's Global Health program with a specialization in eHealth. She has diverse interests in health technology, quality improvement, and health equity, and has explored these by leading several research projects at hospital and university sites. Her interest in AI Ethics grew out of her undergraduate degree, where she observed the widespread societal consequences that emerging technologies could have. She has spent her year as an inaugural research fellow in Ethics of AI at the Centre for Ethics exploring the implications of Artificial Intelligence for medical education and global health equity. She has also worked alongside a student group at the faculty of medicine called the "Artificial Intelligence in Medicine Student Society" (AiMSS) to further explore how AI can be integrated into medical education.
The Artificial Intelligence in Medicine Society (AIMSS) is a group for medical students at the University of Toronto. It was established in 2017 after students noticed the growing impact of machine learning and artificial intelligence on the healthcare field. Our mission is to provide medical students with insight on how AI is being applied to healthcare as well as the challenges it raises (especially ethically), connect students with opportunities and resources in the Toronto health-tech space, and advocate for greater integration of AI into the medical curriculum to prepare future doctors for the healthcare environment of tomorrow. We do this through speaker series, interactive workshops, and publishing in the scientific and popular literature. Our latest paper is a position paper endorsed by the Ontario Medical Students' Association which outlines how we can better prepare medical students for AI in healthcare. It can be accessed here: https://omsa.ca/en/position-papers/preparing-medical-students-impact-artificial-intelligence.