The 2021 AI-CRV conference will take place virtually, hosted by Simon Fraser University in Vancouver, British Columbia, May 25-28, 2021
About this event
The 34th Canadian Conference on Artificial Intelligence and the 18th Conference on Robots and Vision will be held together on-line this year. These events (AI·CRV 2021) will bring together hundreds of leaders in research, industry, and government, as well as Canada's most accomplished students. They showcase Canada's ingenuity, innovation and leadership in intelligent systems and advanced information and communications technology. A single registration lets you attend any session in the two conferences, which are scheduled in parallel tracks.
The conference proceedings will be published in PubPub open access online format (https://www.pubpub.org/), and submitted to be indexed and abstracted in leading indexing services such as DBLP, ACM, Google Scholar.
An email with the agenda and webinar links will be sent to you closer to the event date after you have registered.
This conference is hosted by SFU's Big Data Hub.
Questions?
If you have any questions, please contact sfu_bigdata@sfu.ca
Do You Have A Promo Code?
To enter your promo code, click "Tickets". When the ticket options appear, click Enter promo code (in the upper left corner, above the first ticket option).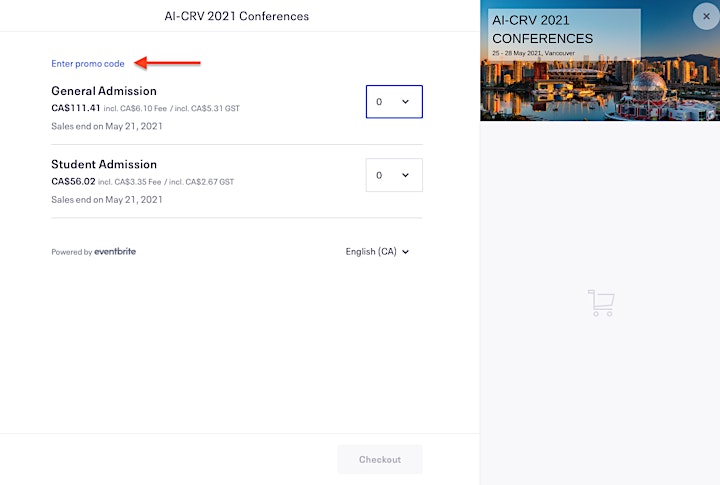 About SFU's Big Data Hub
Simon Fraser University leverages the power of big data so Canada can lead in a digital world. With over a decade of leadership in the big data field, SFU's Big Data Hub engages with our partners to fill critical talent shortages, generate new knowledge and contribute to an innovative economy. We connect government to industry and the community to deliver data-driven solutions to challenging problems. With 24 governmental partners and over 100 companies actively engaged, we are empowering people to use data for impact and social good to solve global challenges and transform society.
About Simon Fraser University
As Canada's engaged university, SFU works with communities, organizations and partners to create, share and embrace knowledge that improves life and generates real change. We deliver a world-class education with lifelong value that shapes change-makers, visionaries and problem-solvers. We connect research and innovation to entrepreneurship and industry to deliver sustainable, relevant solutions to today's problems. With campuses in British Columbia's three largest cities – Vancouver, Burnaby and Surrey – SFU has eight faculties that deliver 193 undergraduate degree programs and 127 graduate degree programs to more than 35,000 students. The university now boasts more than 160,000 alumni residing in 143 countries.
Organizer of AI-CRV 2021 Conferences