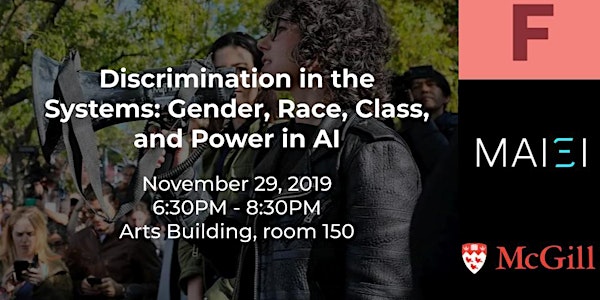 AI Ethics: Discrimination in the Systems - Gender, Race, Class, & Power
When and where
Location
McGill University 853 Sherbrooke St W, Montreal Arts 150 Montreal, QC H3A 2A7 Canada
Description
Interested in discussing how we can mitigate AI's systematic amplification of societal inequalities?


Read these before you come:

Our meetups use a flipped classroom model:
You do the reading(s) before showing up to the event.
When you show up, we split up into groups to discuss and take notes.
Afterward, we reconvene to share our findings with the larger group.


We (the Montreal AI Ethics Institute) are teaming up with the Feminist and Accessible Publishing and Communications Technologies to host an AI Ethics meetup at McGill University on the topic of discriminating systems. This is an important topic to discuss because algorithms tend to amplify societal biases and injustices; this happens for gender, race, class, and social inequality.


Location: Arts building of McGill University, room 150.


---
About us:
The Montreal AI Ethics Institute seeks to help define humanity's place in a world increasingly characterized and driven by algorithms. MAIEI does this by creating tangible and applied technical and policy research in the ethical, safe and inclusive development of AI. (https://montrealethics.ai)
This event is part of the Feminist and Accessible Publishing and Communications Technologies Speaker and Workshop Series (https://www.feministandaccessiblepublishingandtechnology.com).
This series was made possible thanks to the Social Sciences and Humanities Research Council of Canada, the Institute for Gender, Sexuality, and Feminist Studies of McGill, MILA, the Dean of Arts Development Fund of McGill, Media @McGill, McGill's Department of History and Classical Studies, the William Dawson Fund, RéQEF, the Moving Image Research Laboratory, Element AI, and L'Euguélionne: Montreal's Feminist Bookstore.
There is no fee required to attend this event. It is open to the public.
Accessibility Notes will be updated closer to the event.