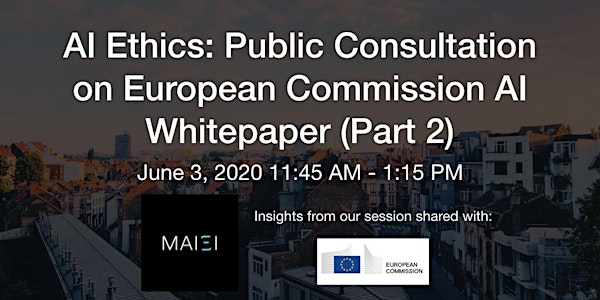 AI Ethics: Public Consultation on European Commission AI Whitepaper (Part 2...
Description
We are hosting this session to share our insights with the European Commission on their AI Whitepaper drawing from our diverse perspectives and experience and having done so before for various other public consultations. Given that this will be a shorter session and focused on providing concrete recommendations, we encourage you to read the document beforehand and frame your contributions in line with the questions.
Link to the reading https://ec.europa.eu/info/sites/info/files/commission-white-paper-artificial-intelligence-feb2020_en.pdf

Questions that we will be working on:

Please take a look through the questions in the linked document, we'll be splitting into groups to address the different questions. More guidance on that will be provided in the follow-up email.

https://drive.google.com/open?id=1RJ2bRFg53oyBDPtOyw9mSp19xASUbX23
Please note that details on how to join online will be shared prior to the event in an email.
Here's some more information on what you can expect from our events:
Our meetups use a flipped classroom model:
You do the reading(s) before showing up to the event.
When you show up, we split up into groups to discuss and take notes.
Afterward, we reconvene to share our findings with the larger group.

We will be sharing publicly the discussions had during the session keeping in line with our commitment to building public competence and sharing work in an open-source, open-access model.
If you have suggestions for other readings that might be useful, please email: support@montrealethics.ai