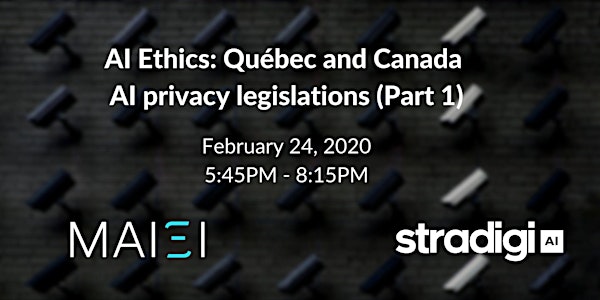 AI Ethics: Québec and Canada AI privacy legislations (Part 1)
When and where
Location
Stradigi AI 1470 Rue Peel #Suite 1050, Tower A Montreal, QC H3A 1T1 Canada
Description
Interested in contributing to a public consultation on AI & privacy legislations affecting Quebec and Canada? (privacy, consent models, data traceability, and more)

Read this summary of the issues being discussed before you come: https://priv.gc.ca/en/about-the-opc/what-we-do/consultations/consultation-ai/pos_ai_202001/
Our meetups use a flipped classroom model:
You do the reading(s) before showing up to the event.
When you show up, we split up into groups to discuss and take notes.
Afterward, we reconvene to share our findings with the larger group.

All guests must sign in at the StradigiAI reception desk located on 10th floor Tower A Suite 1050 prior to 5:45 PM. Please note, the elevators for Tower A are locked after 5:30pm and guests will have to use the elevators in Tower B. In addition to signing in, all guests must sign an NDA as the StradigiAI office space contains sensitive materials. This is non-negotiable. All guests must exit StradigiAI's office by 8:30pm.