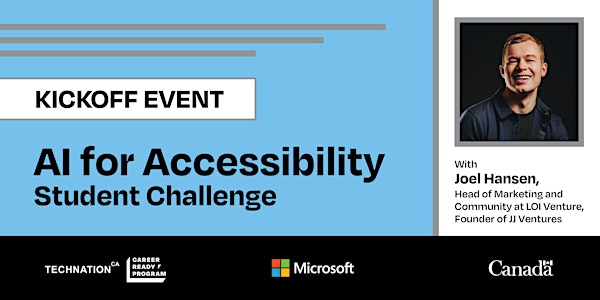 AI for Accessibility Student Challenge Kickoff
Join us for the virtual kickoff of the AI for Accessibility Student Challenge!
About this event
The AI for Accessibility Student Challenge is an exciting opportunity for students to use their skills and creativity to develop innovative technologies that improve the lives of people with disabilities. The kickoff event will be held virtually and is the perfect chance for students to learn more about the challenge.
During the event, attendees will hear from marketer, speaker and tech influencer Joel Hansen. Joel is the Head of Marketing and Community at LOI Venture, Founder of JJ Ventures, 2-Time TEDx Speaker and Marketing Advisor who has generated over 20 million views online. Joel will bring exclusive insights via case studies on startups that have succeeded in their respective industries and tips on innovating with intention.
Register now for the AI for Accessibility Student Challenge Kickoff event and join us on the journey to create a more inclusive and accessible world.
-----------------------------------------------------------------------------
AND don't forget to register for the student challenge workshop on February 22 with Dave Dame, Microsoft's Director of Accessibility. Challenge participants are encouraged to attend to further their knowledge around accessibility and tech.