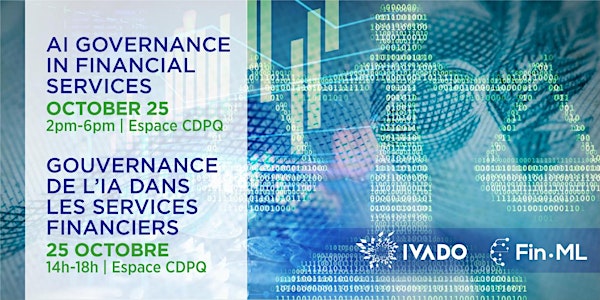 AI Governance in Financial Services
The discussion will be in English and will also be broadcast virtually / La discussion sera en anglais et sera aussi diffusée virtuellement
When and where
Location
Espace CDPQ 3, Place Ville Marie, bureau 12350 Montréal, QC H3B 0E7 Canada
About this event
If you can't make it in person, please register for the Web Conference and we will send you connection details closer to the date!
Si vous ne pouvez pas venir en personne, veuillez vous inscrire à la Conférence Web et nous vous enverrons les détails de connexion plus près de la date !
***************************
Join us for a panel discussion and a networking cocktail around AI Governance in financial services, presented by Fin-ML and IVADO. The deployment of AI models in financial services pose an array of challenging and interesting questions, particularly around compliance and ethical matters - for instance regarding model explainability, prevention of unfair bias, as well as algorithmic accountability and human-in-the-loop. The objective of the panels is to both discuss AI Governance in a holistic way, as the questions it poses are all interrelated, and to hone in on some of the particularly pressing issues. To ensure a meaningful dialogue, panelists will be from various backgrounds, jurists and scientists, from the industry, the regulators, and academia.
***************************
Joignez-nous pour une table ronde et un cocktail de réseautage sur la Gouvernance de l'IA dans les Services Financiers, présenté par Fin-ML et IVADO. Le déploiement de modèles d'intelligence artificielle dans les services financiers pose toute une série de questions complexes et intéressantes, en particulier en matière de conformité et d'éthique - par exemple en ce qui concerne l'explicabilité des modèles, la prévention des biais injustifés, ainsi que la responsabilité algorithmique et l'humain-dans-la-boucle ("human-in-the-loop"). L'objectif des panels est à la fois de discuter de la gouvernance de l'IA d'une manière holistique, car les questions qu'elle pose sont toutes interreliées, et de se pencher sur certaines des questions particulièrement pressantes. Afin d'assurer un dialogue significatif, les panélistes proviendront de divers milieux, juristes et scientifiques, de l'industrie, des organismes de réglementation et du milieu universitaire.
Presenter & Moderators / Présentateur et Modératrices
Manuel Morales – Professor, Mathematics & Statistics, Université de Montréal – Director Fin-ML – Chief AI Scientist, National Bank of Canada
Dominique Payette – Lawyer, Legal Affairs, National Bank of Canada - Fin-ML Collaborator
Laure Fouin – Corporate and Securities Lawyer, McCarthy Tétrault
Panelists / Panélistes
Our partners / Nos partenaires