Location
Vancouver Japanese Language School – Room #416
487 Alexander Street
Vancouver, BC V6A 1C6
Canada
Explore the fundamentals of machine learning in this family workshop inspired by the Kūsou 空相 installation- July 28-Aug 3, Anvil Centre
About this event
Explore the fundamentals of machine learning in this workshop led by Hope Akello that combines communication with each other and with machines. Friends and family will work together to create an immersive art installation with communicative gestures, poses, and movements inspired by Kūsou 空相 at Anvil Theatre. Begin by teaching a computer to respond to your movements and end with a visual digital artwork generated by a computer. This workshop will use creative technology like iPads and Microbits to activate a fun and engaging art activity. Parental or guardian supervision is required- all ages are welcome to participate.
This workshop is free and registration is required. A standby list be be available for no-shows during the Festival weekend. Please register for one of the time slot below to confirm your spot:
Saturday, July 30, 12-12:30pm
Saturday, July 30, 1-1:30pm
Saturday, July 30, 2-2:30pm
Saturday, July 30, 3-3:30pm
Sunday, July 31, 12-12:30pm
Sunday, July 31, 1-1:30pm
Sunday, July 31, 2-2:30pm
Sunday, July 31, 3-3:30pm
If parents or guardians would like to participate in the workshop as well, please reserve a ticket for both yourself and your child. We have materials for 12 spots per time slots. Materials will be santised between each group.
Please note that pre-registration ends 1 day before the event at 7:30pm. If you would like to attend on the day of, please see the Information Booth on site for available spots.
Hope Akello is a designer and educator teaching computational design thinking. Hope is passionate about design and its ability to find and communicate meaning to the world. Utilizing design as a vehicle for social justice and anti-oppression, Hope strives to design meaningful experiences and telling stories from perspectives not often realized through design.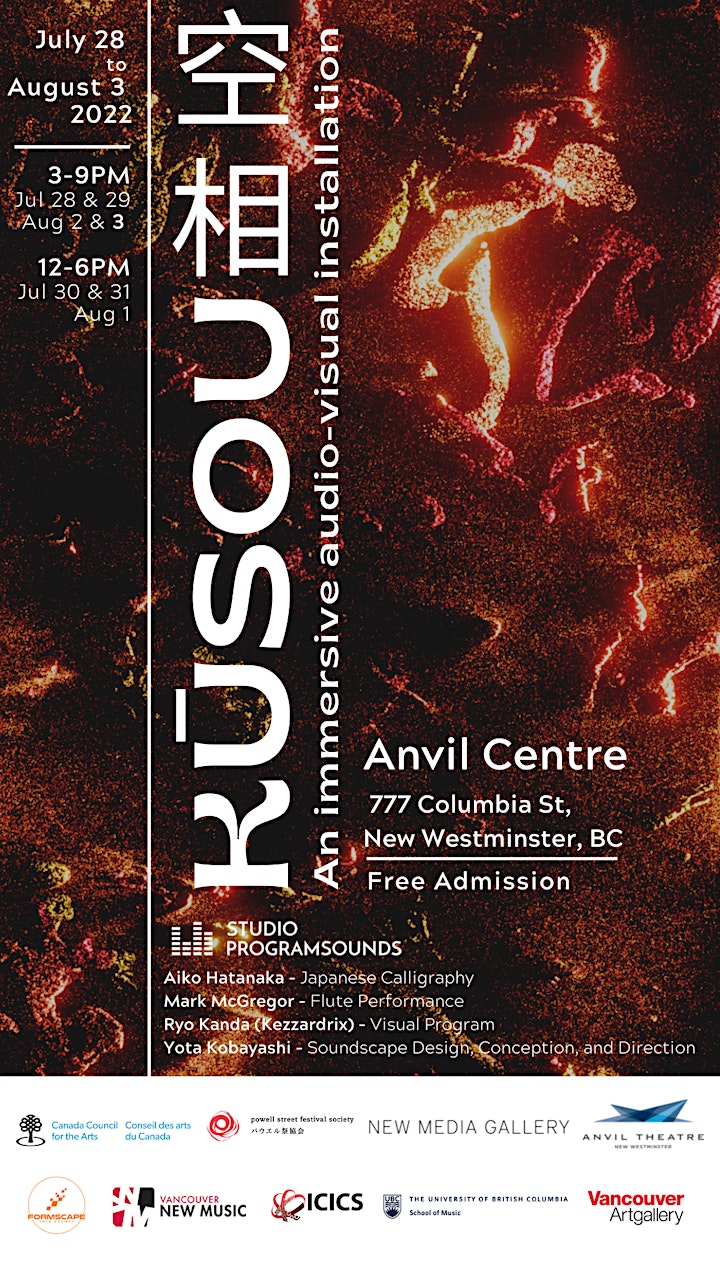 Visit Kūsou 空相 - An immersive audio-visual installation July 28 & 29, August 2 & 3, 3:00 – 9:00PM and July 30 & 31, August 1, 12:00 – 6:00PM at the Anvil Centre, 777 Columbia St, New Westminster, BC .
Kūsou is an immersive audio-visual installation. The primary visual and sound sources for Kūsou are respectively Japanese calligraphy and Western flute. The calligraphy is represented as dynamic 3D objects through real-time computer graphics and rendered spatially in the exhibit space as a continuously transforming visual scenery. Similarly, the audible scenery consists of acoustic and electronically transformed flute sounds. The audience plays a special role in Kūsou.
The Kūsou artwork production team was formed through an international and interdisciplinary collaboration of four artists in Japan and Canada, each member bringing their expertise from the respective artistic field. The team comprises Japanese calligrapher Aiko Hatanaka (Tokyo), flutist Mark Takeshi McGregor (Vancouver), video artist Ryo Kanda (Tokyo), and soundscape artist and interactive system developer Yota Kobayashi (Vancouver). This installation is produced by Studio Program Sounds and presented in collaboration with New Media Gallery, Anvil Centre, and Formscape Arts Society with financial and in-kind support from Canada Council for the Arts, Vancouver New Music, ICICS, University of British Columbia- School of Music, and the Vancouver Art Gallery.