Event Information
Location
University of Calgary ICT Lecture Theater 102
856 Campus Pl NW
Calgary, AB T2N 4V8
Canada
Refund policy
Contact the organizer to request a refund.
Eventbrite's fee is nonrefundable.
AI4Youth Canada's 2nd Annual National Conference www.ai4youthcanada.com
About this event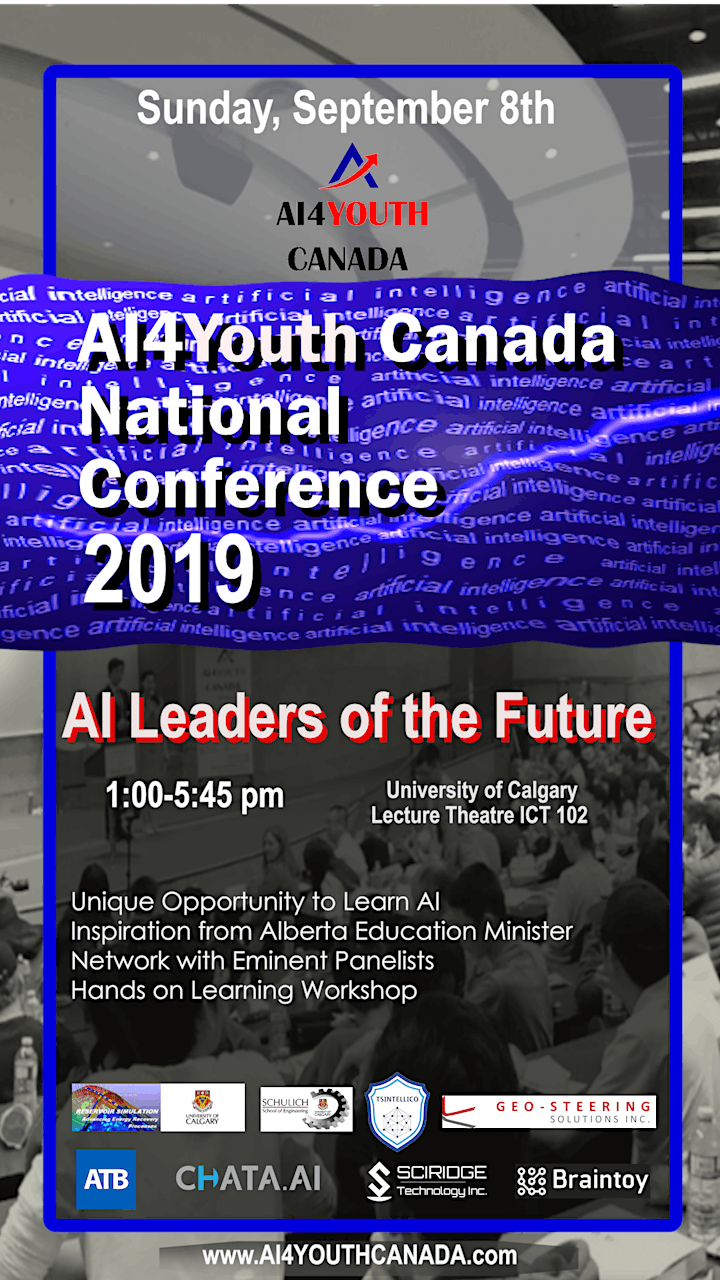 Our Sponsors: Tsintellico Inc. AvanTech Inc. Risk Alive Analytics Inc.
Partners: University of Calgary, Energi Simulation/Frank and Sarah Meyer Collaboration Centre, Schulich School of Engineering, ATB Financial, chata.ai, Tsintellico Inc., Geo-Steering Solutions Inc., Sciridge Technology Inc, Braintoy.
2019 AI4YOUTH CANADA 2nd Annual NATIONAL CONFERENCE
Snacks and drinks will be provided. Your confirmation is required for snack & drinks.
Ticket options:
Buy one ticket online for $10.00.
Buy 2 tickets online at the same time (both need to sign up), $5 per person.
Pay cash at the door $10.00 per person, $5 per person if you bring a friend.
First 20 tickets are free online.
Special Ticket Priority:
The first 75 Grade 10 + students (including university students) who sign up for the Conference will have priority to attend the Deep Learning Workshop at the end of the Conference. This extremely popular hands-on workshop with Micheal Lanham on an Introduction to Deep Learning specially tailored for high school students. (See below for more details)
Please choose the proper ticket type. Your tickets will be validated at the door.
Sunday, September 8, 2019 1:00PM – 5:45PM
University of Calgary ICT Lecture Theatre 102
Recommend parking at the University of Calgary parking lot 21, flat rate $8. https://www.ucalgary.ca/map/files/map/2018_parking_map.pdf
AI4YOUTH CANADA NATIONAL CONFERENCE aims to provide students with in-person opportunities to learn AI through national networking, and to inspire students to make a difference in real life through innovation. Last year our first AI nationwide conference specifically for high school students had more than 350 participants across Canada. It had a resounding impact and raised more awareness among youth about AI and reported by CBC, CTV.
2019 National Conference Features:
Interact with local AI leaders from Universities and Industries to learn how AI is deployed and developing in our daily life, from banking, oil and gas to games.
Education insights from Alberta Education Minister in person.
Popular hands on Deep Learning Workshop specially tailored for high school students through game play.
Keynote Speakers:
Adriana LaGrange
Alberta Education Minister
Dr. Xin Wang,
Professor at the Department of Geomatics Engineering Schulich School of Engineering at the University of Calgary, Executive member and treasurer of Canadian Artificial Intelligence Association
Topic: AI and Recommendation Systems
Bruke Kifle
PM at Microsoft | Computer Science & Management at MIT
Topic: Ethics and Societal implications of AI
Dan Semmens
AP and Head of Artificial Intelligence ATB Financial
Topic: How ATB Leverages AI to Create Happiness for our Customers
Robin Winsor
Formerly President & CEO of Cybera Inc. Currently Author & Public Speaker
Topic: Schools Out! - Why AI Will Radically Change The Way We Learn
Speakers:
Gideon Christian
Assistant Professor in the Faculty of Law at the University of Calgary.
Topic: AI in Law and Legal Practice
Kelly Cherniwchan
CEO and Founder at chata.ai
Topic: How AI will change the way we access and share information
Gunjan Kaur
Director of Analytics, ATB Financial
Topic: A Day in the Life of a Data Scientist
Paul Zhou
CTO of Tsintellico Inc, and CEO of Digisite System Inc.
Topic: Introduction to IoT Security
Yu Zhou
CTO of Sciridge Technology Inc
Topic: Cloud Computing and Software Delivery
Kwame Asiedu
CIO & Co-Founder of Braintoy
Topic: Demystifying AI for Future Generations
Niko Forsyth and Hassan Jamil
AI4Youth Canada Interns
Topic: Experiences at AI4YOUTH Canada Internship 2019
Deep Learning Workshop:
Micheal Lanham
Software and tech Innovator, R&D Developer for games, graphic, web, desktop, engineering, artificial intelligence, GIS and machine learning applications for a variety of industries
Topic: A Hands-on Introduction to Deep Learning
Deep learning is the power behind the latest AI that can perform speech recognition, recognize a cat or a dog, play Atari games, self-drive cars and more. In this workshop we learn the core concept behind deep learning the Perceptron by playing a learning game. From this the student should have a better grasp of what and how the latest AI is powered.
www.ai4youthcanada.com
@ai4youthcanada
Date and time
Location
University of Calgary ICT Lecture Theater 102
856 Campus Pl NW
Calgary, AB T2N 4V8
Canada
Refund policy
Contact the organizer to request a refund.
Eventbrite's fee is nonrefundable.