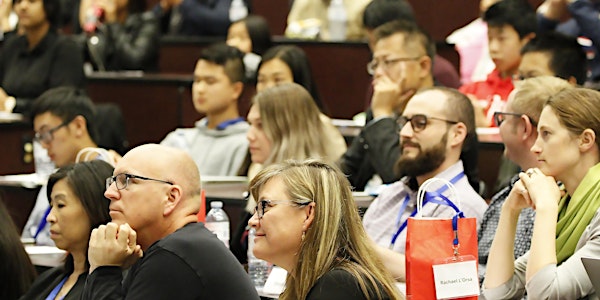 AI4Youth Canada 3rd Annual Conference 2020
AI4Youth Canada's 3rd Annual National Conference www.ai4youthcanada.com
Refund Policy
Contact the organizer to request a refund.
Eventbrite's fee is nonrefundable.
About this event
Partners: Enbridge, NDAX, SalesChoice Inc., braintoy.ai
2020 AI4YOUTH CANADA 3rd Annual NATIONAL CONFERENCE
Sunday, August 23, 2020 1:00PM – 6:00PM MST
Theme: Tomorrow's AI Leaders Begin Today
Tickets: FREE for all attendees; AFTER PURCHASING A TICKET, REGISTER ON ZOOM FOR THE CONFERENCE LINK USING THE EMAIL CONFIRMATION
AI4YOUTH CANADA NATIONAL CONFERENCE aims to provide students with in-person opportunities to learn AI through national networking and to inspire students to make a difference in real life through innovation. In the past two years, our AI nationwide conferences specifically for high school students have had more than 700+ participants across Canada. It had a resounding impact and raised more awareness among youth about AI and reported by CBC, CTV.
2020 National Conference Features:
Online Panel style with moderator and Live Q&A with panelists!
Interact with local AI leaders from Universities and Industries to learn how AI is deployed and developed in our daily lives, from banking to ethics and security to health.
4 separate panels including 2 Deep Dive Panels into Ethics, Security, and Privacy and Finance
Special Student Panel of UofToronto and Stanford students who will share their AI startups and application projects. Panelists include young entrepreneurs and scientists, researchers, and interns!
General Panel:
AI is changing our world. Who changes AI? You - the next generation! Learn about the newest opportunities, limitations, and innovations that companies, industry leaders, and researchers bring into our AI-integrated future. How can you use AI to contribute to growing our sustainable and diverse community?
Moderator: Linus Sebastian - Linus Media Group, Canadian Youtube Personality
Panelists:
Frank Wood - UBC, Associate Professor of Computer Science; Canada CIFAR AI Chair, Mila institute
Dr. Cindy Gordon - SalesChoice Inc, CEO and Co-founder; Forbes Contributor: AI Leadership; AI Directory, Co-founder, Chairman, and Board Director
Tony Khoo - Enbridge, Head of Canadian Technology + Innovation Lab
Amit Varma - braintoy.ai, CEO and Co-founder
Zoe Cayetano - Intel, AI/DL Product Manager
Deep Dive Panel #1: Ethics + Security + Privacy
Are we ready? Approaching the digital, political, and physical issues that arise in an AI-driven world. Where do we draw the line between human and machine? From healthcare to cybersecurity, from startups to Fortune 500 companies, learn about important AI issues through the perspectives of our powerhouse panelists.
Moderator: Bruke Kifle - Microsoft, Artificial Intelligence Product Manager
Panelists:
Stephen Ibaraki - Founder AI for Good, Investor/Venture Capitalist, Futurist, Author
Quinn Underwood - animo.ai, CEO and Co-founder
J Sotropa - General Dynamics, Chief Engineer - Land and Joint
Saqib Muhammed - Resemble AI, Co-founder
Ouldooz B. Karimi - Invent the Future (AI4ALL), Co-Director
Deep Dive Panel #2: Finance
Ever wonder how AI is changing the financial sector? From cryptocurrency to AI stock traders to chatbot bankers, how are we using AI to make our lives more efficient and secure? What are the possible consequences? Discover new doors to AI in Finance!
Moderator: Sarah Sun - Analytics By Design, Head of Content and Research
Panelists:
Julia Baranovskaya - National Digital Asset Exchange Inc. (NDAX), CCO and Founding Team Member
Yana Bobrysheva - Finn.ai, Customer Success and Delivery Manager
Eric Santor - Bank of Canada, Advisor to the Governor
Student Panel:
Hooked? How can you get started learning AI and build your own AI career? Learn from fellow high school and university students about their AI journeys.
Moderator: Nicholas Wilger - AI4Youth Canada, Alberta Regional Director
Panelists:
Azmain Abrer - Popular Innovations Inc., CEO and Co-founder
Brendon Matusch - Upcoming Stanford Student 2024, Intern at Vector Institute
Shounak Ray - Upcoming Stanford Student 2025
Conference Schedule
1:00: Conference Begins
1:15 - 2:15: General Panel Discussion
2:15 - 2:30: Live Q&A for students
15 min Break
2:45 - 3:15: Student Panel
3:15 - 3:30: Live Q&A for students
15 min Break
3:45 - 4:30: Deep Dive Panel #1: Ethics, Security, and Privacy
4:30 - 4:45: Live Q&A for students
15 min Break
5:00 - 5:45: Deep Dive Panel #2: Finance
5:45 - 6:00: Live Q&A for students
www.ai4youthcanada.com
@ai4youthcanada