Sales Have Ended
Registrations are closed
Merci! See you at the gala!
Sales Have Ended
Registrations are closed
Merci! See you at the gala!
Description

**Un message français suit**
On April 28th, 2018, join us in downtown
Toronto

to celebrate

60 years of leadership in Canada

through AIESEC at the Anniversary Gala - the flagship event of the 60th anniversary.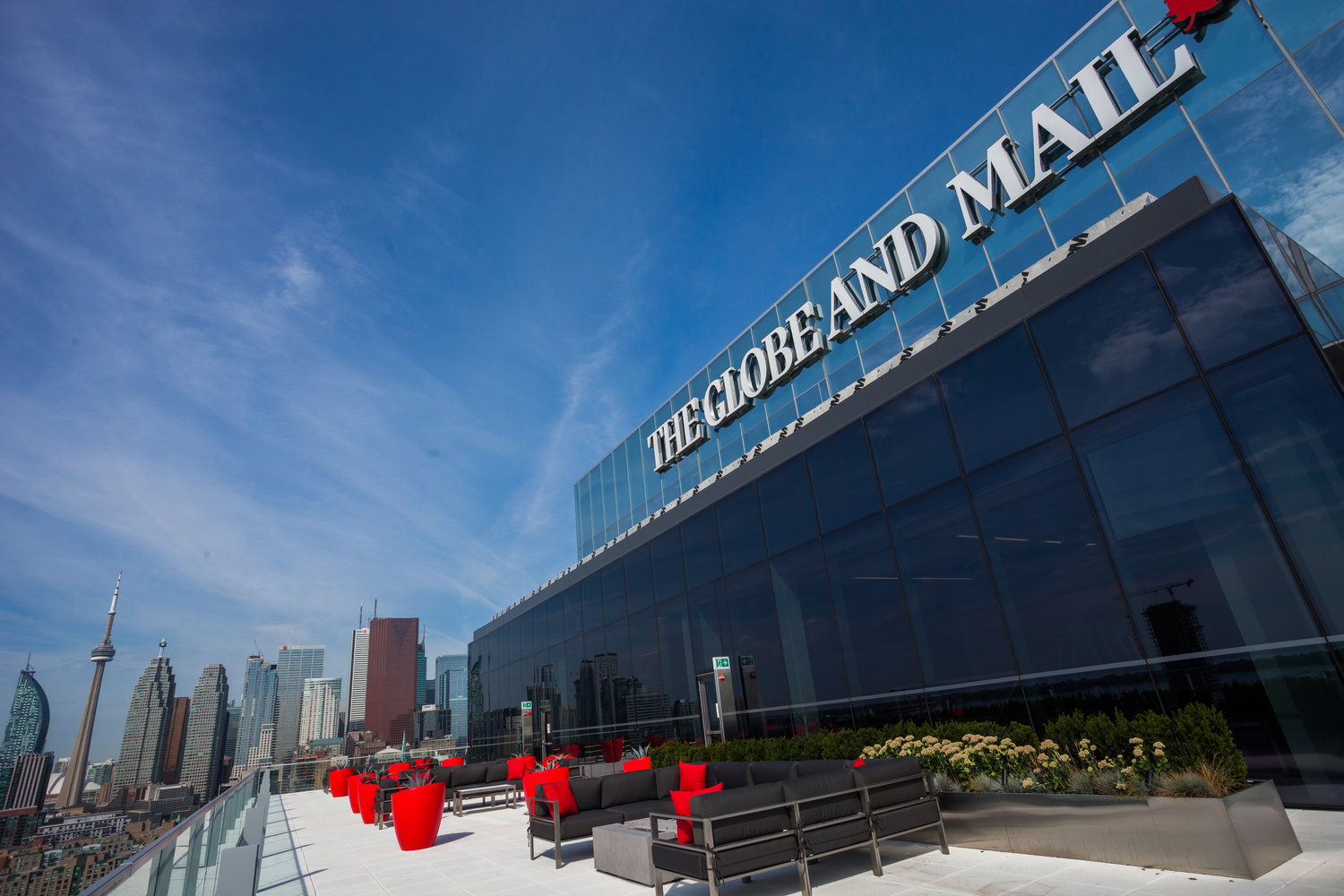 Registration is Open!
Over 300 AIESEC alumni, partners, and members will gather together on the top floor of the new Globe and Mail Centre to celebrate AIESEC in Canada's legacy. (www.globeandmailcentre.com)
Our history. Your story

.

The 60th anniversary gala will be the largest alumni event ever hosted by AIESEC Canada. It will also be your chance to help rewrite the history books – literally! While you relive the AIESEC experience with old friends and new, we invite you to capture your own AIESEC story and memories in print, photos and video. The gala will also feature an online silent auction to support AIESEC Canada's next 60 years of developing leaders.

Join us to celebrate where AIESEC is today, walk down memory lane, and reconnect with the organization we love.

** There are also sponsorship opportunities available, and we are still gathering amazing items for the silent auction. We need, and would appreciate, your support. Please contact Katie Lovejoy at katiel@aiesec.ca.





Keep up with the latest updates on our social media channels:



Please share the Gala invitation link at the bottom of the page with all your AIESEC friends!
FAQs
What's included in my ticket price?
AIESEC Canada has worked hard to fundraise and to negotiate with vendors to provide an amazing experience in a wonderful venue at a great price. In fact, the $125 ticket price is the same price for the 50th gala 10 years ago, that was held in Montreal.
We have an amazing caterer lined up with TONS of food (appetizers, 3 bountiful gourmet food stations, desserts and late night snacks), and every ticket includes 3 or more drinks. The ticket also helps cover the professional DJ, professional photographers, professional videographers who will conduct short alumni interviews all night, a giant photo booth; and monitors showing old AIESEC photos through the years. There are a few other surprises planned as well. The other value-adds includes a great venue overlooking downtown Toronto, and a unique chance to connect with old friends and like-minded people, and network with leaders of today and tomorrow.
What are my transportation/parking options for getting to and from the event?
Please find more information here: LINK
How can I get there?
AIESEC Canada has arranged a special travel discount with Air Canada! Alumni receive 10% off Tango fares, and 15% off any other fare when booking on www.aircanada.com for the gala. Enter Promotional Code: 7R2B4FZ1.
In Quebec? Retrigo, a sponsor of the gala, and a company founded by AIESECers, is hosting a bus to and from Montreal for the weekend. Includes welcome drink, snacks, and a great atmosphere! https://retrigo.com/fr/activities/1026-aiesec-canada-retrigo-study-tour
Where can I stay?
AIESEC Canada has arranged a great group rate at the nearby, luxurious, Omni King Edward Hotel. The 4.5 star hotel is just steps away from the gala venue, and many other downtown attractions. Room rates have been reduced to $259/night, and include wifi.
Book your room by calling Omni Reservations at 1-800-THE-OMNI and referring to the group and meeting name: 'AIESEC Canada 60th anniversary'. Deadline is March 29th.
Are there events happening before and after?
On Friday, April 27th, there will be some informal get-togethers in downtown bars. More information is coming soon.
Saturday morning, one of our sponsors, Retrigo, is hosting a study tour of Toronto's historic Evergreen Brickworks. Lunch is included. https://retrigo.com/fr/activities/1026-aiesec-canada-retrigo-study-tour
There will also be workshops discussing AIESEC on Saturday afternoon, after the study tour. Topics may include "Update on AIESEC Canada's current results", and "Establishing a Canadian Alumni network."
Are non-AIESEC spouses and partners invited?
Of course! There are already many spouses registered. Celebrate your involvement in AIESEC, and AIESEC's anniversary with the one you love!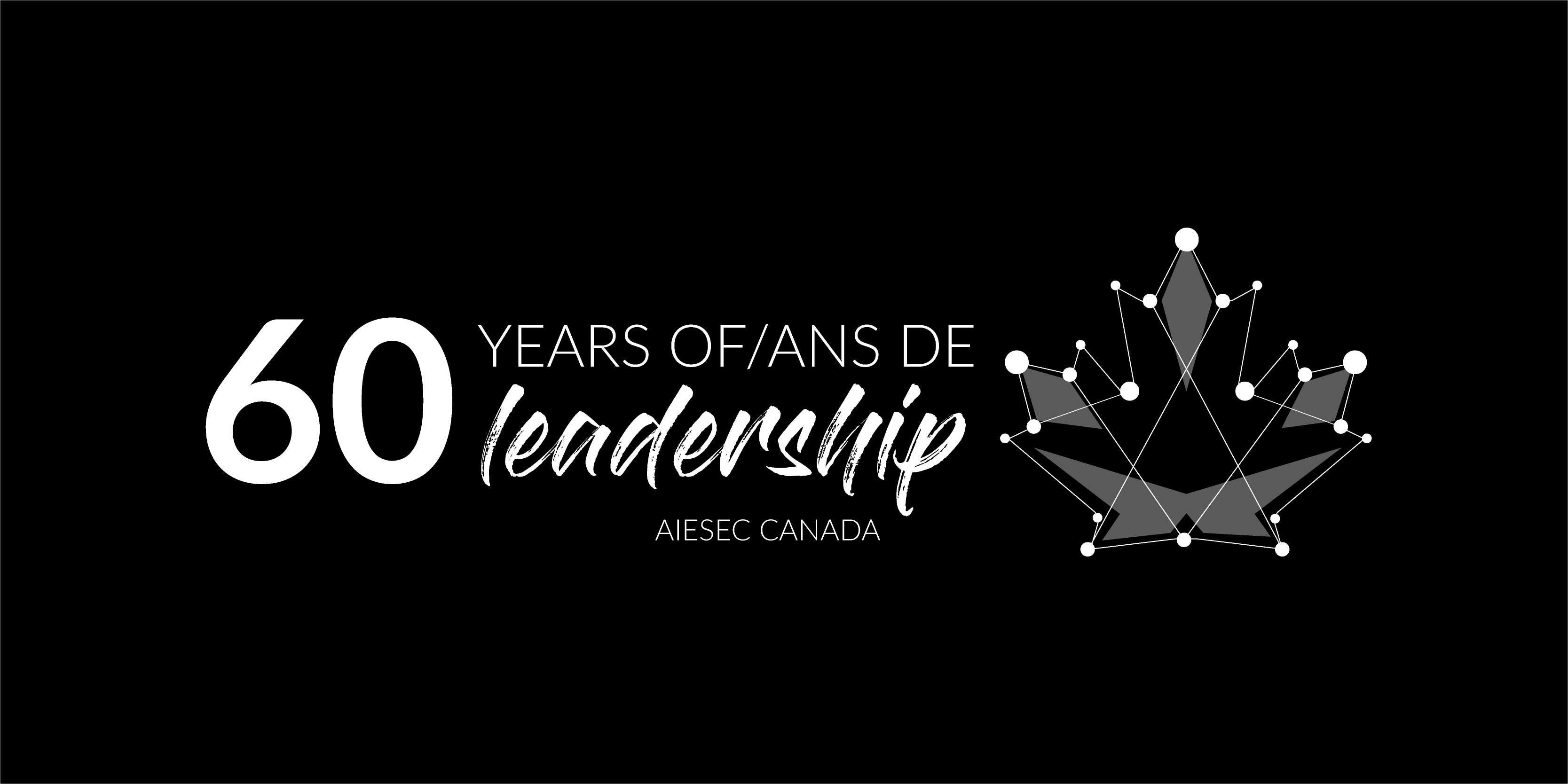 Le 28 avril 2018, joignez-vous à nous au centre-ville de Toronto pour célébrer 60 ans de leadership au Canada par l'entremise d'AIESEC lors du Gala anniversaire - l'événement phare du 60e anniversaire.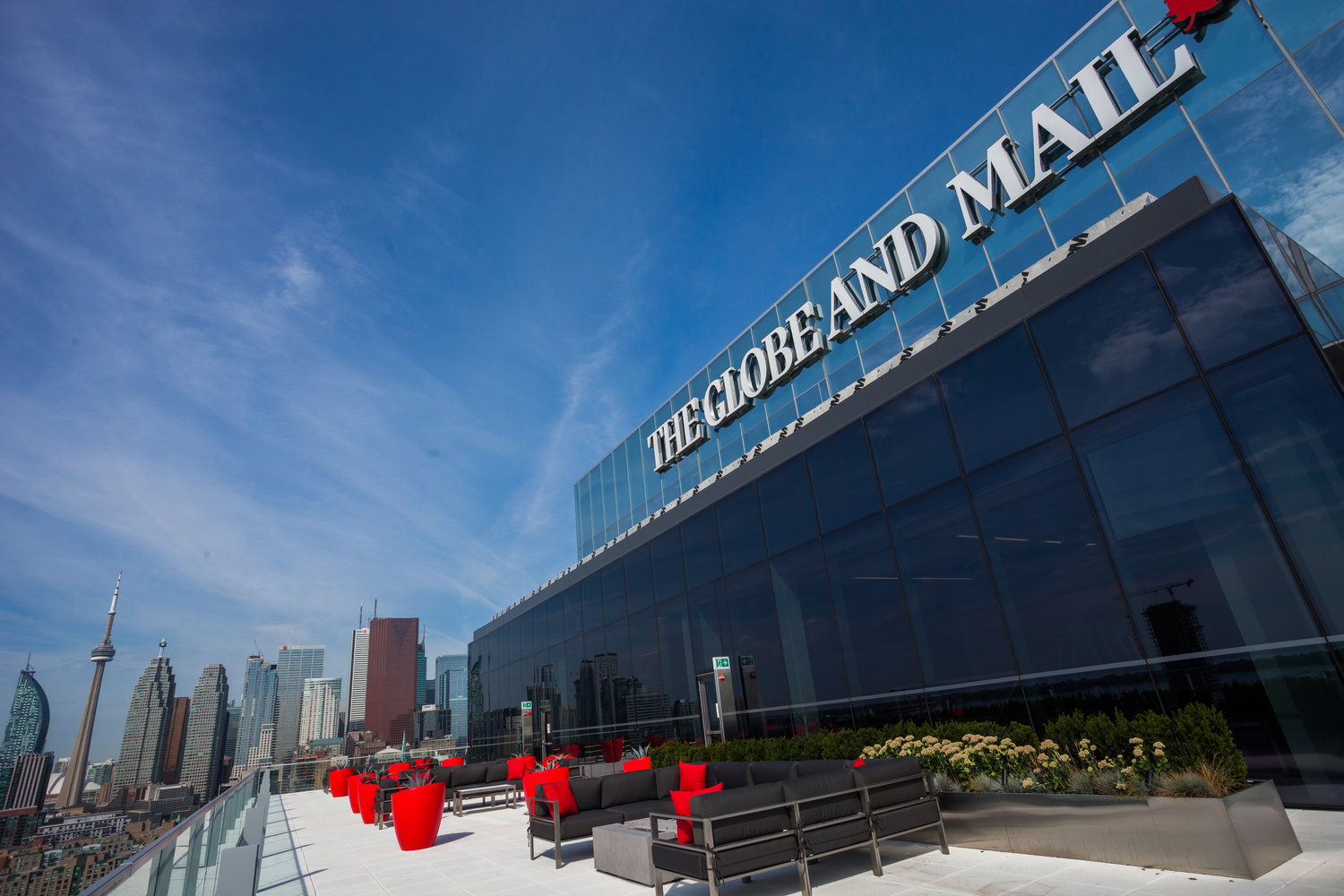 L'inscription est commencée!
Plus de 300 alumni, partenaires et étudiants affiliés à l'AIESEC se réuniront au dernier étage du nouveau Globe and Mail Centre (www.globeandmailcentre.com) pour souligner l'héritage de l'organisme au Canada.

C'est notre histoire. Et la vôtre.
Ce gala en l'honneur du soixantième anniversaire d'AIESEC Canada sera le plus grand événement pour alumni organisé par la branche à ce jour. Ce sera aussi votre occasion de contribuer à son histoire d'une manière bien spéciale : pendant que vous revivrez l'expérience AIESEC avec de vieux amis et de nouvelles connaissances, nous vous invitons à immortaliser votre parcours et vos souvenirs en lien avec notre grande famille, que ce soit sur papier, en photo ou en vidéo. Il y aura en outre un encan silencieux pour aider AIESEC Canada à former des leaders pendant au moins soixante autres années.
Joignez-vous à nous pour célébrer le chemin parcouru par l'AIESEC, replonger dans vos souvenirs et renouer avec un organisme tant adoré.
** Nous offrons par ailleurs des possibilités de commandites, et nous sommes toujours à la recherche de merveilleux objets pour l'encan silencieux. Votre contribution nous serait précieuse; n'hésitez pas à écrire à Katie Lovejoy (katiel@aiesec.ca.).
Restez au courant des dernières mises à jour sur nos canaux de médias sociaux:



Partageons le lien ci-dessous pour l'invitation au gala avec tous nos amis AIESEC!
FAQs
Qu'est-ce qui est inclus dans le prix de mon billet?
AIESEC Canada a travaillé fort pour se trouver des commanditaires afin de pouvoir offrir une expérience hors pair, dans un site superbe et à un prix intéressant. En fait, le billet à 125$ est au même prix que pour le gala du 50e, il y a 10 ans à Montréal.
Nous avons un traiteur exceptionnel qui fournira une TONNE de nourriture (hors d'œuvre, 3 stations de nourriture bien garnies, des desserts gourmets, ainsi que des collations pour les couche-tard), et chaque billet inclue 3 boissons ou plus. Le billet aide aussi à couvrir pour le DJ, des photographes et vidéastes professionnels qui procéderont à de courtes entrevues avec des alumni toute la soirée, un kiosque de photo géant, et des écrans qui feront défiler de vieilles photos d'AIESEC à travers les âges. D'autres surprises sont aussi planifiées. Les autres avantages incluent un site superbe avec une vue sur le centre-ville de Toronto, ainsi qu'une chance unique de connecter avec de vieux amis et un groupe de gens qui partagent les mêmes valeurs, ainsi que de faire du réseautage avec les leaders d'aujourd'hui et de demain.
Quelles sont mes options de transport / stationnement pour me rendre à l'événement?
Vous trouverez plus d'informations ici : LINK
Comment s'y rendre?
AIESEC Canada a une entente spéciale avec Air Canada! Les Alumni reçoivent 10% de rabais sur les prix Tango, et 15% sur tout autre tarif en réservant sur www.aircanada.com pour le gala. Utilisez le code promotionnel 7R2B4FZ1.
Au Québec? Retrigo, commanditaire du gala et entreprise fondée par AIESECers, accueille un autobus à destination et en provenance de Montréal pour le week-end. Comprend une boisson de bienvenue, des collations et une bonne ambiance! https://retrigo.com/fr/activities/1026-aiesec-canada-retrigo-study-tour
Comment puis-je m'y rendre?
AIESEC Canada a organisé un excellent tarif de groupe au luxueux Omni King Edward Hotel. L'hôtel 4,5 étoiles est à quelques pas de la salle de gala, et de nombreuses autres attractions du centre-ville. Les tarifs des chambres ont été réduits à 259 $ la nuit et comprennent le wifi.
Réservez votre chambre en appelant Réservations Omni au 1-800-THE-OMNI et en utilisant le nom du groupe et de la réunion: 'AIESEC Canada 60th anniversary'
Est-ce que des événements se produisent avant et après?
Le vendredi 27 avril, il y aura des rencontres informelles dans les bars du centre-ville. Plus d'informations à venir.
Samedi matin, un de nos commanditaires, Retrigo, organise une visite d'étude de l'historique Evergreen Brickworks de Toronto. Le déjeuner est inclus. https://retrigo.com/fr/activities/1026-aiesec-canada-retrigo-study-tour
Il y aura des ateliers sur l'AIESEC d'aujourd'hui samedi en après-midi. Les sujets peuvent inclure «Mise à jour des résultats actuels d'AIESEC Canada» et «Établir un réseau canadien d'alumni».
Les conjoints et partenaires non-AIESEC sont-ils invités?
Bien sûr! Il y a déjà beaucoup de conjoints enregistrés. Célébrez votre participation à l'AIESEC et à l'anniversaire de l'AIESEC avec celui que vous aimez!