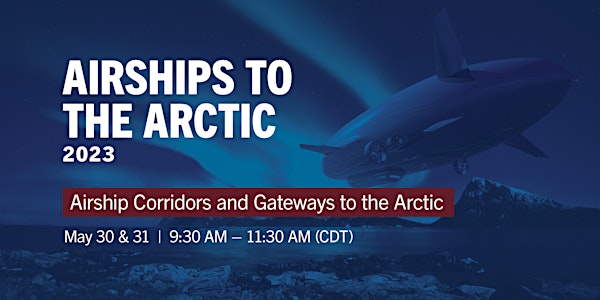 Airships to the Arctic Webinar Series (two-day event)
Webinars will address key airship markets in Northern Canada, updates on the latest airship developments and feature key input suppliers
By University of Manitoba Transport Institute
Date and time
Tue, May 30, 2023 7:00 AM - 9:30 AM PDT
About this event
2 hours 30 minutes

Mobile eTicket
Important Note: While the Zoom link will remain the same, please ensure you book tickets for both the days.
Freight rates to the remote communities in northern Canada are high because the population is sparse, the distances are long, and there is neither road, nor railway infrastructure. Residents in these "thin" markets are often faced with monopoly services, and lacking southbound freight, they must pay the full roundtrip costs.
The high cost of transportation has direct impacts on the prices and quality of everything consumed in the North. Food prices are 2.5 to 3 times higher than in the southern cities. Housing is over-crowded, and many houses need significant structural repair. Employment opportunities are scarce, malnutrition is widespread, and environmental health problems are chronic. Although the lack of affordable freight rates is seldom the direct cause of these social and economic challenges, improved transportation is the solution.
Existing technology cannot alter the pattern of economic disparity between the highly developed southern Canada and the "Third World" conditions of the sparsely populated North. A transformative change in transportation costs and service is required. This is why interest in cargo airships is growing.
Low-cost cargo airship service would benefit more than just the remote communities. The mining industry and the Department of National Defense (DND) also bear high transportation costs to operate in northern Canada. Cargo airships could expand the mining industry, especially for higher value critical minerals, and allow DND to stretch their budgets and improve their effectiveness in the Arctic. Synergies could be found in the operations of DND, miners and remote communities. The weight of mineral concentrates coming south, would far exceed the volume of goods going north. This could lead to lower freight rates for the remote communities.
Cargo airships are a sixth mode of transport, as distinct from airplanes as trucks are from railways. Each mode of transport has its advantages and limitations. Like other modes of transport, airships need to have their own ground infrastructure for transshipment and facilities to maintain/inspect the aircraft. These infrastructure requirements are needed at key locations on the trade corridors.
Least cost supply chains are typically multimodal. Goods move by the lowest cost mode of transport for as far as possible. Airships will link up with truck, rail or marine transport along existing trade corridors to serve the wide expanse of the Canadian North. Airship corridors begin where the existing transportation infrastructure ends.
The Airships to the Arctic webinar series will present speakers who can elaborate on the demand for cargo airships in the North, leading airship developers and input suppliers.