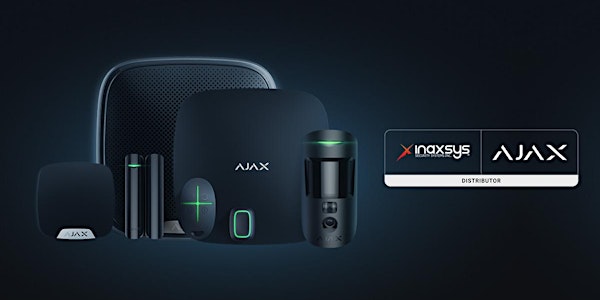 Ajax Official Launch in Canada with Inaxsys Security Systems
Join Inaxsys and Ajax for the official Canadian Ajax launch with special guest Rob Harman! Pre-order your first Ajax kit!
About this event
Learn more about Ajax Systems with Inaxsys!
Inaxsys is organizing three Ajax introduction webinars on June 28th 2022! Joined by Rob Harman from Ajax Systems, you will learn how this professional wireless alarm system works.
Not only will you be able to pre-order your first Ajax kit by attending one of these webinars, but we will also add a free HomeSiren to your first kit! Ajax kits include 4 or more Ajax detection devices of your choice combined with one of the most powerful and advanced wireless alarm panels, the Hub 2 Plus.
Ajax Systems combine superior quality products, a powerful interactive platform, and unparalleled reliability. Their systems provide 1,500,000 people around the world the peace of mind to lead their daily lives in safety and security. When you're under the reliable protection of Ajax, you're safe from thieves, fires or leaks that can cause real harm to property and people. Controlling the system via your smartphone app is as easy as can be and if something should happen the system will notify you with lightning speed and accuracy.
See you soon!
- Inaxsys