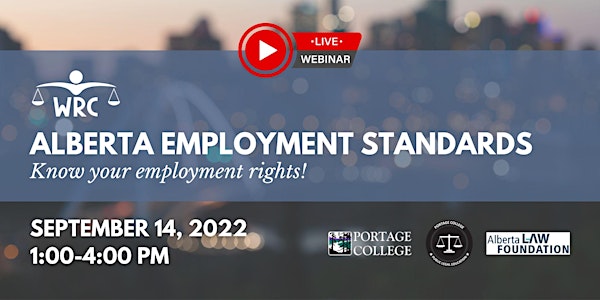 Alberta Employment Standards
Laws for minimum wage, overtime, job-protected leaves, vacations, hours of work, earnings , termination, etc. as well a recent changes.
About this event
Want to know your rights in the workplace under Alberta Employment Standards? Want to know about hours of work, overtime and how to calculate it, general holiday pay, termination of employment, job-protected leaves and much more?
Join us for a Zoom session on September 14th when a representative from the Workers' Resource Centre will provide you information about these rights and employment standards changes to temporary layoffs, group terminations, variances and exemptions and job-protected leaves.
Zoom login details will be emailed the day prior, so please check the email you register with or contact shelley.jackson@portagecollege.ca
Employment related sessions we are offering in September:
Alberta Employment Standards | Wed, Sep 14, 2022 1:00 PM
https://www.eventbrite.ca/e/alberta-employment-standards-tickets-411460087197
Employment Insurance (EI) Benefits and Entitlements | Wed, Sep 21, 2022 1:00 PM
https://www.eventbrite.ca/e/employment-insurance-ei-benefits-and-entitlements-tickets-411478672787
Human Rights in the Workplace & WCB in Alberta | Wed, Sep 28, 2022 1:00 PM
https://www.eventbrite.ca/e/human-rights-in-the-workplace-wcb-in-alberta-tickets-411427188797