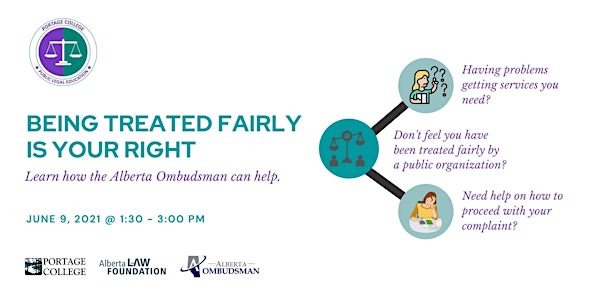 Alberta Ombudsman Information Session
Learn how the Alberta Ombudsman can help if you are being unfairly treated by provincial government authorities and other designated bodies.
About this event
Every Albertan has the right to be treated fairly in the provision of public services. The Ombudsman protects this right by promoting standards of fairness and has the authority to make recommendations if an investigation reveals unfairness.
The Ombudsman is an Officer of the Legislative Assembly of Alberta, reporting directly to the Assembly and operates independently from the Alberta government, political parties and individual elected officials.
As an office of last resort, the Alberta Ombudsman responds to complaints of unfair treatment by provincial government authorities and designated professional organizations.
We invite you to join us as Beth George and Shelby Dewhirst from the Alberta Ombudsman Office provide information on
• The Ombudsman's role
• Who can be investigated by the Ombudsman's office
• How individuals can file a complaint
• How the Ombudsman can help
There will be time allotted for Q&A.
NOTE: Zoom log-in details will be emailed the day prior to the session. Please check the email you register with. Should you have issues registering or accessing the event, please email shelley.jackson@portagecollege.ca