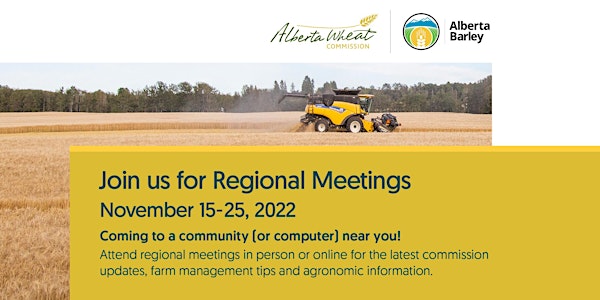 Alberta Wheat and Barley Commissions' Regional Meetings
Join us for Regional Meetings
About this event
Join us at the Alberta Wheat Commission and Alberta Barley in-person and virtual regional meetings, featuring commission updates, farm management tips and agronomic information. All attendees are entered to win a Yeti Tundra cooler.
Virtual Option
Looking to attend the meeting online? Join us using the following links:
Agenda
8:30 a.m. - Registration
9:00 a.m.- Alberta Wheat Commission Update
9:30 a.m.- Alberta Barley Commission Update
10:00 a.m.- Plebiscite Update
10:30 a.m.- Break sponsored by Farm Credit Canada
10:45 a.m.
Region 1,2 and 3- Fertilizer use and emissions: Here is what you should know
 Region 1- Benjamin Ellert and Brian Beres- AAFC
 Regions 2 and 3- Craig Shand- Chinook Agronomics Inc.
Region 4, 5, and 6- The Road Map to 2050 - Branden Leslie, Grain Growers of Canada
11:30 a.m. - Plot2Farm - Jeremy Boychyn, Alberta Wheat and Barley Commissions
11:50 a.m. - Crops markets update- Brennan Turner , Independent Grain Market Analysis
12:30 p.m. - Lunch