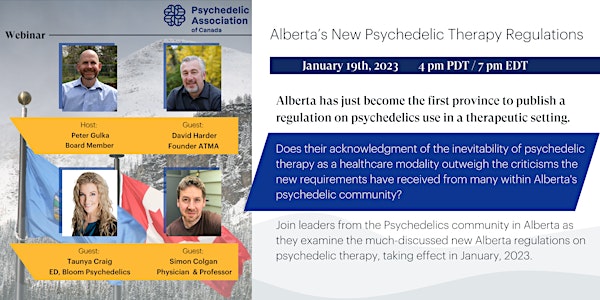 Alberta's New Psychedelic Therapy Regulations
Join leaders from the psychedelics community in Alberta as they examine the much-discussed new Alberta regulations on psychedelic therapy.
Refund Policy
Contact the organizer to request a refund.
Eventbrite's fee is nonrefundable.
About this event
Alberta has just become the first province to publish a regulation on psychedelics use in a therapeutic setting. Does their acknowledgment of the inevitability of psychedelic therapy as a healthcare modality outweigh the criticisms the new requirements have received from many within Alberta's psychedelic community?
Join leaders from the psychedelics community in Alberta as they examine the much-discussed new Alberta regulations on psychedelic therapy, taking effect in January, 2023.
Host: Peter Gulka - Board Member
For more than 17 years, Peter has worked to enable charities to achieve their fundraising goals with improving processes and technology. As an employee, consultant, or friend, Peter has worked with over 100 organizations across Canada and the United States with the shared vision of improving the lives of people in need.
Peter's personal experiences with psychedelics, psychotherapy, mindfulness meditation and other modalities have been a core part of his recovery from past trauma. He seeks to nurture and give back to the community that has been so supportive to him.
Peter has signed the NorthStar Ethics Pledge (https://northstar.guide/ethicspledge)
For transparency, Peter is:
- Founder and coach at Waves Peer Coaching (http://peercoaching.ca/), a practice dedicated to helping people prepare for and integrate from a first psychedelic experience.
- Part of the leadership group of the Psychedelic Medicine Society of Calgary
Guest 1: David Harder - Founder ATMA, Co-founder Catalyst Conference
David Harder has worked full-time for the past 5 years in researching, advocating and moving the work of non-ordinary state therapy and psychedelic medicine forward in Canada.
With a Master's degree in religious studies and having been both a college professor and international humanitarian relief worker, David has always dedicated himself to the service of others. He brings a deep experience and reverence for psychedelic medicine and believes that it will play a key role in bringing healing to humanity.
For transparency, David co-founded and leads:
- Catalyst Presents, a Psychedelic Research Conference
- SYNTAC Institute, a Canadian non-profit dedicated to bringing psychedelic-assisted therapy to Canadians.
Guest 2: Simon Colgan - Physician and Professor
Simon Colgan is a full-time palliative care physician and Clinical Assistant Professor, Department of Oncology at University of Calgary. He works a combination of community and tertiary level care palliative medicine.
In 2014, shortly after moving to Calgary, it was clear to Dr Colgan there are significant inequities in how palliative care is delivered to some of our most vulnerable citizens. In response to this in 2016, Dr Colgan founded CAMPP (Community Allied Mobile Palliative Partnership). CAMPP is a low threshold, harm reduction focused, mobile palliative program targeting structurally vulnerable persons experiencing homelessness and others vulnerably housed. CAMPP aims to meet people 'where they are at'. CAMPP provides advocacy and navigation to people to ensure equity of care and to avoid people 'slipping through the cracks'.
Guest 3: Taunya Craig - Executive Director - Bloom Psychedelics
Taunya Craig, RPC, MPCC, CT, acting Executive Director at Bloom Psychedelic Therapy and Research Centre has over 9 years experience in private practice with a focus on relationships and trauma.
Taunya's diverse background includes hundreds of hours of facilitating group work, thousands of direct client hours and many hours in specialized trainings. Including ATMA's accredited Psychedelic Assisted Psychotherapy for Therapists. Ironically finishing that program lead Taunya to realize that in order for her to provide PAP she would need to understand intimately what the experience entails. So she started her journey personally with PAP.
Recently completing an experiential deep dive training in PAP Taunya discovered her passion for this line of work and specifically with relational dosing ketamine and psychotherapy combined.
Coming to Bloom with experience personally, professionally, excited to explore how to blend science, psychedelics and community Taunya is ready to help move Psychedelic Assisted Psychotherapy to the forefront of mental health treatments. Aligned with Bloom's vision of Safety, Effectiveness and Accessibility for Ketamine Assisted Psychotherapy, Taunya is motivated to provide a much-needed healing space for transformation and connectedness.