Alchemy Qigong 2- Day Weekend Workshop with Master Sean Leonard

Saturday, September 24, 2016 at 9:00 AM

-

Sunday, September 25, 2016 at 4:00 PM (EDT)
Event Details
*YES, beginners can join this workshop!

Everyone knows that stress can have a negative impact on our bodies and health.  
But how do you actively deal with the emotional stresses that we all accumulate each day?
Beyond diet and exercise, how do you actively pursue health for your own body and mind?
This 2-day Alchemy Qigong Workshop will give you useful tools to release the negative effects of stress on our physical and emotional state.
With both dynamic stretching routines and subtle forays into the mysteries of stillness, Alchemy Qigong practices help to unify both conscious and unconscious elements of the body, mind and emotions; both present and past.
During this 2 Day Workshop, you will learn:
Simple Alchemy Myofascial Unlocking Sequence, t

o help restore vitality, fluidity and mobility to all of your joints.

Walking Qigong & Balancing and pain relieving techniques for both

 acute and chronic conditions.

Deep Alchemy Meditations to restore clarity of mind, focus and inner peace.

Techniques to tap into the internal energies of your body, and bring your full power back to yourself.

How to help yourself and others through the physical transformations of Alchemy Qigong.

And more...
-----------------------------
2 Day Workshop with Qigong Master Sean Leonard

Dates:
Saturday, September 24th, 2016: 9am-5pm
Sunday, September 25th, 2016: 10am-4pm
----------------------------
Alchemy is the process of transmuting elements and the transformation of form and matter.  Alchemy Qigong is a system that helps us connect with the five elements in our body (earth, water, fire, metal, wood) and use these energies to open our energy channels and transform our weaknesses into strengths.  Both physically, emotionally and mentally.  
Alchemy Qigong puts you in the driver seat of your own body's 
wellbeing.
Meet the Master Sean Leonard:
Master Sean Leonard began his study of the movement arts in 1994 with Shaolin Kung Fu, he became chief instructor, and became initiated in the master level training program.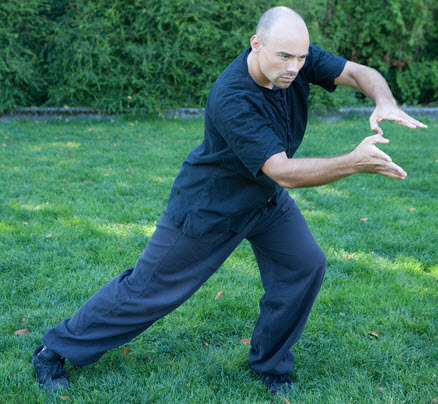 In 1998 he became affiliated with Cleargreen Incorporated and began studying the esoteric movement systems of Carlos Castaneda, using movement as a way to enhance consciousness.
His studies led him to Traditional Chinese Medicine and the healing aspects of Qi Gong, and meridian based therapies. He travelled around the USA certifying instructors for the Supreme Science Qigong Center.
After working with many qigong instructors and masters, he developed the Alchemy Qigong System. It derives from not only his traditional Tai Chi and Qigong training but from several other energetic healing modalities as well.
Alchemy Qigong works within the most subtle frequencies of mind and emotion but it is rooted in traditional training practices supporting stance, flexibility, and core strength. The four branches of Alchemy Qigong include Walking Alchemy, Gong Fusion fitness, Ground Work, and Internal Alchemy.
The premise behind this approach is to strengthen the mind and body while promoting flexibility in order to gain access to the deepest regions of human energy and potential. Alchemy Qigong is a transformation based approach to self-mastery and conscious evolution.
Sean is the author of two books, and the creator of several artistic approaches to self-discovery. He resides in Sarasota, Florida where he maintains an acupuncture practice and daily classes.
Master Sean Leonard is the Grand-Master of Alchemy Qigong and will be will be teaching how to use his unique style for self-healing.

When & Where

Private Studio
135 rue de la cedriere
Aylmer, QC J9H 3K6
Canada

Saturday, September 24, 2016 at 9:00 AM

-

Sunday, September 25, 2016 at 4:00 PM (EDT)
Add to my calendar