Description
EARLY BIRD TICKETS ENDS JAN 21 @ 11:11PM
Experience Transformation... experience Transcendance... experience ALCHEMY!

A powerful fusion of mystical, mesmerizing, live worldbeat drumming, heart-expanding intuitive singing, & a harmonic choir of united voices.

SacredFire will lead an interactive dance, drum, & song journey.

Julie Blue is facilitating a participation based tribal songscape.

Join UNITE in closing out the Vancouver Body Soul & Spirit Expo with an expansive evening of Musical ALCHEMY.

-----------------------------------------------------------------
TICKETS AVAILABLE NOW! Earlybird starts @ $44 (until January 21st) Regular $55 ($60 at the door)
www.AlchemyExpo.Eventbrite.ca
-----------------------------------------------------------------

TICKET OPTIONS

Vancouver Body Soul & Spirit Expo Full Weekend Pass + ALCHEMY Concert

(Total Value: Weekend Pass ($35) + Concert ($44 Early Bird & $55 Regular Price) = $79 / $89
Early Bird: $66.66 (Save $12)
Regular Price: $77.77 (Save $11)

Vancouver Body Soul & Spirit Expo Sunday Pass + ALCHEMY Concert

(Total Value: Sunday Pass ($15) + Concert ($44 Early Bird & $55 Regular Price) = $59 / $70
Early Bird: $55.55 (Save $3)
Regular Price: $66.66 (Save $3)

ALCHEMY Concert
EarlyBird: $44.44
Regular Price: $55.55
-----------------------------------------------------------------

ALCHEMY EVENT OUTLINE

7:00PM - Concert Begins - 1st set with Sacred Fire Music (Rhythm & voice audience participation. Bring your drums & rattles!)

8:30PM - Concert continues - 2nd set with Julie Blue (Bring your singing voices!)

9:30PM - Closing - mingling & goodbyes

10:00PM - END

Location: @The Croatian Centre, 3250 Commercial Dr, Vancouver, BC

-----------------------------------------------------------------
TICKETS AVAILABLE NOW! Earlybird starts @ $44 (until January 21st) Regular $55 ($60 at the door)
www.AlchemyExpo.Eventbrite.ca
-----------------------------------------------------------------

>>>ALCHEMY DEFINITION<<<

1 : a process that changes or transforms something in a mysterious way

2 : an inexplicable or mysterious transmuting

-----------------------------------------------------------------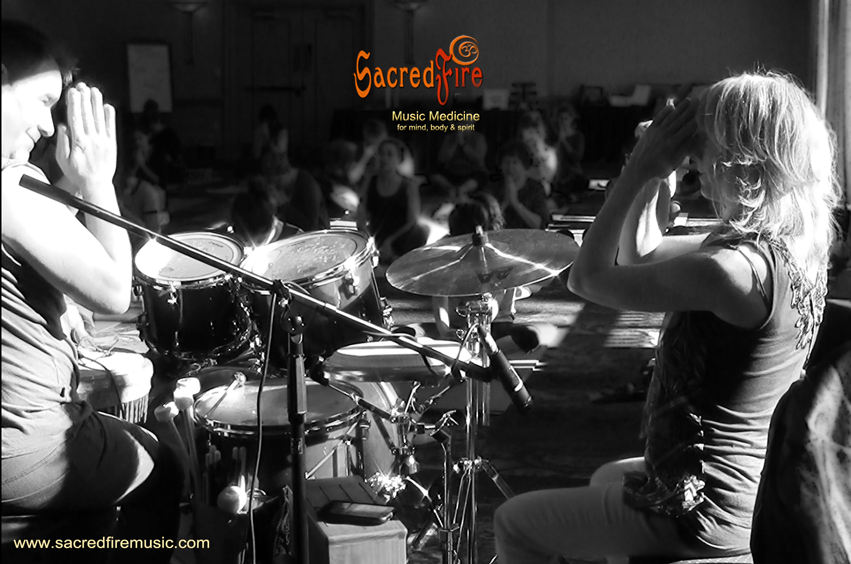 ABOUT Sacred Fire Music

@SacredFire is MJ Vermette & Dean Richards ~ Canadian Worldbeat Sound Healing Musicians who travel the globe, igniting spirits with their interactive concerts & workshops.

Infused with the energy of the natural elements, their heart-opening vocals, tribal drumming, & musical meditation create a deep sense of peace in the body, mind, & spirit.

Featuring raw, ecstatic chanting & drumming, with a twist of world music, shamanic sound healing, trance drumming & heart-opening english & sanskrit songs, with audience participation.

SacredFire is presently preparing their upcoming album, which will include recordings from high vibration spaces around the world.

SacredFire has performed & toured in France, Germany, Mexico, Canada & the US, & collaborated with the likes of Deepak Chopra, Gilad Atzmon (Pink Floyd, Paul McCartney, Sinéad O'Connor), John Turnbull (Bob Geldof, Eurythmics, Ian Dury & The Blockheads, World Party, Talk Talk) Hans Christian (Robbie Robertson, Krishna Das) and Ronan Chris Murphy (King Crimson, Robert Fripp and Tony Levin).

LINKS

Tribal Drumming: https://youtu.be/5geK52J4tao

Watch videos by SacredFire: YouTube: www.youtube.com/sacredfiremusic

Video with excerpts from SacredFire's album "Continuum":https://youtu.be/UOuQwOJ79AQ

Promo video with testimonials: https://youtu.be/VC-MKt4kOdw

Website: www.sacredfiremusic.com

Facebook : www.facebook.com/sacredfiremusic

-----------------------------------------------------------------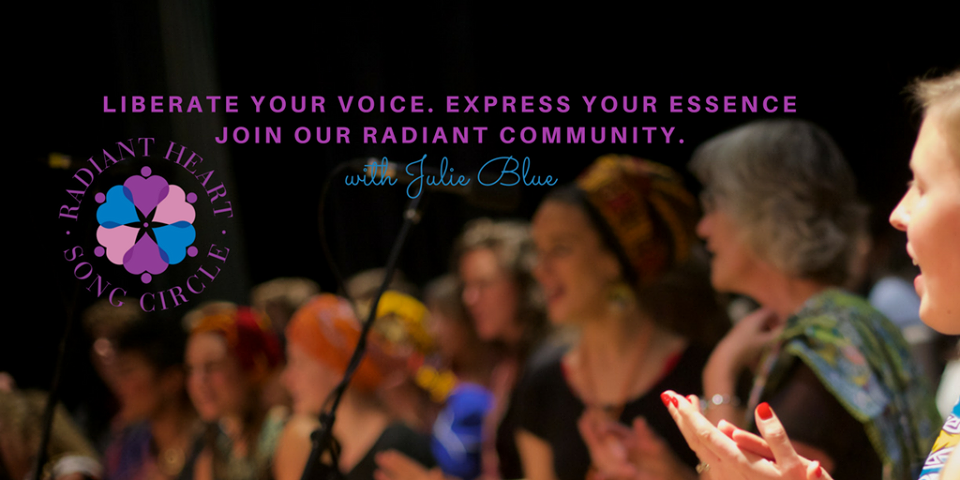 ABOUT Julie Blue

Julie Blue is an accomplished singer and pianist, an award-winning film composer/recording artist and a uniquely transformational voice coach. She received the YWCA Women of Distinction Award and has shared the stage with luminaries such as Eckhart Tolle, Marianne Williamson, and Neale Donald Walsh. She has pioneered innovative and effective methods to help thousands of people liberate their voices and express themselves with authenticity and confidence. Julie is a master vocal coach, life coach and skilled soul whisperer who shares her teachings with heart and humour.
Julie creates symphonies of sound using the voices in the room, weaving an intricate dance of melodies; transcendent, beautiful, & deeply moving, reminding us of our roots as tribal beings, united by song.

www.facebook.com/radiantheartsong
www.julieblue.com

-----------------------------------------------------------------



ABOUT The Body Soul & Spirit Expo

If you are seeking options to improve your life, physically, emotionally, and spiritually, expand your consciousness, or improve your health, there are a lot of choices to consider.

Wouldn't it be great if you could go to one place and explore everything that is available, sit in on lectures on several subjects, and talk to several different experts? Well, that's exactly what the Body Soul & Spirit Expo is all about!

The Body Soul & Spirit Expo showcases products, services, and resources for growth, and fosters the individual quest for wholeness and self-understanding. In representing such a diverse field, the show seeks out extraordinary individuals, businesses, and organizations that offer products and services that facilitate this quest.

EXHIBIT YOUR HOLISTIC BUSINESS, SERVICE OR PRODUCTS

Reach 1000's looking for what you offer! The Body Soul & Spirit Expo offer an interactive environment where those who attend buy products, book sessions, and services right at the event.

For more information on our demographics, who exhibits and attendance at http://bodysoulspiritexpo.com/expo/information.html

Now offering Membership (replacing tickets)

See http://bodysoulspiritexpo.com/admission_vancouver.html

See our registration page at http://bodysoulspiritexpo.com/expo/registration/vancouver_registration.htm

Call 1-877-560-6830 for information or to book by phone.
-----------------------------------------------------------------

ABOUT UNITE

UNITE creates opportunities for expansion into higher states of consciousness through regular meditation, music, and experiential education events worldwide.

To be a sponsor or vendor for UNITE events contact: shine@unite.love

Join the UNITE VANCOUVER COMMUNITY:

Newsletter: www.eepurl.com/cBJr8n

Facebook Page: www.facebook.com/pg/unitewithin

Facebook Group: www.facebook.com/groups/UniteVancouver/

-----------------------------------------------------------------
TICKETS AVAILABLE NOW! Earlybird starts @ $44 (until January 21st) Regular $55 ($60 at the door)
www.AlchemyExpo.Eventbrite.ca
-----------------------------------------------------------------

THANK YOU TO OUR SPONSORS

TITLE SPONSOR


CoinPayments
www.coinpayments.com https://www.facebook.com/CoinPayments/
Accept over 65 altcoins now. Payment gateway for cryptocurrencies such as Bitcoin and Litecoin.
SPONSORS
BitNational
https://www.facebook.com/bitnational/
Fast. Simple. Secure. Buy & Sell Bitcoin Using Canada's Best Bitcoin ATM Network.
QuantumLife
www.facebook.com/thisquantumlife/
Innovations in healing and wellness. Sharing expansive moments with communities around the world through Quantum Touch healing and PEMF mat technology.
-----------------------------------------------------------------

Looking forward to sharing this magical evening with you all
With Love!
Shine & Kristall of UNITE

Chandler & Brad of The Body Soul & Spirit Expo

MJ Vermette & Dean Richards of Sacred Fire Music

& Julie Blue of Radiant Heart Song Circle with Julie Blue

-----------------------------------------------------------------
TICKETS AVAILABLE NOW! Earlybird starts @ $44 (until January 21st) Regular $55 ($60 at the door)
www.AlchemyExpo.Eventbrite.ca
-----------------------------------------------------------------