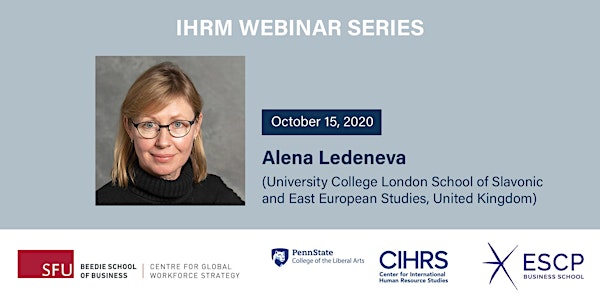 Alena Ledeneva: The invisible dimensions of human resource management
Organized by SFU Centre for Global Workforce Strategy, Penn State Center for International Human Resource Studies & ESCP Business School.
About this event
The invisible dimensions of human resource management: informal networks, institutions, and practices in international contexts
Global Start Times:
08:30 – 09:30 PDT (Vancouver, Los Angeles)
11:30 -12:30 EDT (Toronto, New York)
15:30 -16:30 UCT
16:30 - 17:30 BST (London)
17:30 -18:30 CEST (Berlin, Paris)
23:30 - 0:30 CST (Beijing, Shanghai)
This talk will take you on a journey of discovery, delving into the open secrets, unwritten rules and hidden practices in the human resource management. The paradox, or not, of the invisibility of the practices of informal governance – practices of cooptation, control and camouflage – is their ubiquity. Expertly practiced by insiders but often hidden from outsiders, informal practices are, as the Global Informality Project shows, deeply rooted all over the world, yet underestimated in policy. Based on the evidence from the five continents and over 75 countries, made possible by a remarkable collaboration of over 250 scholars (in-formality.com), the insights into the workings on informality within organizations and beyond are essential for tackling social and cultural complexity.
The session will be moderated by Dr. Maral Muratbekova, Professor of Human Resource Management at ESCP Business School, Paris, France.
Dr. Alena Ledeneva is Professor of Politics and Society at the University College London School of Slavonic and East European Studies, United Kingdom.
She is an internationally renowned expert on informality and governance. Her books Russia's Economy of Favours (1998), How Russia Really Works (2006), and Can Russia Modernize? (2013) have become must-read sources in Russian studies and social sciences. Her latest co-edited volumes include Innovations in Corruption Studies (2017) and The Global Encyclopedia of Informality (2018).
She received her PhD in Social and Political Theory from Cambridge University (1996).
She is a founding director of the Global Informality Project and a founder of the UCL Press FRINGE series.
This event is part of a IHRM Webinar Series, organized by the Centre for Global Workforce Strategy at Simon Fraser University (Canada), the Penn State Center for International Human Resource Studies (USA), and ESCP Business School (Europe).