Free Game Design Masterclass for kids age 9 to 12 years old.
About this event
COURSE DESCRIPTION
A fascinating immersion into the world of game development and the first steps towards mastering a highly demanded profession.
Once a week for 32 weeks (1 academic year)
90 minutes / Lesson
9 – 12 years old
Up to 6 children in groups
Weekdays or weekends
LEARNING OBJECTIVES
During the course, children will learn all essential tools for game development in Roblox Studio and learn the basics of the Lua scripting language;
Children decide themselves what game and characters they will create. Teachers will always help with the implementation of their idea;
During classes, kids will learn creativity and critical thinking as well as develop presentation and teamwork skills.
WHAT WILL A CHILD LEARN
Program puzzles and logic tasks
Create their own games on the Roblox Studio platform and write scripts in Lua
Develop game storylines and understand different game strategies
Design different types of players
Promote their game on the Roblox platform and attract new players
The classes are held in our proprietary interactive educational platform that allows each child to learn at an individual pace in a small teacher-led small group;
The event is only available in Canada, and please leave your contact information. And Algorithmics will contact for sending you the detailed instruction for attending the lesson.
Please book the FREE Masterclass online at https://westoakville.alg.academy/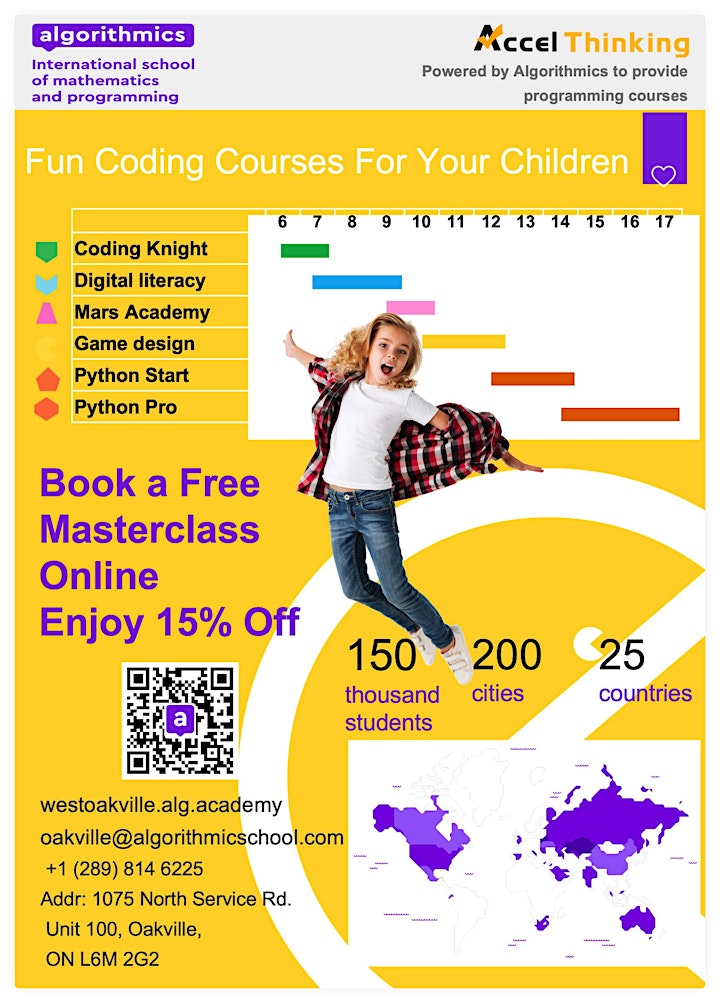 Organizer of Algorithmics Game Design Masterclass
Algorithmics is an international programming school for children 5 to 17 years old that currently educates more than 50,000 students. In the classroom, we help children take their first steps into the world of IT, teaching in a game-like way and individualizing the approach to each child using the unique methodology and a specially developed online platform. 200,000 children already study at Algorithmics in more than 40 countries around the world, including USA, UK, Spain, India and Canada.