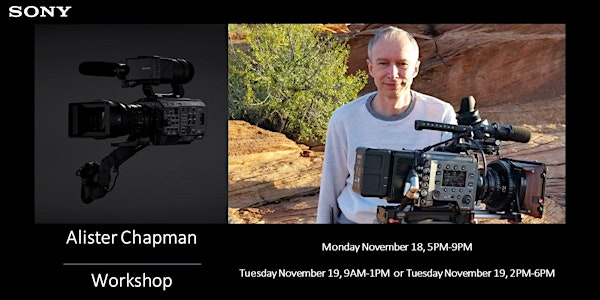 Alister Chapman workshop on the New Sony PXW-FX9 and Venice camera
When and where
Location
Mattamy Athletic Centre (Jet Ice Lounge 4th floor) 50 Carlton Street 4th floor Toronto, ON M5B 1J2 Canada
Description
You are invited to an intensive, informative and educational 4 hour workshop on the new Sony PXW-FX9 and Venice Camera.
Sessions:
Monday, November 18, 2019, 5PM-9PM
Tuesday, November 19, 2019, 9AM-1PM Tuesday, November 19, 2019, 2PM-6PM
In this 4 hour workshop, Alister will take a look at Sony's Venice digital cinema camera and the new PXW-FX9 camera. Why is Venice proving to be such a bit hit with movie shooters? What is it about the FX9 that makes it a worthy upgrade to the already very successful FS7? Discover how Sony's E-mount brings flexibility and versatility to almost all of Sony's large sensor cameras, from the A7 series to Venice. Through practical demonstrations you will see for yourself just how good the FX9's autofocus system is and learn about how Sony's E-Mount lenses are designed with video in mind. Learn exactly how the dual ISO function of both Venice and the FX9 works. Then with low light shooting tests you will see how you can make use of dual ISO to maximise your image quality whatever the lighting situation. With the help of a skin tone shooting test you will learn more about the FX9's S-Cinetone mode as well as s709. You will see how Sony's new color science can make it easier to produce beautiful looking images, whether that's for a fast turn around run and gun shoot with an FX9 or a big budget movie shoot using Venice - or perhaps a mix of both. By starting with the lens and lens options, looking at the cameras different scan modes and recording modes, shooting sample footage and then looking at how to work with the footage in post production you will gain useful insight into how to get the very best from a broad range of Sony's large sensor cameras. This will be an intensive, informative and educational workshop where questions are welcome. Your chance to learn so much about these exciting cameras and a chance to try them for yourself.
During the workshop the following will be covered:
1: Introduction to the PXW-FX9.
2: Introduction to Venice and it's key features.
3: What is E-mount and what are it's benefits.
4: Lenses and lens options for both Venice and the FX9.
5: Autofocus - an in depth look at how the FX9's Autofocus works (including practical demonstrations).
6: Understanding the FX9's sensor scan modes.
7: How to take advantage of the FX9 and Venice cameras new color science, what is s709 and S-Cinetone, how and when do you use them.
8: Skin tone shooting tests with both Venice and the FX9.
9: How does the dual ISO mode work and how to get the best from it.
10: Low light shooting tests with both Venice and the FX9.
11: Using CineEI and S-Log3 and how to get the best images from both Sony Venice and the PXW-FX9.
12: Post production workflow guide with suggestions for S-Log3 and X-OCN.
Alister's Bio & Info