Location
Remote Gallery
568 Richmond Street West
Toronto, ON M5V 1Y9
Canada
Sales Have Ended
Registrations are closed
ALIVE, UPSIDE DOWN.A PHOTOGRAPHIC EXHIBITION BY YANNIS LOBAINA When: SEPTEMBER 24 - OCTOBER 2, 2021 AT REMOTE GALLERY. 1:00 pm - 6:00 pm
About this event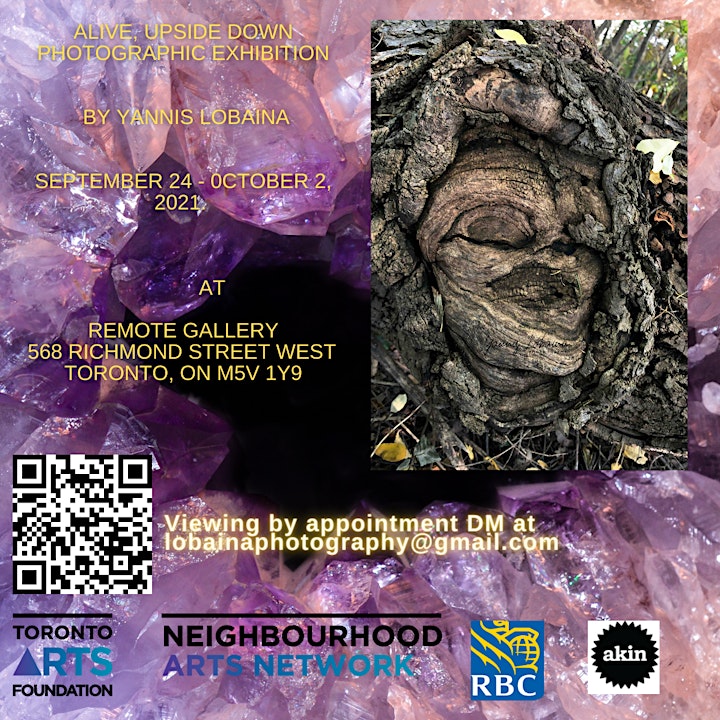 ALIVE, UPSIDE DOWN
It is a series of 12 photographs about the power of finding calm in the chaos that surrounds us globally. My photography is inspired by Mother Nature as the protagonist. My passion is to capture fleeting moments which surround me. I like to highlight the uniqueness and beauty of each simple and everyday thing that few people stop to observe. Everything becomes part of the composition that I am weaving with my photographic storytelling.
HYBRID EVENTS (ONLINE AND IN-PERSON)
SEPTEMBER 24 - OCTOBER 2, 2021.
I. September 24, Zoom Opening & Artist Talk. Q&A and at the end of a Gallery tour
TIME: 7:00 PM (ET)TO 8:00 PM
ON ZOOM| FREE TO ATTEND. REGISTRATION REQUIRED, HERE:
https://www.eventbrite.ca/.../alive-upside-down...
OR at lobainaphotography@gmail.com
II. IN-PERSON. September 25, 26, 27, 28, 29, 30 and October 1, 2,
From 1:00 p.m - 6:00 pm
NOTES:
During this time I will be physically in the Gallery. If you are interested in knowing about my work or acquiring some of these photographs, it is the best time to exchange opinions.
The use of masks will be required to enter the gallery. To book an appointment, please RSVP: Come by any time during that time frame. Viewing by appointment DM at lobainaphotography@gmail.com
Fine art prints and canvases of Yannis's images are available for purchase. Find that magic wildlife flowers and trees or landscape image for your home or office or as a gift for someone else.
Thank you VERY MUCH for your registration:
Please check your inbox for a confirmation email. The link to access the TALK will be sent 3 business days prior to the start.
GRATEFULNESS
Being recognized as an award finalist for Toronto Arts Foundation's RBC Space award has been a breath of hope for me, especially during this challenging time of the pandemic. In fact, it has been invaluable to my own confidence as an emerging photographer in that my practice feels legitimized, recognized and relevant.