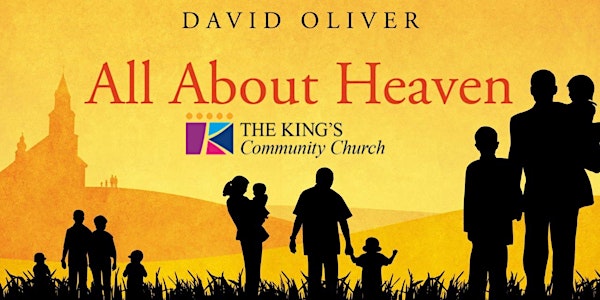 All About Heaven
The King's Community Church is pleased to invite you to an evening with David and Gill Oliver. Doors will open at 6:30pm
By The King's Community Church
Date and time
Fri, Apr 28, 2023 7:00 PM - 9:00 PM PDT
Location
The King's Community Church 21783 76B Avenue Langley, BC V2Y 2S6 Canada
About this event
This impacting evening event will move you deeply and leave you enthused, prepared and longing for your heavenly destination.
Very few Christians have ever heard a talk on present heaven. As a window into heaven gets opened you'll discover the Biblical answer to many of the questions surrounding the death of your loved ones and your own ultimate destination including:
Why do so few Christians talk about heaven?
What does happen when we die?
Where exactly do we go?
What will we be doing there?
Why some Christians are actively afraid to talk about it?
David's book will be available for purchase at the event.
Payments at the event can be made by cheque, e-transfer or cash. No Debit / Visa
Donations will be accepted in support towards David & Gill's ministry.
"The deepest question in life is, 'What happens when I die?' I am grateful for All About Heaven as it lifts my eyes, heart and mind to another world more real than this one."
Rob Parsons OBE Founder and Chairman, Care For The Family
"This compelling and inspiring message provides us with a thrilling view of the future."
Steve Thomas Team Leader Salt & Light International
"All About Heaven biblically answers the many questions people have about their loved ones, their destination and their future."
Dave Richards Salt & light International Team