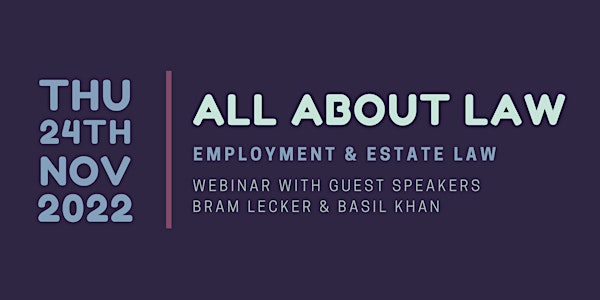 All About Law
Learn about Canadian employment, wills, and estate law with Bram Lecker and Basil Khan.
Refund Policy
Contact the organizer to request a refund.
Eventbrite's fee is nonrefundable.
About this event
Join us on November 24th for this webinar with leading employment law professional Bram Lecker and estate law professional Basil Khan.
This webinar is designed for entrepreneurs, HR specialists, managers, start-up companies and any professional wanting to keep up to date with employment legislation. You will also have an opportunity to gain insights, ask questions and meet one of the top disability and employment lawyer in Toronto, Bram Lecker of Lecker & Associates.
In addition to employment law, many adults don't have a Will, often because they don't know why one is necessary for them. Basil Khan, the founder of Helix Law Professional Corporation, will help you understand the purpose of a Will and why you may benefit from one. He will also speak on the importance of estate planning.
Participate in the live Q&A session for opportunity to learn more about the topics discussed by each guest speaker.

Speaker Profile - Bram Lecker
As Principal of Lecker & Associates, Bram A. Lecker is one of the most experienced employment lawyers in Toronto. Even after three decades in the business, he continues to actively participate in client cases by mentoring a stellar team of employment lawyers.
Dedicated to a law practice that exclusively provides employment law services to employees of Ontario, Bram has developed a deep specialty in this field. He has litigated numerous cases including wrongful dismissal, constructive dismissal, workplace harassment and denial of disability benefits. With a singular focus on employee rights, Bram and his team represent their clients aggressively during job layoffs and severance package negotiations

Speaker Profile - Basil Khan
Basil Khan provides legal advice and representation in all principal areas of business and corporate law, commercial and general litigation, construction, real estate law and closings, and estate matters.
Basil has managed a variety of civil matters, including breach of contract claims, construction disputes, real estate disputes, tax disputes, estate disputes, and shareholder/partnership disputes.
Helix Law represent clients in all levels of court including the Ontario Superior Court of Justice, Divisional Court, Court of Appeal, Small Claims Court, Federal Courts and Tax Court of Canada. We also provide assistance with mediation, arbitration and alternative dispute resolution processes.