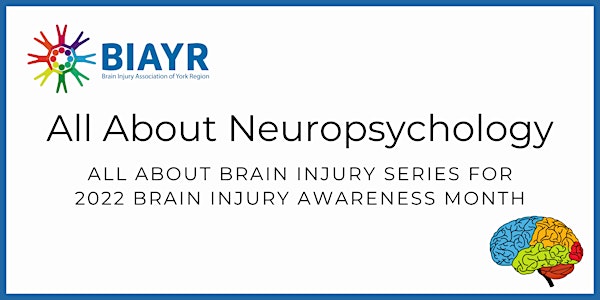 All About Neuropsychology - 2022 Brain Injury Awareness Month
Online educational talk for brain injury awareness month about the role of neuropsychology after a brain injury.
About this event
Brain Injury Association of York Region is pleased to present All About Neuropsychology - 2022 Brain Injury Awareness Month
In Canada, June is Brain Injury Awareness Month. Each year national, provincial, and local associations run campaigns to increase awareness about the prevalence of brain injury; the obstacles that exist for those with brain injury; and the need for more services and support at all stages of recovery.
Each week, for the month of June, the Brain Injury Association of York Region will be showcasing a different aspect of recovery following a brain injury.
--
Please join Dr. Hiten Lad, Neuropsychologist, as he discusses the role of neuropsychology after a brain injury.
The topic will be "Understanding and Managing Changes in Mood and Behaviour Following an ABI"
The presentation will focus on examining factors that impact mood and behavioural changes, understanding the manifestation of changes in mood and behaviour as well as discussing some of the common changes in emotional and behavioural presentations and strategies for managing.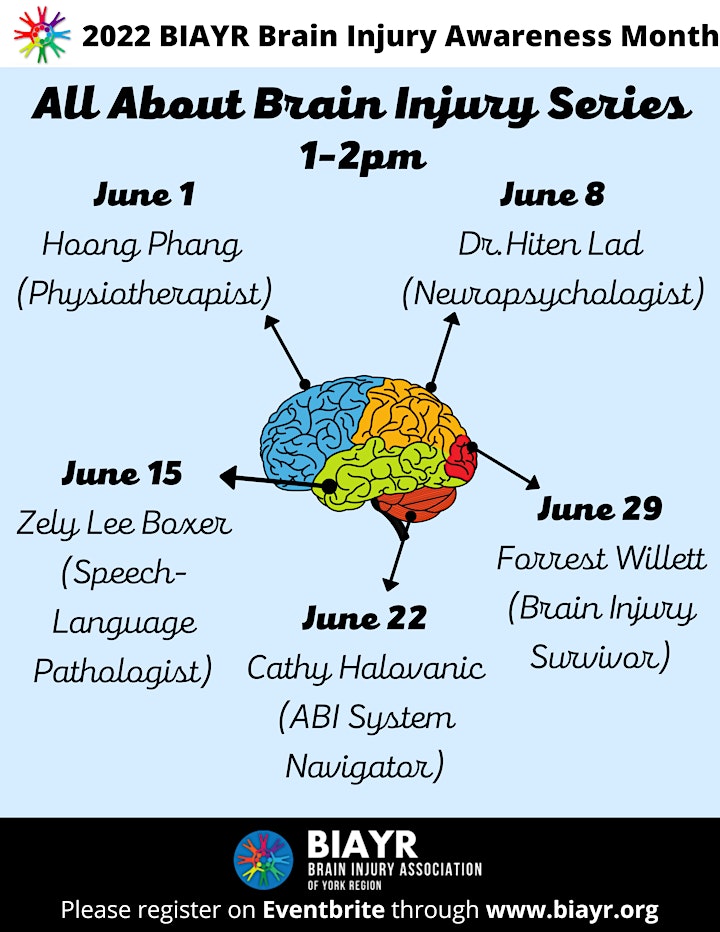 About Dr. Hiten Lad:
Dr. Lad is an award-winning registered Clinical Neuropsychologist practicing in the areas of clinical psychology and clinical neuropsychology with adults and seniors. He is listed with the Canadian Register of Health Service Providers in Psychology and is the Practice Director and Founder at Lad & Associates.
Lad & Associates is a full-service boutique mental health care practice, with locations in both Toronto and Kitchener, offering clinical neuropsychological and psychological assessments and treatment for adults and seniors in motor vehicle accidents, work-related injuries, medical-legal proceedings, academic challenges, chronic pain difficulties, and career changes. Treatment services include, individual psychological treatment, cognitive rehabilitation, behavioural therapy, as well as grief and loss counseling for a wide variety of conditions including traumatic brain injury, stroke, dementia, seizures, depression, anxiety, post-traumatic stress and adjustment disorders.
Dr. Lad received his Honours B.A. in Psychology and Kinesiology and Health Sciences from York University in Toronto. He completed his Masters degree in Counselling Psychology, specialized training in trauma therapy and a Doctorate in Clinical Psychology with a specialization in Neuropsychology from the Adler School of Professional Psychology in Chicago. Dr. Lad completed his residency in clinical neuropsychology at Hamilton Health Sciences with training in acquired brain injury, pediatric neuropsychology, geriatric neuropsychology, acute stroke and rehabilitation, as well as adult general neuropsychology. Dr. Lad is also a certified assessor for Catastrophic Impairment – Mental Behavioural (C-CAT: MB) through the Canadian Society of Medical Evaluators / Canadian Academy of Psychologists in Disability Assessment (CSME-CAPDA). Dr. Lad has also been identified as a qualified expert by the Financial Services Commission of Ontario (FSCO) Arbitration Hearing and License Appeal Tribunal in medical legal proceedings.