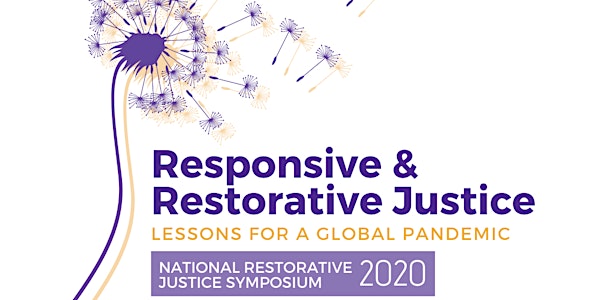 All Access Registration for 2020 National RJ Symposium
Refund policy
Refunds up to 1 day before event
Eventbrite's fee is nonrefundable.
Registration for 2020 National Restorative Justice Symposium
About this event
The National Restorative Justice Symposium (NRJS) is an opportunity to convene a national gathering of practitioners, researchers and academics, community members, justice professionals, policy and law makers, educators, other experts and stakeholders, to host engaging and stimulating presentations applicable to restorative justice.
The 2020 NRJS Committee is proud to present this year's NRJS as a virtual conference from November 16 to 17, 2020. The theme is Responsive and Restorative Justice: Lessons for a Global Pandemic.
This 2020 virtual conference will lead up to next year's NRJS face to face gathering, which is tentatively scheduled for 2021 in North Vancouver, BC, on the Coast Salish Territory.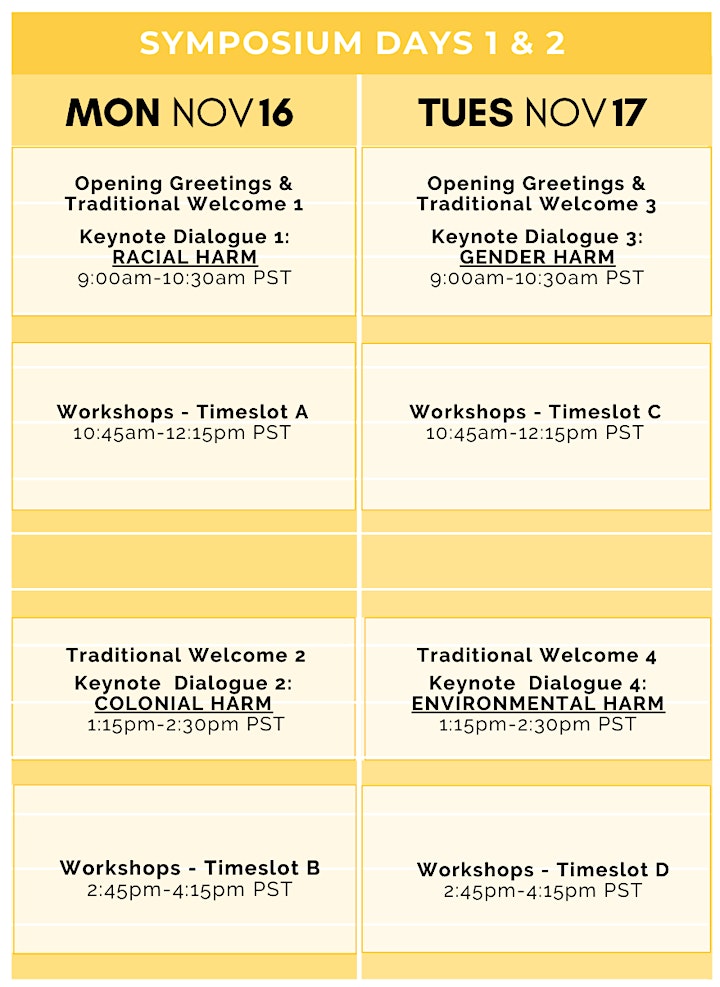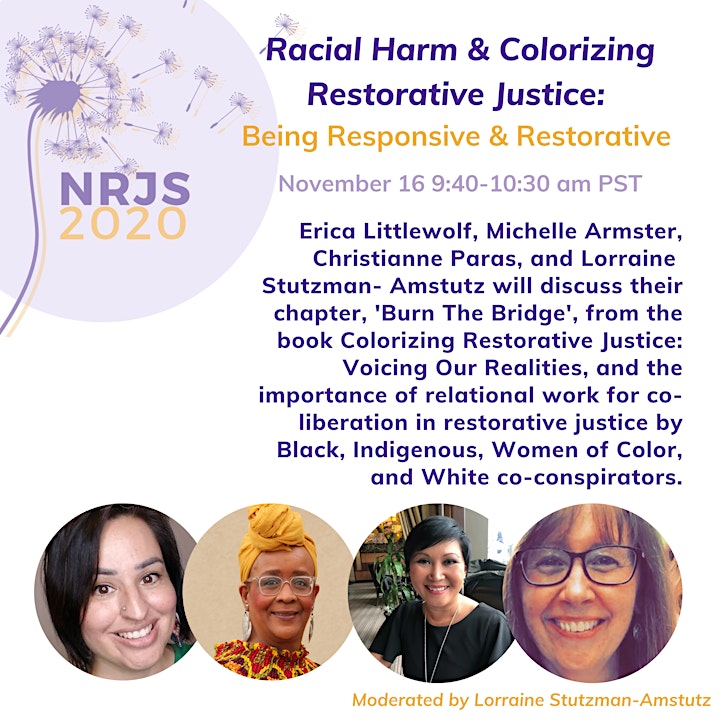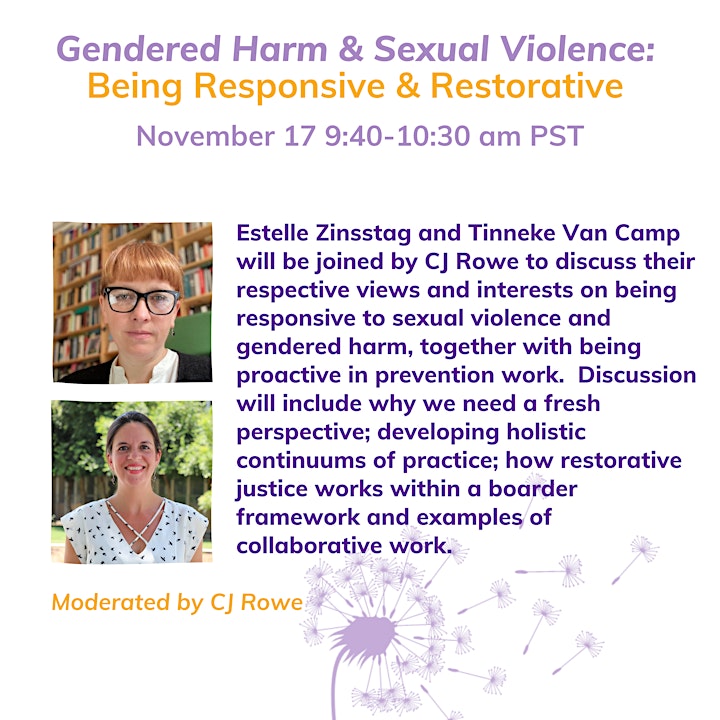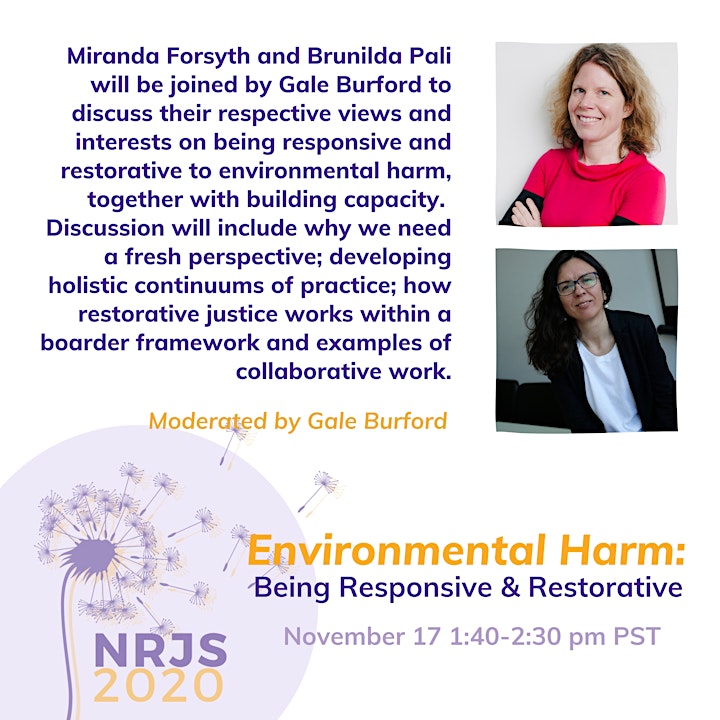 We are also thrilled to bring you workshop presentations from around the world for this year's National Restorative Justice Symposium!
Workshop presentations include:
Restorative Responses to Healthcare Harm During COVID-19 | Jo Wailling & Allison Kooijman
The Adolescence Project | Eva Marszewski
Alternative Suspension | Bobbi Terrell
Listening to Country: Exploring the Role of Acoustic Ecology in Connection to Country, Well-being, and Justice | Bianca Beetson, Dr. Vicki Saunders & Sarah Woodland
Youth Justice Lab: Youth Circles, Dialogue, and Resistance Against Social Isolation | Anne-Marie Parent, Sioned Dyer & Marcela Jordao Villaca
Inside Looking Out: The K-12 School Experiences of Incarcerated People | Danielle McGettigan
Nourishing the Restorative Imagination - Amplifying the Social Echo of Restorative Justice Through the Arts | Gema Varona Martinez, Brunilda Pali & Clair Aldington
Community Based Justice Practices in India, Nepal, and Bangladesh: A Comparative Analysis | Dr. Muhammad Asadullah, Ramkanta Tiwari, Dr. Rina Kashyap & Nibras Sakafi
Restorative Justice in Historical Abuses to Children in Spanish Catholic Schools. Reflections as a Practitioner | Alberto Olalde
Restorative Justice & Post-Secondary Environments: A Roundtable | Alana Abramson & Jennifer Jordan
1000 Years of Experience | Barry Stuart, Jennifer Llewenlyn, & Dr. Brenda Morrison
Creating Culturally Responsive Restorative Processes | Arti Mohan
Students as Change Activists: Excellence & Equity in Learning for All | Sherra Robinson
Impact of RJ Circle Pedagogy for International Graduate Students | Edokpayi Omoregie, Min Lu, Taneisha Wright-Cameron & Dorothy Vaandering
How To Start a Restorative Justice Circle Program in Your Community | Tina Dewache
The Circle: Co-creating with Formerly Incarcerated Women in the Vancouver Area | Brenda Longfellow, Meena Toor & Chas Coutlee
*For alternative methods of payment to receive the All-Access Symposium Pass such as cheque or e-transfer, please email nationalrjsymposium2020@gmail.com to arrange registration and payment.
For more information, please visit our website at:
https://www.crjc.ca/national-symposium