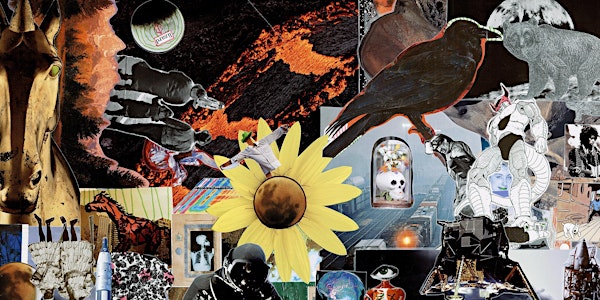 All-Ages Drop-In Collage Pizza Party
Come hang out, snack, and embrace the freedom and fun of cut-and-paste!
When and where
Location
Esker Foundation 1011, 9th Ave SE Calgary, AB T2G 0H7 Canada
About this event
"Well, collage is just so easy to do. It takes all the skill out of things, and boils art-making down to decisions, intent, and preferences. It takes out the fear of making mistakes, or wondering if your art is good enough. It's also cheap; anyone can afford to do it, and best of all, it involves taking control of your environment and repurposing it for something unique to you. Collage is beautiful for that."
– May G N, in conversation with someone she just met, probably
In conjunction with their Project Space installation HEADSPACE artist May G N, and collaborating youth artists Lizzy Moorhead, Sid Smillie, and Zabdi, are hosting a drop-in collage pizza party. Everyone is welcome to come hang out, snack, and embrace the freedom and fun of cut-and-paste!
All-ages drop-in, registration not required. Pizza will be provided, first come, first served.
Image: installation detail from HEADSPACE
Respect and Inclusion
By registering for, or attending this Program you agree to co-create, in collaboration with Esker Staff, Artists and Volunteers, an atmosphere of mutual inclusion and respect for all persons. This includes speaking, acting and behaving in a way that is absent of violence, harassment, racism, intimidation, bullying or discrimination of any kind regardless of, and not limited to gender, sexual orientation, race, ethnicity, culture, age and ability. This includes in online/digital forums.
Should you require any support, or have any questions, please reach out to: programs@eskerfoundation.com