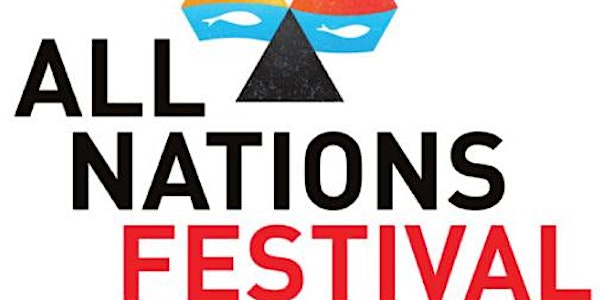 All Nations Festival - Film Screenings
When and where
Date and time
Sun, Jun 18, 2017 7:00 PM - Mon, Jun 19, 2017 10:00 PM PDT
Location
Cineplex Silvercity Coquitlam 170 Schoolhouse Street Coquitlam, BC V3K 4X9 Canada
Refund Policy
Contact the organizer to request a refund.
Description
SIX INDIGENOUS FILM PROGRAMS ON THE SILVERCITY SCREENS
Location: 170 Schoolhouse, Free parking.

SCHEDULE:
Sunday, June 18, 7pm
Kwikwetlem Stories - Ronnie Dean Harris, presents his experiences growing up as an ancestor of Chief William Kwayhquitlam, of the Kwikwetlem People, and namesake of Coquitlam. "Since the 1884 Potlatch Ban, Coast Salish culture has lived partially in the shadows to protect its most sacred values and wisdom, while it was being replaced by foreign cultures in the cultural narrative directed at tourists and investors in the growth of a colonial state built upon S'ólh Téméwx." (Harris) An Elder from Kwikwetlem First Nation willl also present. **Sunday June 18, 7 and 8pm shows DOUBLE HEADER / ONE PRICE

Sunday, June 18, 8-9:30pm
All Our Father's Relations tells the story of the Grant siblings who journey from Vancouver to China in an attempt to rediscover their father's roots and better understand his fractured relationship with their Musqueam mother. Raised primarily in the traditions of the Musqueam people, the Grant family and their story reveals the shared struggles of migrants and Aboriginal peoples today and in the past. A Q & A will follow the film screening discussing crosscultural dialogue between Asian-Canadian and Coast Salish Peoples. Our Fathers Relations| 2016 | Alejandro Yoshizawa, Sarah Ling | Vancouver. **Sunday June 18, 7 and 8pm shows DOUBLE HEADER / ONE PRICE

Monday, June 19, 10am - Elementary schools program
Coyote's Crazy Smart Science Show - Join some of the creators in-person! from this award-winning program, directed by Loretta Todd. Coyote's Crazy Smart Science Show is an adventures-in-science series that encourages youth to explore the fascinating world of science – from an Indigenous perspective. This is FUN scientific investigation that brings our beautiful and complex universe alive. facebook.com/CoyoteScience

Monday, June 19, 10am - Secondary Schools Program
Back to the Source / Dene A Journey - The land is calling Eugene Boulanger home, so he leaves Vancouver for Tulita (Dene/Northwest Territories) for a visit and a chance to go hunting with his uncles in the Sahtu Mountains. Eugene finds the experience so refreshing, he begins to wonder if moving home holds more importance than his life in the south. Follow young people undertaking discovering their traditional Dene language and culture! With special guest Justin Bige, a Dene youth living in Kwantlen Territory, sharing his reflections as a Dene youth living in Metro Vancouver.

Monday, June 19, 1pm - Secondary Schools Program
Elder in the Making, preceded with short film: Dancing the Space Inbetween - A documentary about an Blackfoot and a newcomer as they go on soul-searching trip together across Treaty 7 territory. Elder in the Making explores the forces of history large and small that has led us to where we are now. It is an invitation for you to connect with a rich and diverse aboriginal culture that has much to share about our home and about our relationship with the land.The film is only a small start on a long road of reconciliation. IN PERSON: Filmmaker Cowboy Smithx!! WEBSITE: http://elderinthemaking.com/
SHORT: Dancing the Space Inbetween is powwow dancer Lacy Morin-Desjarlais and Michele Sereda's tribute to residential school children lost. (8min)

Monday, June 19, 7pm - all welcome!
The Sun at Midnight - with appearance by Duane Howard - Filmed at the Arctic Circle, the story of an unexpected friendship between a hunter obsessed with finding a missing caribou herd and a teenage rebel who gets lost while on the run. Devery Jacobs received a Whistler Film Fest Best Actor Award for her role in this film, alongside Duane Howard (The Revenant), which was set in Gwich'in Territory.
Duane Howard, in-person appearance! When millions of people see actor Duane Howard play 'Elk Dog', the lead native warrior in 20th Century Fox's mammoth film The Revenant, chances are that they will marvel at how such a riveting actor came out of nowhere. But Duane did not come out of nowhere; he was born in Nuu-chah-nulth territory and spent many years struggling on his journey, and spent years in film. Learn more about the film and his story!