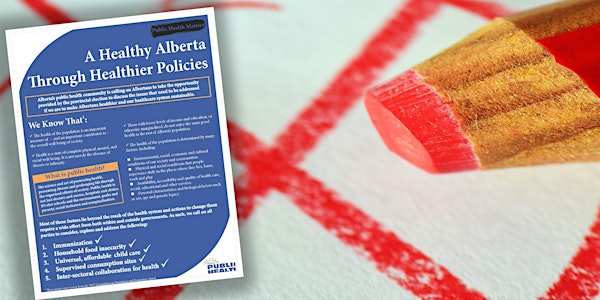 All Party Candidate Forum: A Healthy Alberta Through Healthier Policies
Event Information
Location
Performance Hall, Central Public Library
800 - 3 Street S.E.
Calgary, Alberta T2G 0E7
Canada
Description
All Party Candidate Forum: A Healthy Alberta Through Healthier Policies
Alberta's public health community is calling on Albertans to take the opportunity provided by the provincial election to discuss the issues that need to be addressed if we are to make Albertans healthier and our healthcare system sustainable.
There is a chronic disease epidemic in Alberta and infectious diseases are prevalent, both of which negatively impact the physical, mental and economic well-being of all residents.

The chronic and infectious disease burdens rest heavily on vulnerable Albertans by virtue of who they are, the environment in which they live, their income and their health status.

As the chronic and infectious disease epidemics worsen, health disparities widen.

Solutions must be found in order to improve the physical and mental health and economic well-being of all Albertans.
To learn more about these issues, CLICK HERE to review Public Health Matters 2019 Election Primer, which outlines some of the key public health issues facing Albertans today.
Political parties with seats in the legislature will be invited to attend this Alberta Public Health Association forum. Other key partners in the forum are the Alberta Policy Coalition for Chronic Disease Prevention and the O'Brien Institute for Public Health.
Shuttle Bus Details:
A free shuttle bus between Foothills and the library will be available – schedule:
• Shuttle bus departs Foothills Campus (3230 Hospital Dr NW) for the Library at 11:15 a.m.
• Shuttle bus departs the Library for Foothills at 1:45 p.m.
Date and time
Location
Performance Hall, Central Public Library
800 - 3 Street S.E.
Calgary, Alberta T2G 0E7
Canada