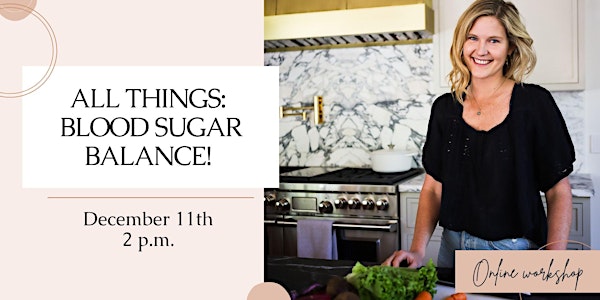 All Things Blood Sugar Balance
Learn how to balance your blood sugars in order to ease anxiety, support hormones, improve well being & have your healthiest holiday ever!
Refund Policy
Contact the organizer to request a refund.
Eventbrite's fee is nonrefundable.
About this event
What do the following have in common? ...
- Increased anxiety
- Imbalanced hormones
- Energy crashes & fatigue
- Weight gain
... they're all symptoms that can be connected to imbalanced blood sugars!
Join Registered Holistic Nutritionist and anxiety expert, Meg De Jong in this online workshop to learn about all things blood sugar balance.
Throughout the workshop you'll come to understand how keeping your blood sugar balanced is key for optimal health and a calmer mind.
You'll walk away with tangible action steps on how to keep your blood sugars regulated all day long through food and lifestyle practices.
Workshop Topics:
- What exactly 'blood sugar balance' entails
- How to tell if your blood sugars are dys-regulated (including common symptoms & associated conditions with chronic blood sugar imbalances)
- All about the very prevalent anxiety- blood sugar connection
- How to eat for optimal blood sugar levels
- The surprising connection between gut health and blood sugars (that not many people are aware of!)
- How blood sugar balance will be the key to your happiest and healthiest holiday yet!
- Blood sugar balancing, anxiety easing food & recipes - including a holiday recipe demo
Why Join Us?
This comprehensive online workshop will help you unlock the power of using food to support your best mood & most thriving health.
You'll receive tons fascinating education, lots of inspiration, and connection to a beautiful, supportive, like minded community.
Who's This Workshop For?
This workshop is for ANYONE who is stoked to learn more about wellness & nutrition in order to feel their best self in body and mind.
It's especially great for those who want to minimize the symptoms of blood sugar dys-regulation such as anxiety, unstable moods, low energy, weight gain, hormonal imbalance, and even chronic illnesses.
This workshop is the perfect stepping stone to having your healthiest and happiest holiday ever!
Workshop Deets:
The class will be hosted online via Zoom. If you can't catch the live, the recording will be sent out to all who sign up!
There will be time for Q & A to ensure all your questions are answered
Along with all of the information during the workshop, you'll also receive a take home "Blood Sugar Balancing E-book" loaded with tons of tangible tools and blood sugar balancing, anxiety easing recipes - with a holiday twist of season recipes & nutrition tips
NOTE: there are 3 price options to choose from - so pick which suites you best financially right now <3
Join us to learn how to keep your blood sugars balanced in order to support optimal health in body & mind!