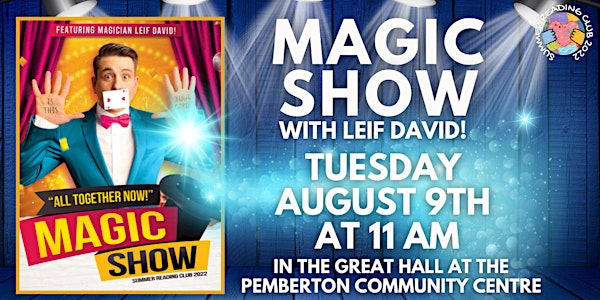 'All Together Now' Children's Magic Show with Leif David
Celebrate bringing people together again with the "All Together Now!" Children's Magic Show.
When and where
Location
Pemberton & District Public Library 7390 Cottonwood Street Pemberton, BC V0N 2L1 Canada
About this event
This action-packed 45-minute-long children's magic show is performed by award-winning Magician Leif David. This show will get everyone involved in the comedy and magic. There's even a chance for volunteers to join Leif David on stage!
Don't Blink! Watch as items magically teleport from one side of the stage to the other, tricks finish with a surprise ending, predictions become true and watch children's storybooks magically come to life. You'll see for yourself that the hand is truly quicker than the eye!
During the program, Leif David will explain how he got his start as a magician at 8 years old by taking out books from the local library and encouraging children to read books that inspire them.