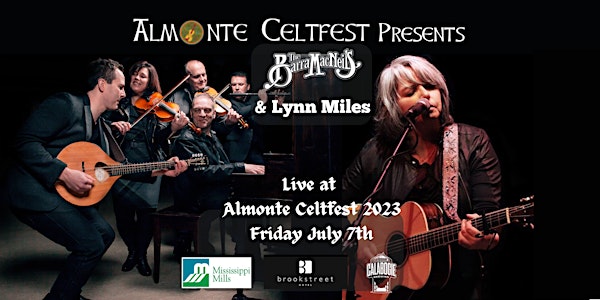 Almonte Celtfest Presents: The Barra MacNeils and Guest Lynn Miles
Join us on Friday July 7 for Almonte Celtfest's opening night featuring the Barra MacNeils and Special Guest Lynn Miles
Date and time
Starts on Fri, Jul 7, 2023 7:00 PM EDT
Location
Gemmill Park, Almonte ON 182 Bridge Street Almonte Mississippi Mills, ON K0A 1A0 Canada
Refund Policy
Contact the organizer to request a refund.
Eventbrite's fee is nonrefundable.
About this event
About this Event
Join us on Friday July 7 for the opening night of Almonte Celtfest 2023.
Music from the Barra MacNeils and Special Guest Lynn Miles.
When: Music starts at 7pm
Where: Gemmill Park, Almonte - 182 Bridge St, Almonte, ON K0A 1A0
Tickets: $35/Adult OR $25 for Youth under 12 years old & Seniors 65 +
About the Barra MacNeils
For more than three decades, Cape Breton-based family group the Barra MacNeils have been thrilling audiences of all ages, near and far, with their sparkling repertoire, vocals, instrumental prowess and vibrant showmanship.
The MacNeil siblings are widely regarded as one of the greatest live concert acts in the Celtic world. Hailing from Sydney Mines, Cape Breton Island, Nova Scotia, the family group is deeply rooted in Celtic music, culture, dance, language and history. Their numerous critically acclaimed recordings have included their own original songs as well as tried and true standards, both instrumental and vocal.
Their live concert experience brings so much more to the stage than most live acts ever can. Multiple lead vocalists, beautiful sibling harmonies, top drawer instrumental prowess on a wide variety of acoustic, stringed, percussion and wind instruments blended with dancing, storytelling, Gaelic songs and a journey through an ancient culture; it is family entertainment at its highest level. Steeped in Cape Breton tradition with strong Celtic roots and musical artistry, this diverse and talented family group continues to wow audiences around the world with their captivating vocals, harmonies and extraordinary musicianship.
Website ~ Youtube ~ Facebook ~ Instagram
About Lynn Miles
"The music of Lynn Miles is truly one of a kind. Not only is she one of Canada's best singer-songwriters, she's one of the best, period. Folk music has many voices but hers is a voice that stands out, it's a voice that knows the ways and long twisting back roads of the world, a voice that has lived and conveys that living through every song. It's a voice we all know. It sings of love, loss, coping, travel, sense of place and purpose, broken promises, what get's us through, what doesn't, how we defy the odds, making a perfectly beautiful human mess of things along the way. As she sings in one of her songs, "It's not the hurt, it's what you've built around it, it's bitter and it's tall, you practice being cool and confident for so long now, you got yourself a wall, not everybody's gonna understand, so that's why they might say, try not to be so sad." Lynn's is a music that understands, that breaks through the wall around our hearts and speaks truth to our lives. New York Times music critic, John Pareles wrote that Miles' music "makes forlorn feel like a state of grace." I couldn't agree more."
- James Diaz of Anti-Heroin Chic
"Lynn Miles has the kind of voice that insists that you pull the car over. Call the radio station. Change your citizenship. Buy a home in Toronto. She's been blessed with such a drop dead beautiful honey smooth voice that it's impossible to not fall in love with it. It rides along the ebb and flow of a gifted sense of melody. She's the kind of lyricist that renders whatever heartache you feel into something both beautiful and aching. She also is extremely funny. Like she's carrying an antidote to inject you with between songs to cure you of the snake bite."
- Ellis Paul
*Tickets are strictly non-refundable unless the event is cancelled*
Thank you to our sponsors Mississippi Mills, Brookstreet Hotel and Calabogie Brewing Co. for their generous support of Almonte Celtfest 2023
Questions? Concerns?
Email us at almonteceltfest@hotmail.com or reach out to us on socials @AlmonteCeltfest
About the organizer
Celtfest is a fun weekend of Ottawa Valley and Celtic entertainment, performed in the natural amphitheater of Gemmill Park in the heart of Almonte. It is a time to share the historical Celtic traditions with today's local performers. Celtfest also presents a select group of unique artisans and vendors of specialty goods with a Celtic flair. Donations are welcomed at the gate.
Our mission is to celebrate and promote the Celtic heritage of the Ottawa Valley through music and dance and to make this accessible to all. We want to give up-and-coming performers an opportunity to display their talents in their home community. To do this, we feature a free event with a number of entertainers who have a Celtic quality, as well as a wide variety of vendors of Celtic goods. We also provide a tent for seniors and entertainment for children, along with great food and beverages for all.