This first webinar speaker series features speakers whose works examine how racism figured in international relations, as well as shaped.
About this Event
How is racism historically connected to military aggression?
Join us for a timely discussion about racism and its different manifestations and the important lessons we can draw from World War II history.
Hosted by ALPHA Education (Toronto) over Zoom. The event will also be live-streamed on YouTube. Please register on by clicking Eventbrite below.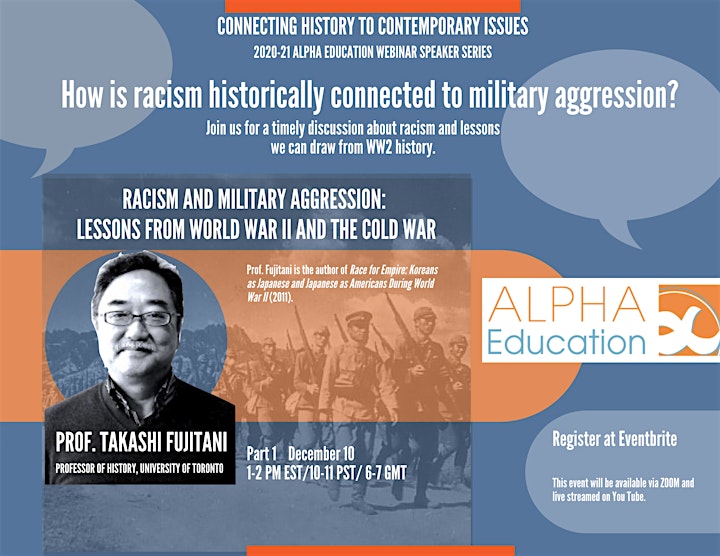 Racism in its many forms, as a social problem, has complex histories. One of the most difficult challenges in combating racism is that most common understandings of racism typically locate the driving force in the attitudes, beliefs, and behaviours of biased and prejudiced individuals (Salter: 2018). The tendency to reduce racism to individual bad behaviour leads people to dismiss instances of systemic racism as the fault of "a few bad apples" and to insist that racism is a thing of the past.
Today, anti-racism movements' ongoing battle against systemic racism is increasingly being confronted by a seemingly reinvigorated white-supremacist movement - one which whose unapologetically racist political rhetoric reflects a blatant or vulgar form of racism that people usually associate with the past. While it is tempting to imagine that the division between racist groups on one hand, and anti-racism groups on the other has always been (and continues to be) a bright line, political and cultural historians alike are taking a more complex view of how racist agendas and practices went hand in hand with anti-racist messaging, which became important for mobilizing the military and the public during wartime.
December 10, 1-2 PM EST/10-11 AM PST/6-7 PM GMT
Professor Takashi Fujitani's work, Race for Empire, demonstrates how the disavowal of racism was politically (and materially) important for both the United States and Japan because of how colonial subjects and marginalized populations of people of colour were sorely needed in waging and winning the war. Prof. Fujitani writes against the grain of the dominant scholarship on World War II which tends to portray the Unites States and Japan as polar opposites -one liberal democratic and egalitarian, and the other fascist, totalitarian and ultranationalist. Among others, Prof. Fujitani will talk about how disavowals of racism were actually crucial to the war agenda of both states.