Description
NutriChem Compounding Pharmacy and Clinic Presents


Alternatives to Pain Management




Do you suffer from a Chronic Pain condition, such as Fibromyalgia?
Have you heard of the opioid crisis? Are you looking to avoid taking opioids for pain?
Are you using Advil, Tylenol, Aleve, or Voltaren regularly to treat your pain?
Did you know that there are many effective alternatives for pain treatment?
Getting to the Root Cause of your Pain
With PharmD, Adam Livingston, and Mobility Specialist, Josh Presley


What You'll Learn In This Class
- An overview of different types of pain (acute pain vs. chronic pain) and how they need to be treated differently.

- How digestion & The Microbiome are a common root cause for inflammation that can lead to pain.

- Alternatives for pain management beyond opioids and NSAIDs, such as medical cannabis, physical therapy, topical products (such as creams, gels and fish oils) and much more than can help you manage your pain better and safer!

- And the seminar will end with a lengthy Q&A session with our NutriChem presenters.
About The Speakers
Dr. Adam Livingston
Clinical Pharmacist
Medical Cannabis Consultant
Deprescribing Program Coordinator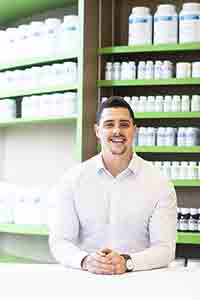 Dr. Adam has helped many patients navigate the complex Canadian Medical Cannabis system. He understands the intricacies of cannabis therapeutics, including forms, ratios, dosages, and interactions with other medications.
As a pharmacist, Adam believes prescription drugs can be a useful tool in a healthcare provider's toolbox. However, for many chronic conditions, they simply aren't that effective and can be very difficult to discontinue. Adam helps to guide some patients away from harmful drugs such as proton pump inhibitors, benzodiazepines, and sleeping pills through our deprescribing program.


Josh Presley
Mobility Specialist
Joshua believes that everyone regardless of their age/condition should be able to move pain free and enjoy being in their body. Knowing that most people with chronic pain are frustrated, confused and hopeless, Josh has created a system that effectively moves the client to pain free movement and provides them with hope when there often was none. The majority of his clients see huge improvement within the first 3 sessions.
Josh's practice focuses mainly on chronic pain and mobility issues but deals with acute injuries as well. Through modalities like assisted stretching, joint movement, self-release techniques and strength and conditioning he is able to help people move pain free.
Our bodies speak to us through pain, Joshua helps to decode those messages and allow you to more fully connect to your body.
FAQs
What are my transportation/parking options for getting to and from the event?
NutriChem customers have 23 dedicated parking spots available exclusively to them at our new location at 2599 Carling Avenue. Our parking lot is located on Forest street.
What can I bring into the event?
All you need to bring to this event is yourself, your questions, and a notepad if you want to take notes!
How can I contact the organizer with any questions?
For any questions regarding the event or ticket purchasing, please email marketing@nutrichem.com
Do I have to bring my printed ticket to the event?
You may bring either your printed ticket to the event or you're welcome to display it on your phone as proof of purchase.