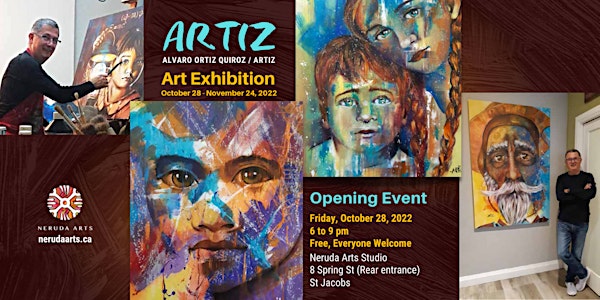 Alvaro Ortiz Art Exhibition
An exhibition of modern impressionist painting by Alvaro Ortiz. Free opening event open to all on Oct. 28, 2022 @ 6 pm
When and where
Location
Neruda Arts Studio 8 Spring Street ENTRANCE AT BACK St. Jacobs, ON N0B 2N0 Canada
About this event
Opening on October 28, Neruda Arts will host an exhibition of paintings by Colmbian/Canadian artist, Alvaro Ortiz Quiroz known as Artiz.
Join us at Neruda Arts Studio for a special opening event on Friday, October 28, at 6:00 pm
As is our tradition at Neruda Arts, we like to honour our artists with a special opening event which is free and open to everyone. We offer you an opportunity to meet the artists and view their art, while enjoying refreshments and our musical guest.
Paintings will be on display at Neruda Arts Studio until November 24.
Private Viewing: Please contact Isabel at (519) 502-9677‬ to arrange an appointment.
Neruda Arts Studio is now fully accessible! An exterior elevator has been installed near our entrance.
TICKETS ARE NOT REQUIRED but we suggest that you RSVP so we can email you in the event of any changes.
PLEASE NOTE THE INFORMATION BELOW ABOUT THE LOCATION OF NERUDA ARTS STUDIO.
Known as Artiz, Alvaro is an artist who defines himself within the modern impressionist figurative painting. His singular work with acrylic colors with brush and spatula makes in each piece a unique object.
Artiz' work has approached a variety of themes such as the human figure, animal's vulnerability, and most recently the close interaction between nature of the human being and his soul. He desires to bring the inner spirit of the observer into the world that surrounds him, as well as serve as platform for relationship-building between the day-to-day world and the spheres of thought, feeling and will.
Throughout his work process, it is capable of easily blending random and unexpected color, leveraging maximum expression on faces while marking traces of nature.
Born and raised in Bogota – Colombia, Artiz attended universidad Nacional de Colombia to take his first steps in art techniques and drawing at the Faculty of Art, where his early work was created. In parallel effort, he held art workshops, drawing with model, artistic composition, shadows and light contrasts at 'la Buhardilla' (attic) Art Workshop. This experience led him to embody his first series of paintings and drawings which include nudes, birds of prey and still-lives.
Since 2019 Artiz has been re-established in Kitchener, Canada again with the firm intention of creating, developing and expanding his artwork.

Musical guest, Gianni Salvador
Originally from Ecuador, Gianni Salvador has been a singer since an early age. As a young man he centred his fascination for music on the Andean rhythms and all the instruments that make this beautiful music. He represented his beloved Ecuador on many international venues with great success.
A multi-faceted musician, Gianni is a band member of Brent Hagerman & The Passive Resistors, Gianni Salvador plays bass, vocals, chirango, cuatro and requinto.
Gianni is a soccer coach and a traveler, and his business Pangaeatrips which specializes on community service and adventure trips in Central and South America. Gianni leaves in Waterloo since 1999 with his wife and 3 children.
Entrance to Neruda Arts Studio
Our address is 8 Spring Street, but our entrance is located at the back of the building and is only accessed from the St Jacobs Playhouse Theatre parking lot.
Parking: Please note that parking is not permitted in the Playhouse Theatre parking lot. There is on-street parking on King Street, and other surrounding streets, as well as plenty of free parking at the large public parking lot at the corner of Albert St East and Water St.
Public Transportation: Grand River Transit bus stop is just one block away at King and Front Streets. The route is #21 from Conestoga Mall to Elmira.
Special thanks to our Grantors who have made this possible.