The New Gallery presents "The Young Comrade" by Alvin Luong (梁超洪), May 21–June 26, 2021
About this event
The New Gallery presents "The Young Comrade" by Alvin Luong (梁超洪)
May 21–June 26, 2021
PLEASE NOTE: The New Gallery (TNG) is only accessible via timed bookings through Eventbrite, appointments require 24 hours notice. For groups of 6 or more, or for other specific accommodations, we are happy to offer free, digital tours over Zoom. If you'd like to organize a digital tour please select this ticket, and staff will send a follow-up with details. Alternatively, you can contact Nivedita Iyer, our Communications & Outreach Coordinator, at nivedita@thenewgallery.org
Exhibition Description /
The Young Comrade is a pseudo-documentary that deliriously interprets a fictional play written by Bertolt Brecht in 1930 about the founding of a speculative communist state in China, as a true historical account of its revolution in the 20th century. The video documents an attempt to search for traces of the characters portrayed in Brecht's play in contemporary Beijing, and is punctuated by the artist's performance of four altered acts from the play. The Young Comrade is an unstable blending of reality, fiction, and history that provokes multi-layered notions of essentialism, orientalism, Western colonialism, and diasporic experiences of alienation between the West and the ethnic homeland.
Brecht's play, titled The Measures Taken, follows the Agitators, a group of European communists who have come to China to further its native communist movement during the Chinese Civil War and the Second Sino-Japanese War. The intention of the play was to encourage audiences to resist reactive, ruptural tactics of revolution, and instead work holistically through the distribution of propaganda to educate the masses on communism. The play was sympathetic to an internationalist communist movement, and featured the problematic use of yellow-face as an attempt to demonstrate how the movement's political aims could transcend ethnic and nationalist essentialism. The enmeshing of Brecht's play into the history of China creates a narrative in The Young Comrade about foreigners who become homogeneous to the ethnic ideal of a country, except in beliefs, practices, and ideas.
The Young Comrade includes an installation of the theatrical backdrops that are featured in the video, as well as a newly written publication featuring a prologue and an epilogue to The Young Comrade called Two Pictures of Dying by Alvin Luong and Yang Tiange, and translated by Yijia Zhang.
Funding support for this exhibition came from the Ontario Arts Council, an agency of the Government of Ontario.
Biography /
Alvin Luong (梁超洪) creates artworks based on stories of human migration, land, and dialogues from the diasporic working class communities that he lives and works with. These stories are combined with biography to produce artworks that reflect upon issues of historical development, political economy, and social reproduction, and how these issues intimately affect the lives of people.
In 2017, Luong was awarded the OCADU Off-Screen Award for Best New Media Installation at the Images Festival. In 2018, Luong was the Artist-In-Residence at Inside-Out Art Museum (Beijing) and lectured at the Institute for Provocation (Beijing). In 2019, the artist exhibited at Boers-Li Gallery (Beijing), was invited to pursue research at HB Station Contemporary Art Research Center (Guangzhou), and screened at Gudskul (Jakarta). In 2020, the artist screened at China Millennium Monument Art Museum (Beijing), produced a video program with Guangdong Times Art Museum (Guangzhou). In 2021, the artist is an Artist-In-Residence at the Art Gallery of Ontario (Toronto).
For Main Frame components, as well as additional information about "The Young Comrade," Alvin Luong, and other contributors, please visit our website here: http://www.thenewgallery.org/the-young-comrade/
COVID-19 Protocol /
TNG is committed to our responsibility to keep our staff, volunteers, and audience members safe and healthy during public visitation. TNG has implemented numerous protocols for staff and all visitors to the gallery in support of this mandate. Please take the time to read through all instructions and note that any audience member's refusal to follow instructions will result in a refusal of service and cancellation of your appointment.
1) TNG is encouraging patrons to book their visit via Eventbrite at this time. Please book your appointment at a minimum of 24 hours prior to your visit.
2) If you answer "Yes" to any of the three registration questions, we kindly ask that you refrain from visiting until you are able to answer "No" to all three answers.
3) All three COVID related registration questions will be asked again upon you and your cohort's arrival. If any answers have changed to "No," you will be turned away and asked to rebook at a later date.
4) We will only allow one cohort (up to 6 people) to visit at any given time. One registration is valid for the full cohort.
5) Please wait outside upon arrival for your time-slot. We are sanitizing between visitors and the door will be locked upon your arrival. We will open the door for you when you arrive once sanitization has been completed.
6) As per the City of Calgary's mask bylaw, all visitors to the gallery must wear masks. A mask will be provided to visitors who do not bring their own. We also encourage you to wear your mask throughout Calgary Chinatown. This community has a high concentration of seniors, and we need your help to keep our communities safe!
7) All visitors must sanitize their hands upon entering the gallery. Sanitizer will be provided.
8) Please provide up-to-date contact information during your registration for one person in your cohort. This is crucial to facilitating contact tracing in the event of a confirmed case of COVID-19
9) The Resource Centre and the gallery washrooms will not be available to visitors at this time. Please plan accordingly.
10) Visitors are prohibited from touching the artworks on display.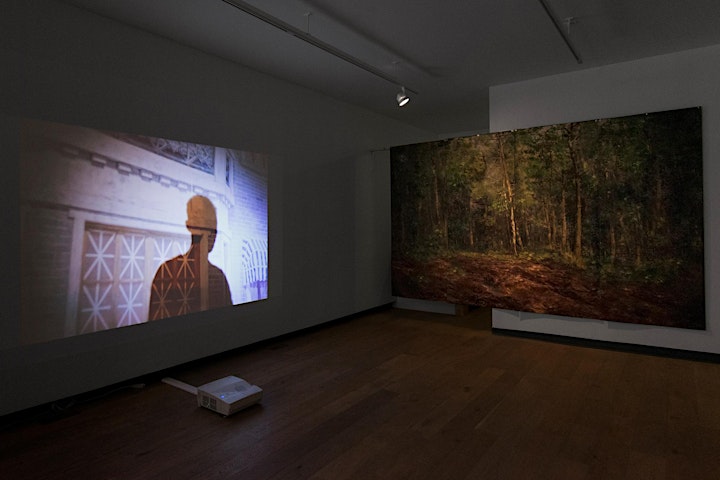 Organizer of Alvin Luong / The Young Comrade
The New Gallery (TNG) is an artist-run centre located in Mohkinstsis/Calgary on the ancestral and traditional territories of the people of the Treaty 7 region in Southern Alberta. This charitable centre for contemporary art was established in 1975 as the Clouds & Water Gallery and Visual Production Society. Currently, TNG operates: the Main Space—an exhibition venue in a storefront of the historic Canton Block in Calgary Chinatown; Billboard 208—a programming site situated on the exterior of TNG's storefront, coopting a medium typically used for advertising, to create an opportunity for artists to share their practices broadly in the public realm; and the Resource Centre—a combined library/archive/meeting centre located above the Main Space, which is open to the public during gallery hours. These venues support the research, creation, and exhibition of socially relevant and politically informed creative practices from artists at all junctures of their careers, while enabling a public engagement with artist-run culture and contemporary art. TNG's programming comprises a broad range of art and educational activities, including exhibitions, publications, residencies, offsite projects, and community collaborations that serve to invigorate audiences' experience of contemporary art and culture.
TNG gratefully acknowledges its home on the traditional territories of the people of the Treaty 7 region, including the Blackfoot Confederacy (Kainai, Piikani and Siksika), Métis Nation of Alberta Region III, Stoney Nakoda First Nation (Chiniki, Bearspaw, and Wesley), and Tsuu T'ina First Nation. TNG would also like to acknowledge the many other First Nations, Métis and Inuit who have crossed this land for generations.
For more information, please visit: http://www.thenewgallery.org/