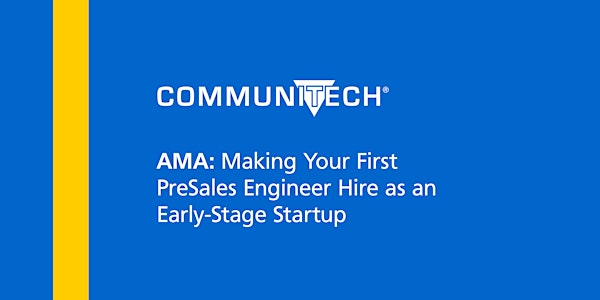 AMA: Making Your First PreSales Engineer Hire as an Early-Stage Startup
Best for early-stage software/technology companies looking to hire their first Sales Engineer or any new SE's to their team.
About this event
Tuesday, January 18, 2022 | 2 – 3 p.m. ET | Communitech Virtual Hub
As an early stage software startup company, one of the biggest challenges that founders will face is making their first PreSales hire. Should they be more technical, or more functional? Should they be able to code? Should they be early and ambitious or an industry veteran? Answering these questions are critical because this hire will dictate how successfully an organization can navigate the competitive landscape and achieve hyper-growth over the next 1– 2 years.
In this AMA, Ali Alizadeh, James Kaikis, and Rod Foster will discuss best practices when it comes to early-stage companies making their first PreSales hire, a role that will serve as the backbone of success for closing deals and scaling the business.
Speakers:
Ali Alizadeh started his career as a chef and did this for 10 years before joining the world of technology recruitment in 2014. For the past 5 years, he has built a career in human resource strategy with a focus on PreSales Engineering and Senior Leadership hires as a Director of Executive Search and Technical Sales at Sales Talent Agency. His expertise is helping business leaders and talent acquisition professionals find, attract, choose, and equip elite presales professionals to develop highly effective revenue growth teams. In his spare time, he enjoys new cuisines from all over the world and is an avid hiker!
Today, Ali runs a team of 3 to help organizations from Series A to publicly traded companies find Sales Engineering talent, both at an individual level and leadership!
Yuji is a passionate presales leader who thrives in fast-paced, innovative environments where people dream big, get things done and have fun. Today, he's based in Seattle working on building PreSales Collective and PreSales Academy. He's on a mission to help people succeed in a career that they love. In the past, Yuji contributed to the rapid growth of two successful startups (Apptio and Outreach) through helping build their professional services and presales functions. Prior to startup-land, he started his career in management consulting at Deloitte Consulting.
Rod has over 25 years of experience in the technology industry and has held senior level positions in software sales, marketing and operations. He was most recently the CEO of Covarity and led its growth throughout North America. He also held senior level positions at Ironside Technologies in San Francisco, Bay Networks, Crowntek and GE Canada. Rod is an alumnus of Wilfrid Laurier University, loves skiing, golfing and walking.
Thanks to our partners:

Questions? For more information, please contact eryn.warner@communitech.ca.
-----------------
We have an awesome community. And we like to show it off.
As we adapt to a new normal, please be advised that our Communitech virtual sessions will be recorded and shared with session participants and Communitech members. They may be used on our Communitech website and social platforms. By attending this session, you consent to being recorded and that your comments may be used at the discretion of Communitech.