Best for businesses in southwestern Ontario who want to learn about workplace vaccines, screening, rapid testing, legal risks and more.
About this event
Tuesday, May 25, 2021 | 2 – 3 p.m. ET | Communitech Virtual Hub
Join Dr. Jim Chung, Chief Medical Officer at Air Canada, along with Neena Gupta and Tushar Anandasagar from Gowling WLG, as they talk about the COVID-19 pandemic and its effects on how your business operates.
Ask your questions and find out what business leaders need to know about:
Screening and rapid testing.
Mandatory testing and vaccinations.
Vaccination policies, incentives and workplace vaccine clinics.
Privacy and record retention.
Public Health and its power to shut down businesses.
Health and safety of business owners, employees and customers.
Legal risks, privacy concerns, and other public and employee relations issues.
Speakers: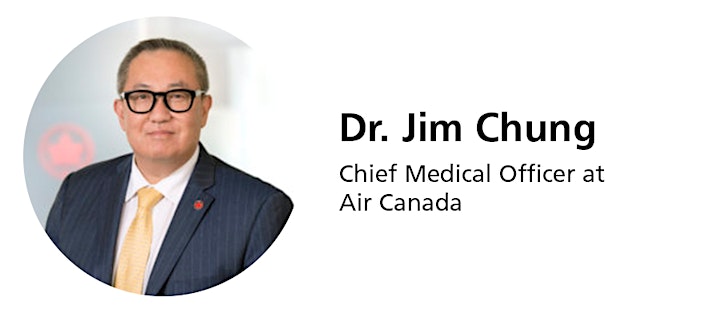 Dr. Jim Chung is a graduate of the University of Toronto medical program and completed his undergraduate studies at McMaster University. Following completion of his residency in family medicine, he served in the Canadian Forces in various roles while stationed at CFB Petawawa. He was deployed to Bosnia on Canada's NATO SFOR mission and also to Turkey with Canada's DART team in response to a major earthquake in 1999. Dr. Chung attained his flight surgeon training through the Canadian Forces, as well as a masters in aviation medicine and a post graduate diploma in occupational medicine through Otago University. Dr. Chung completed his emergency medicine training and certification at the University of Toronto following his retirement from the Canadian Forces, practicing as an emergency medicine physician in Toronto prior to joining Air Canada in 2009. He has been the Chief Medical Officer at Air Canada since 2016.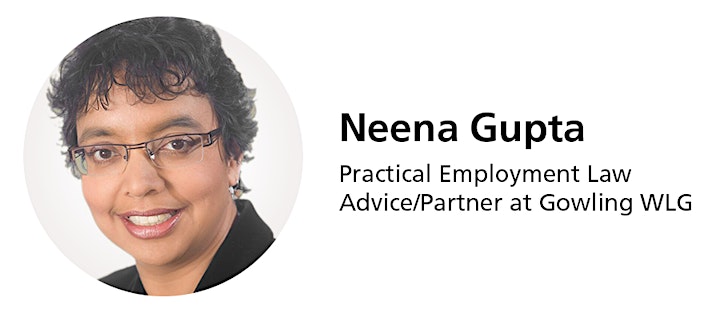 Neena Gupta is a partner in Gowling WLG's Waterloo office. Neena is known for her work with a broad range of employers, from startups to world-renowned multinationals, on all aspects of employment law, including employment offers and contracts, policies, compensation plans, cross-border employment and regulatory compliance in Canada. Neena lives on a small horse farm with her husband and horse-obsessed teenager. When she's not working, she can be seen calming large nervous animals and shovelling manure – skills she says are transferable to her day job.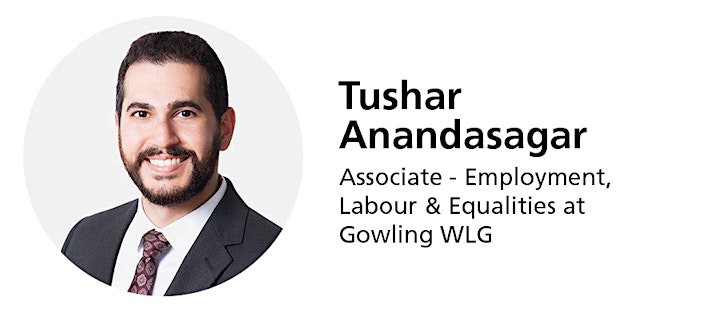 Tushar Anandasagar is an associate in Gowling WLG's Waterloo office. Tushar works with his clients on a broad range of contentious human resources matters, including with respect to onboarding, growth management, policy review, statutory compliance, employment litigation, labour arbitration, workers' compensation, occupational health and safety, privacy, data security, restructuring and retrenchment. What would he be, if not a lawyer? Tushar would drive race cars for a living – assuming someone would hire him.
Thanks to our partners:

Questions? For more information, please contact christina.wood@communitech.ca.
-----------------
We have an awesome community. And we like to show it off.
As we adapt to a new normal, please be advised that our Communitech virtual sessions will be recorded and shared with session participants and Communitech members. They may be used on our Communitech website and social platforms. By attending this session, you consent to being recorded and that your comments may be used at the discretion of Communitech.
Organizer of AMA: The COVID-19 Toolkit for Businesses
Communitech was founded in 1997 by a group of entrepreneurs committed to making Waterloo Region a global innovation leader. At the time it was crazy talk, but somehow this community managed to pull it off. Today, Communitech is a movement of more than 1,400 companies – from startups to scale-ups to large global players. 
Communitech helps tech companies start, grow and succeed in three distinct ways.
Communitech is a place – the center of gravity for entrepreneurs and innovators. A clubhouse for building cool shit and great companies.
Communitech delivers programs – helping companies at all stages with access to capital, customers and talent. We are here to help them grow and innovate.
Communitech partners in building a world-leading ecosystem – making sure we have all the ingredients (and the brand) to go from a small startup to a global giant.