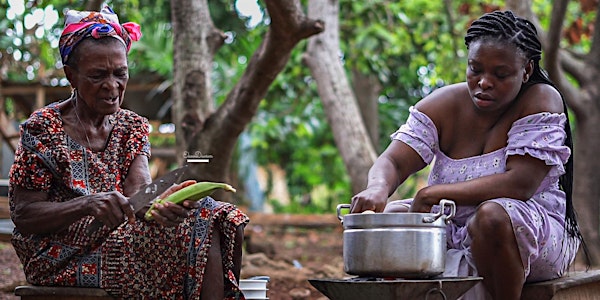 Ama's Fundraiser Brunch
Fundraiser for Production of Film on Women Indigenous Farmers in Africa by Filmmaker Leticia Ama Deawuo
When and where
Location
Centennial College Event Centre 937 Progress Avenue Toronto, ON M1G 3T8 Canada
About this event
Please join us for a fundraising brunch to support the production of a film exploring the dimensions of gender, racial equality, and indigeneity in African farming communities. This project is the culmination of research by filmmaker Leticia Ama Deawuo. Please note that donations are very much appreciated but that attendance is limited to Single or Double Admission tickets.
This event features keynote speakers Paul Taylor of Foodshare Toronto and Ohemaa Boateng from Black Creek Community Farm, and is supported in part by the Culinaria Research Centre, UTSC. Catering and space have been generously provided by Centennial College's School of Hospitality, Tourism, and Culinary Arts. Vegetarian and vegan options are available.
Live music will be generously provided by Savannah Taylor, a multi-faceted and self-taught Toronto artist. Her debut EP, Supernova (2019), and forthcoming project Niveah-EP--co-produced with Rudepunch and SLWJMZ (Freddie Gibbs, Sean Leon)--outline her artistic journey as an introspective exploration of self and life inspired by her father. A diasporic Trinidadian, Savannah uses her music as a catalyst to heal, connect, and self-soothe. Her work draws on R&B, Soul, Hip Hop, Jazz, and fantasy story-telling to tell honest truths about the fear, pain, and joy of being human.
A word from Ama:
My film considers the role of indigenous women in generative food production. In my research, I am using the term indigenous in the global context including indigenous people from Africa. The film is inspired by my grandmother. She is the matriarch of our family and utilized her small-holder farm to not only feed her children and grandchildren but her community.
When I search the term farmer on the internet the images that come up are dominantly men and more specifically white men, yet indigenous women play a core role in feeding communities worldwide. According to Growing Culture (an international organization that works with farmers), women make up 70% of the 1.5 billion smallholder farmers globally ( 2021. English. A Growing Culture).
This film considers the relationship between gender, racial equity, land stewardship, and agro-ecological integrity, which are fundamental issues to global and planetary health. Research shows that women play a central role in small-scale farming and advancing community food security worldwide (FAO, 2021). Women are also leading the way in regenerative and organic agriculture that helps to rebuild soil health, and reduce water consumption while mitigating climate change. Centering the perspectives of decolonization and agroecology pushes us to think differently about our relationships with one another and relations with other living beings by drawing on the teachings of women elders engaged in land-based practices of ecological care.
Ticket sales and donations will be used to fund the production of this film, including equipment, permissions, travel to the communities involved, and honoraria for participants. Your support of this work is deeply appreciated and will help the farmers interviewed by amplifying their voices and knowledge, and will develop areas of discussion and scholarship in need of greater focus.
Tickets are available as single or double admission. Donations are also being accepted. We look forward to seeing you there!